FULL ATX

USB 3.0

2 Fan Coolers

Soporta SSD
1 USB 3.0 + 1 USB 2.0 & HD AUDIO AND MIC
O gabinete Sentey Cyberia tem 1 USB 3.0 & 1 USB 2.0, HD Audio and botões de Power e reset (ligar e desligar)no painel superior dos portos de entrada e saída.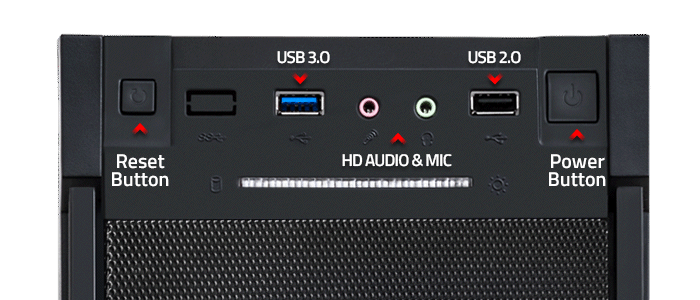 SISTEMA DE REFRIGERAÇÃO
2 COOLERS INCLUIDOS
O gabinete Sentey Cyberia vem com um cooler frontal de 120mm com LEDs y um traseiro incluido de 80mm negro para sacar o ar quente gerado no interior do chassi. No total, a estrutura permite instalar um total de 4 coolers. Um Frontal, dois laterais y um traseiro.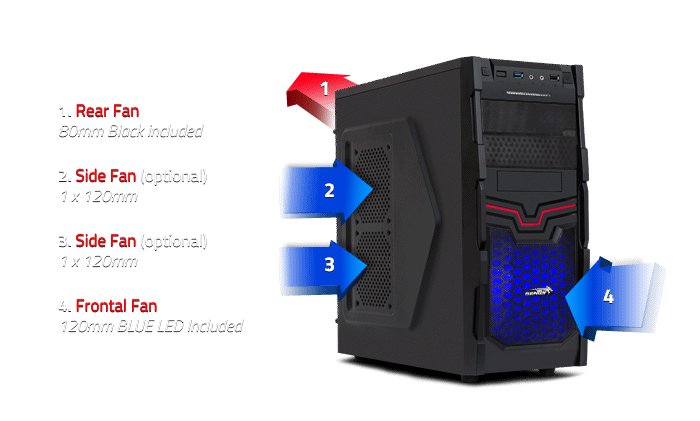 ACESSÓRIOS

Parafusos de Montagem
Isso inclui todos os parafusos para montagem

Slot Ranhura PCI
Inclui uma ranhura que permite uma cobertura de tomada, se necessário.

Auto-Falantes
Detecta sinais sonoros de falha na inicialização da PC
MESH EXTERIOR FRONTAL
O painel frontal é projetada para o tratamento ideal do fluxo de ar. A parte da frente é de malha, tanto na parte inferior onde o radiador com 120 milímetros LED azul, como em cada um dos compartimentos de 5,25 "são.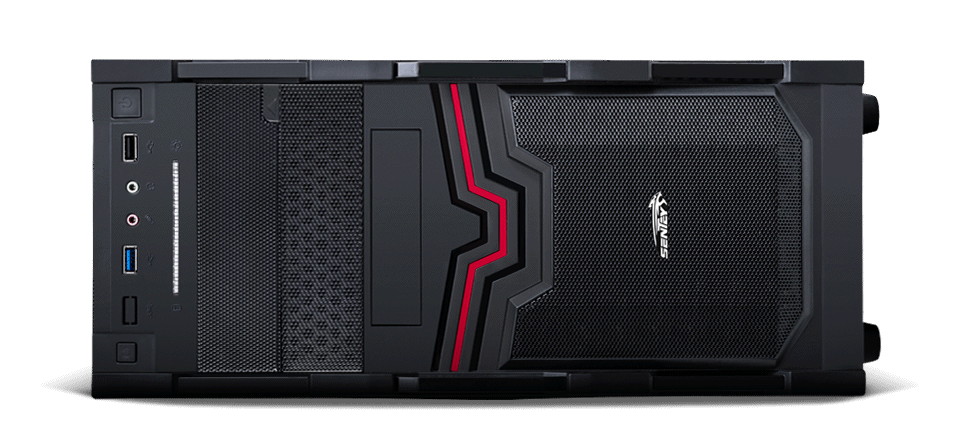 EXTREME GAMING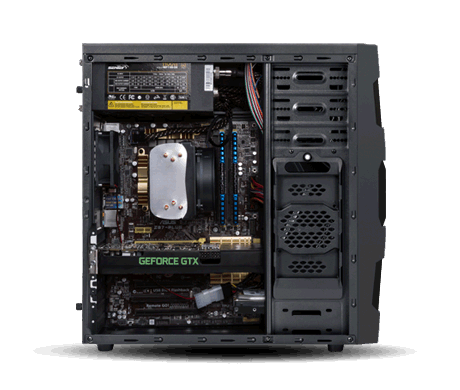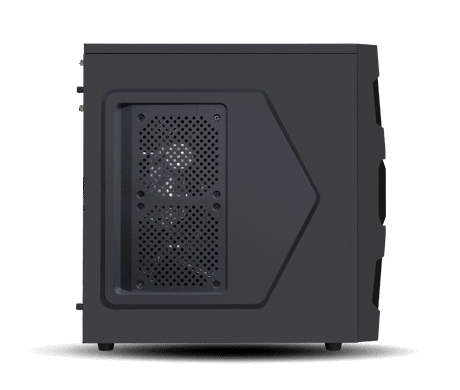 VISTA DO CONJUNTO LATERAL
O modelo Sentey Cyberia , suporta vários VGA high-end, de refrigeração líquida(watercooling) discos SSD e fontes de alimentação (faixas )de alta potência.
VISTA LATERAL
O painel lateral é sólido e tem uma grade de malha especialmente desenhada para instalar dois coolers de 120mm.
SUPORTA DISCO SSD DE 2,5"
Suporta dos discos SSD de 2,5 "em seu interior, e está ligado diretamente ao chassi & SSD Holder.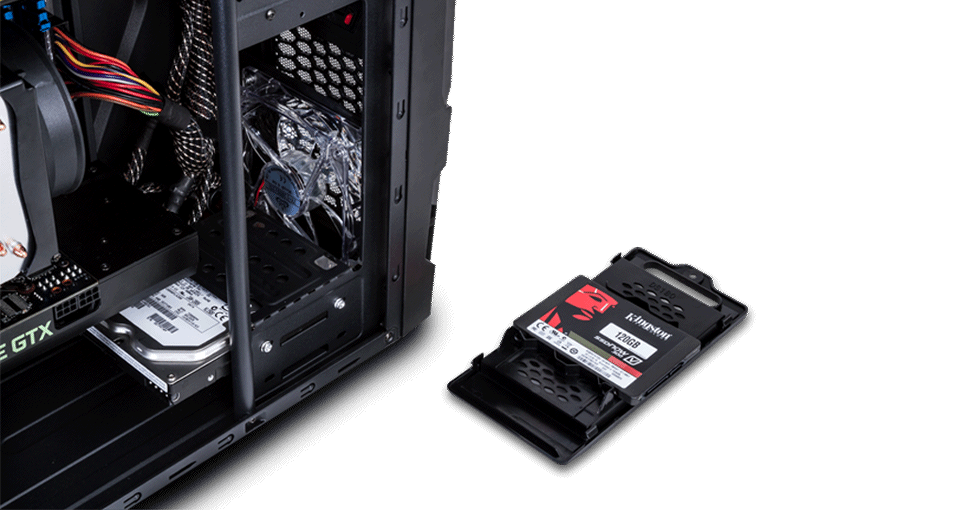 MID TOWER GAMING CASE
O gabinete Mid Tower tem todas as características necessárias para se tornar um gabinete ideal para gamers , entusiastas que procuram um equilíbrio entre o custo eo desempenho extremo.

Pronto para suportar até sete resfriadores que permitem gerir de forma eficiente a refrigeração interna do chassi, suporte à unidade SSD, suporte watercooling e muito mais.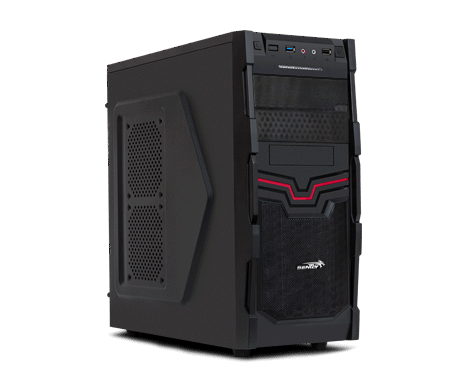 FORM FACTOR: ATX / M-ATX
O gabinete Sentey Cyberia suporta (motherboards)placas-mãe ATX, e Micro ATX e suporta até sete placas em seus slots de expansão slots PCI, de fácil instalação,sem a necessidade de usar ferramentas.

SISTEMA DE REFRIGERAÇÃO
Ele foi projetado com um pensamento inovador direcionado as necessidades de um jogador exigente ao extremo e usuários avançados de computadores. O gabinete está perfeitamente concebido para manter a temperatura dentro do chassi e para gerar o fluxo correto do ar a partir do interior para o exterior.

Pode-se instalar um total de 4 fan coolers.

• Frente: 1x120mm com LEDs Azules
• Lateral: 2x120mm (opcional)
• Trasiero: 1x80mm Preto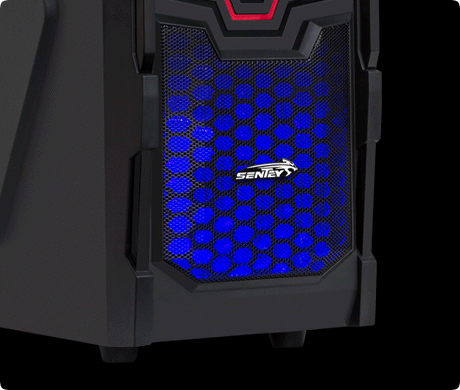 SOPORTE DE VGA GAMING HIGH END
VGA ATE 340 MILÍMETROS
As medidas extraordinárias do chassi permitem colocar em seu interior ate três placas de vídeo HIGH END 340 mm de largura de maneira confortável satisfazendo as necessidades de um Gamer (jogador usuario)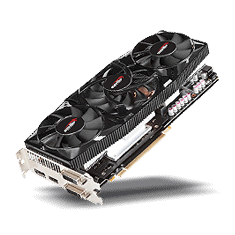 COOLERS ATÉ 150MM
É cada dia mais comum o uso de coolers de CPU High-End maiores do que o padrão que vêm com o microprocessador.O gabinete Sentey Cyberia tem a capacidade de acomodar refrigeradores até 150mm de altura.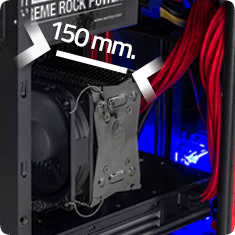 PORTOS FRONTAIS
Na parte da frente da caixa, uma posicão ideal para fácil acesso, são as portos de entrada e saída. 2 portos USB são acompanhadas pelos conectores de HD áudio de alta definição e microfone mais o botão de ligar e desligar ( reset) , tudo muito acessível a qualquer usuário.

• Portos USB: 1 x USB 3.0 + 1 x USB 2.0
• botão de power (ligar) com LED + botão de reset(desligar)
• HD Audio e Mi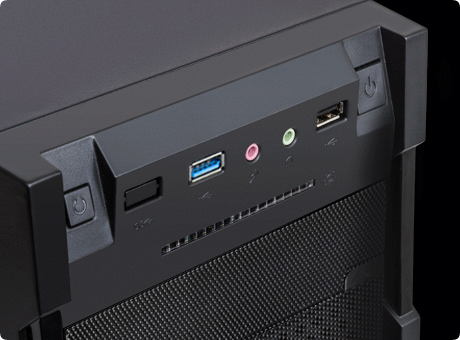 ESPECIFICAÇÕES
CASE
Nome
Cyberia
Model
GS-6007
Serie
GS-6007
Warranty
1 Ano
EAN
9771411160072
UPC
788511160078
STRUCTURE
Type
Mid Tower
Cor
Negra
Material
Aço SGCC
Suporta Placas
ATX, M-ATX
Montagem de Fonte
Traseiro Superior
Tamanho de VGA
340mm max.
CPU Cooler Max. Size
150mm
Suporte de Watercooling
Sim
Motherboard Tray
Não
Cabos Ocultos
Não
EXTERIOR
Cor
Negra
Frente
Malha
Pé
Borracha de 15mm
Painel Lateral
Sólido com grade
Painel Superior
Sólido
Display LCD
Não
Parafusos
Sim
EXPANSIONS
Bahias ext 5.25"
2
Bahias ext 3.5"
1
Bahias int 3.5"
2
Bahias int 2.5"
2
Slots de Expansão PCI
7
FRONT PORTS
USB 3.0
1
USB 2.0
1
Audio Frontal
HD Audio
E-sata
Não
Sata Nativo
Não
Leitor de Cartão
Não
Controlador de Cooler
Não
COOLING SYSTEM
Cooler frontal
1x120mm com LEDs Azules
Cooler lateral
2x120mm opcionales
Cooler Traseiro
1x80mm Preto
PHYSICAL SPECS
Altura
410mm
Largura (cm)
180mm
Comprimento (cm)
415mm
Peso Líquido (kg)
2.96kg
Gross Weight
3.56kg
Tamanho da Embalagem (cm)
465mm (L) 225mm (A) 450mm (H)
EXTRAS
Filtro Anti-Pó
Não
REVIEWS
Não há testes sobre este produto
DOWNLOADS
Não há downloads
PERGUNTAS MAIS FREQUENTES
Não há perguntas frequentes
FORMULÁRIO DE CONTATO
Thank you for contacting us. We will respond to you soon.
GARANTIA
Este produto tem 1 anos garantia limitada do hardware para.
CONTATO

EMAIL DE SUPORTE

SUPORTE VIA FACEBOOK

SUPORTE VIA TWITTER

TELEFONE