4 Fans

Supports SSD's

LCD Display

Fan Controller
LCD DISPLAY + FAN CONTROLER + HD AUDIO
The Sentey BX1-4237 has 2 USB 2.0 Ports, a fan controller to regulate the RPM of any of the four individual fans. An LCD display, HD Audio, Reset and Power buttons with LED activity indicator on the front of the case.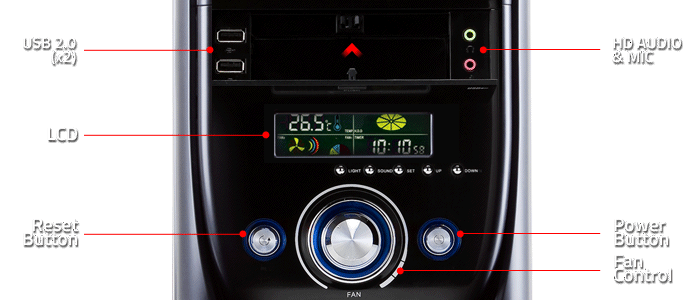 EXTREME COOLING SYSTEM
4 CASE FANS ARE INCLUDED. CASE IS WATER COOLING READY.
The Sentey BX1-4237 comes with four factory installed case fans that ensure proper cooling of the chassis and it's hardware components. A front mounted 120mm fan plus optional side mounted 120mm fans are positioned to cool any installed graphic card, a rear 120mm cooler and a top exhaust fan push the hot air outward. It also has the ability to add two fans to the top panel, and the added ability to add a seventh fan to the bottom of the case and is compatible with most water cooling systems available on the market today.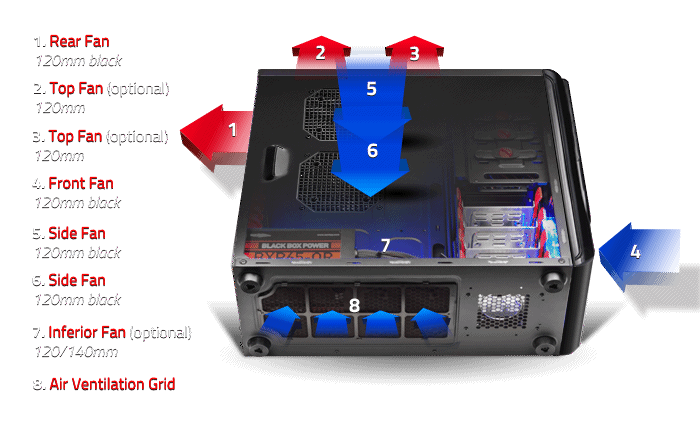 ACCESSORIES

Mounting Screws
All mounting screws needed for assembly of components are included

PCI Slot Cover
A PCI Slot cover is included if necessary.

Speaker
Generates audible fault beeps / sounds at boot up.

Zip Ties
For cable management
AWARDS



FRONT AIR VENT EXTERIOR
The front panel has been designed for optimal airflow. The front is completely comprised of Mesh. Both at the bottom where the 120mm blue led fan is located as well as in each of the 5.25" bays and the 3.5" bay.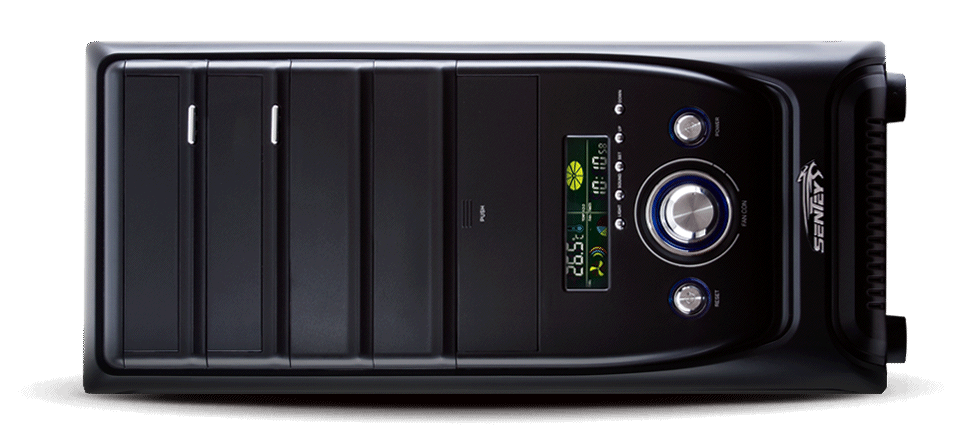 EXTREME GAMING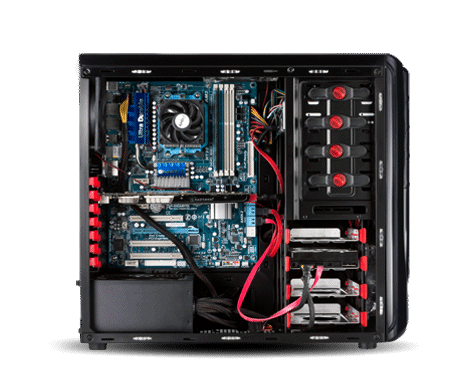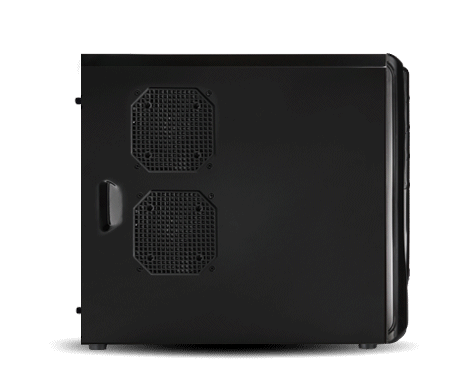 OPEN SIDE VIEW
Supports multiple High End Graphics cards, Watercooling, SSD drives and high capacity power supplies.
CLOSED SIDE VIEW
The side panel is made of solid steel and features two mesh grille openings where 120mm blue LED fans are mounted to intake fresh air inside.
CABLE MANAGEMENT AND MOTHERBOARD TRAY LAYOUT
Cables can be optimally routed behind the plate behind the motherboard tray, thus allowing the entire system to have a much more cleaner look. While also facilitating the proper circulation of air throughout the case. The motherboard tray window allows the CPU Cooler to be removed for cleaning and / or replacement without having to unmount the motherboard. This feature saves alot time in assembling and testing the components.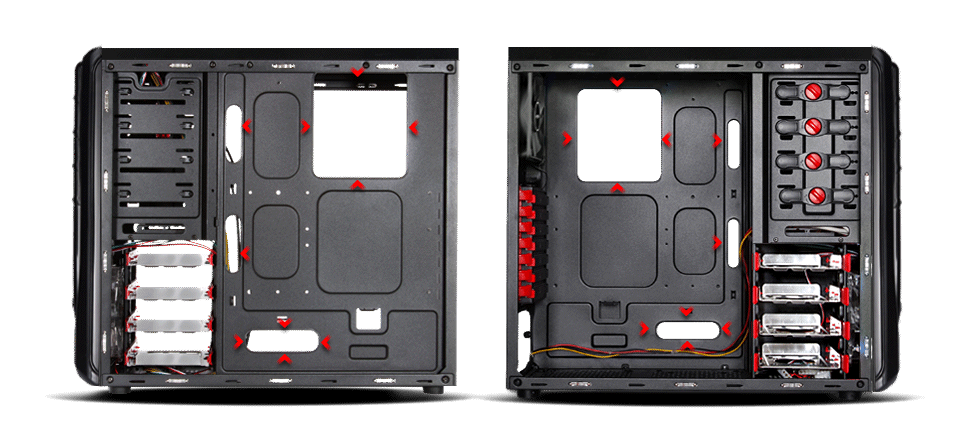 MID TOWER CASE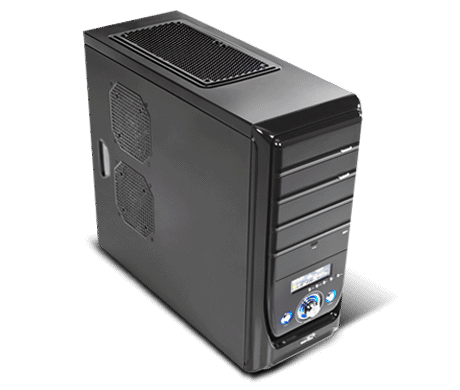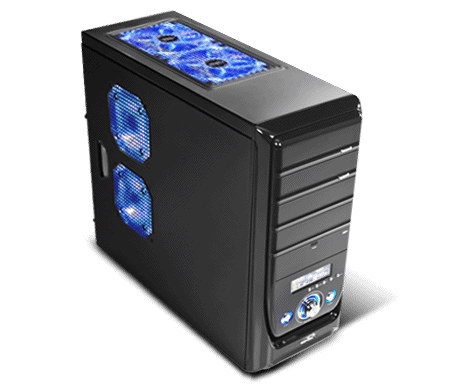 This is the ideal case to build a high-performance home computer designed for people who use their computers daily.
Comes with four fans included, but may be optionally increased to seven by installing two fans on the top panel and one in the bottom the case. Also, all the HDD trays are ready to mount a slim HDD fan as well.
FORM FACTOR: ATX / M-ATX
Supports Micro ATX and ATX motherboards, and has room for up to seven PCI Expansion slots, all embedded in an easy to use tool-less design.

COOLING SYSTEM
The case is designed with innovative ideas and styling inline with thinking and needs of the discerning gamer and advanced computer user. The computer case is optimally designed to maintain the temperature inside the chassis relative to room temperature and to maintain optimal airflow throughout the components mounted inside. In total, it has four fans and a total of seven PCI expansion slots.

• Front: 1x120mm led fan
• Side: 2x120mm led fan
• Rear: 1x120mm fan
• Top Panel: Optional 2x120mm led fan
• Lower Mount: Optional 120/140mm fan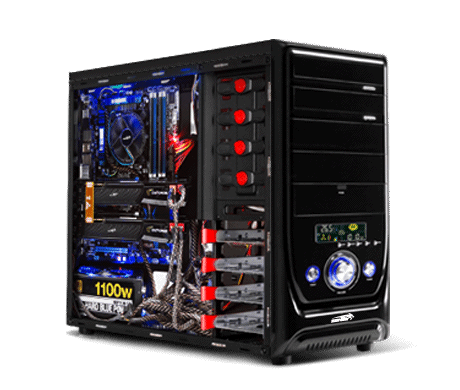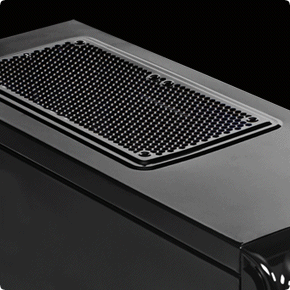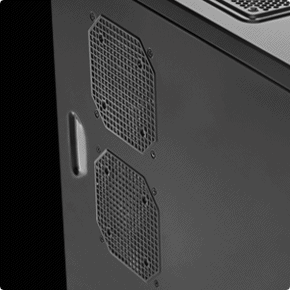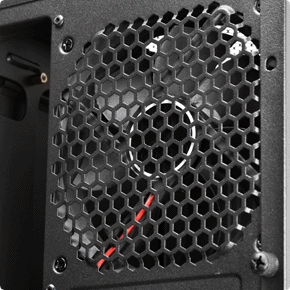 TOP MESH PANEL
Allows the installation of 2 120mm fans.
2 SIDE GRILLS
Includes two 120mm side panel fans.
REAR FAN
Includes a black exhaust 120mm fan
FRONT PORTS
The front of the case features ideally placed buttons and ports for easy access. All Input / Output ports are within reach. Two USB 2.0 ports are accompanied by HD Audio and microphone ports. As well as the power button and reset buttons are all very accessible to the user.

• 2 USB 2.0 Ports
• Fan Controler and Display
• Power button + Reset button
• HD Audio and Mic.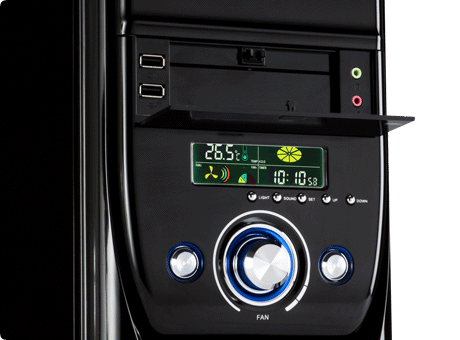 REMOVABLE ALUMINUM DRIVE BAYS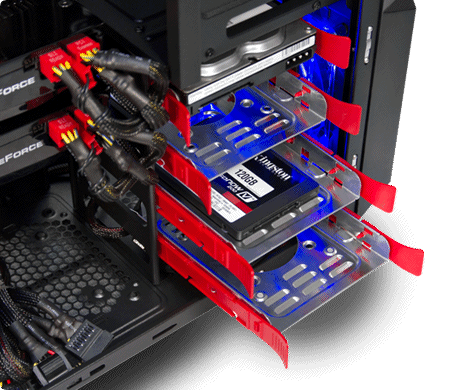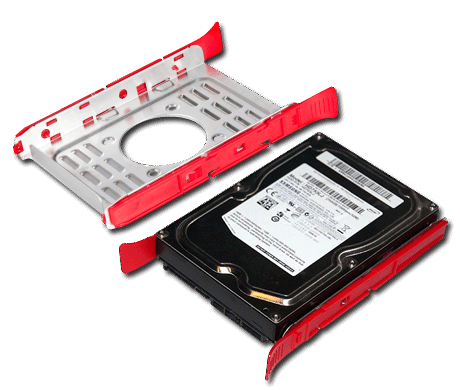 SUPPORTS 4 3.5" OR 2.5" HDDS
The case supports a total of four hard disk drives, Any combination of 3.5" and or 2.5" drives; SSD's included.
REMOVABLE ALUMINUM TRAYS
The removable trays are made of aluminum, and support both mechanical and solid state hard disk drives. Each tray is independent and has the option to mount a slim 60mm fan for additional cooling.
MESH TOP PANEL FOR VENTILATION
Features a SECC Metal and Mesh Top panel, which allows generated hot air to exit the case quickly via two optional 120mm fans.
Two optional 120mm fans can be installed in the top panel.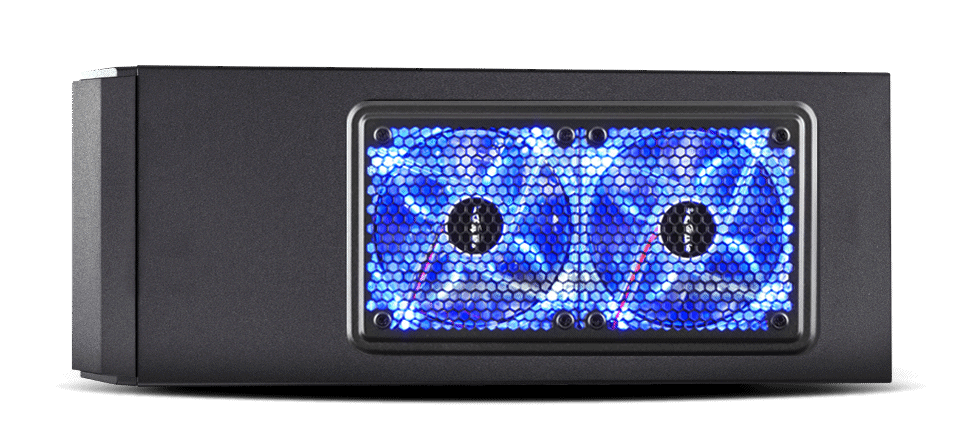 BOTTOM MOUNTED DUST FILTERS
A bottom mounted dust filter covers and filters the bottom openings of the case. It is simple to remove, making it very easy to clean it. This filter prevents dust from entering the inside of the chassis.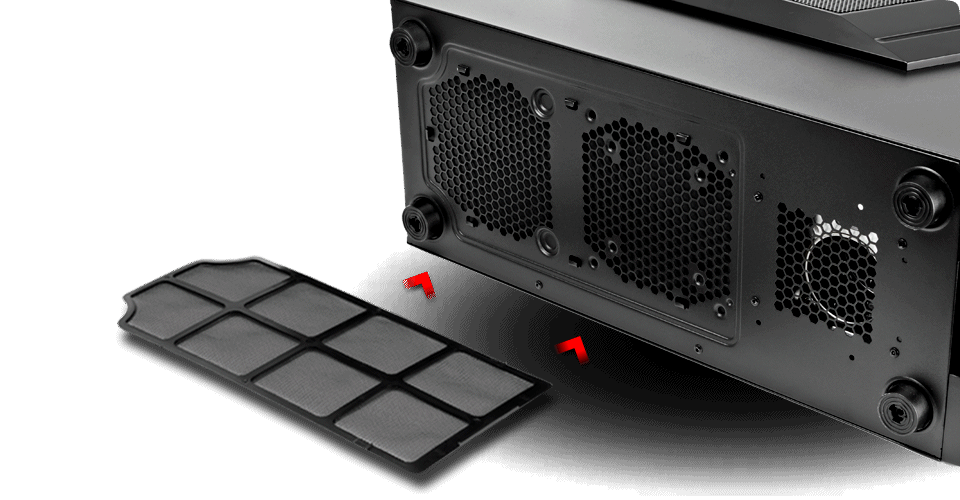 HONEYCOMB FAN GRILL OPENINGS:
1) Powersupply grill
2) Lower fan grill
3) HDD grill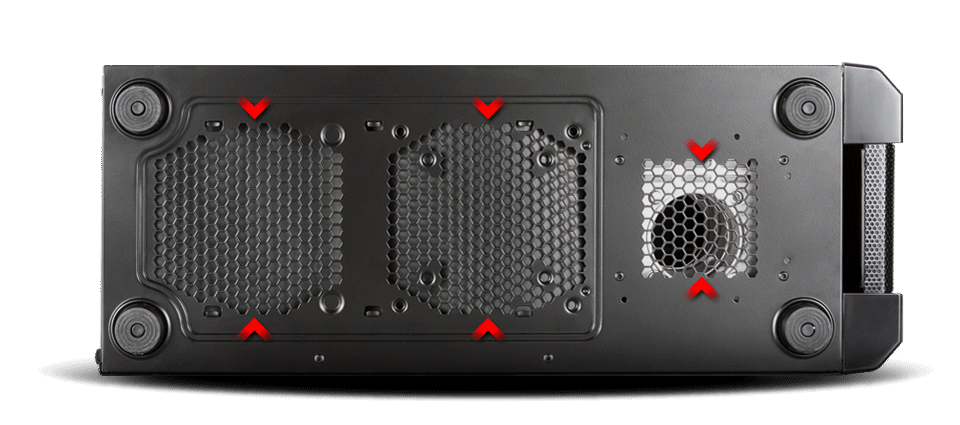 HIGH END GRAPHICS CARD SUPPORT
SUPPORTS UP TO 340MM LONG GRAPHICS CARDS
The case's long length accommodates up to three HIGH END dual slot video cards that are 340mm long without any problem, thus satisfying even the most demanding gamer.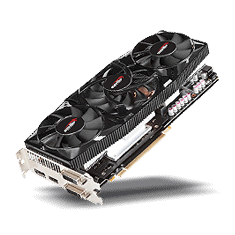 CPU COOLERS THAT ARE UP TO 150MM IN HEIGHT ARE SUPPORTED
It is increasingly common to use high-end CPU coolers whose height is larger than the standard included cooler. The case has capacity for coolers up to 150mm tall.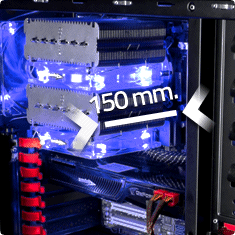 PSU MOUNTING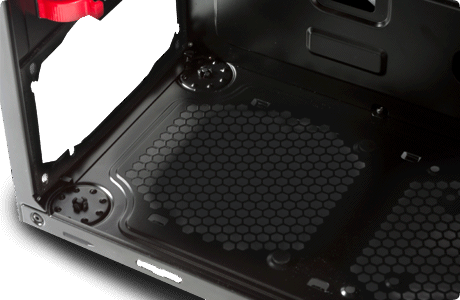 Power supply mounting is located at the bottom rear of the case, with the added possibility of installing an optional fan under it in either orientation. This mounting allows the case to be 100% compatible with all standard power supplies. If the PSU is mounted with its fan facing downwards, the chassis has a grate patterned mesh grill that allows optimal airflow, preventing components inside the case of over heating.

An additional benefit of a bottom mounted PSU is that size is not a problem. Because of where the PSU is located, it won't interfere with any other components. So you can install an extra large sized PSU without any problems.
TOOL-LESS DESIGN, QUICK TO INSTALL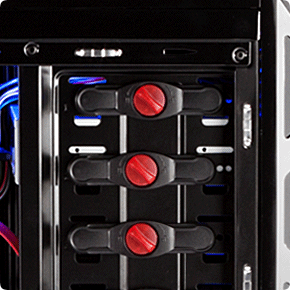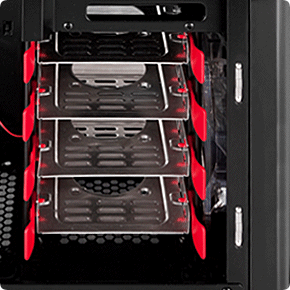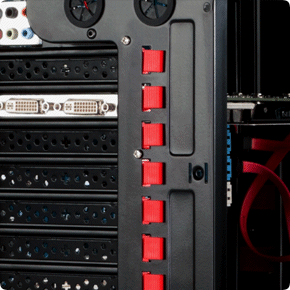 PLASTIC TOOL-LESS BRACKETS
Allow the installation of 5.25" drive bay units, such as a BluRay optical drive to be mounted without the use of any tools.
ALUMINUM HDD TRAYS
Allow the quick installation of HDD's.
PCI LOCKS
Allow the installation a VGA or PCI compliant expansion card without the need to use any tools.

SPECIFICATIONS
CASE
Name
BX1-4237 V2.1
Model
BX1-4237 V2.1
Part Number
BX1-4237 V2.1
Warranty
1 Year
STRUCTURE
Type
Mid Tower
Color
Black
Material
SECC 0.7mm Steel
Motherboard Compatibility
ATX, M-ATX
Power Supply Mounted
Bottom
VGA Max Length
340mm
CPU Cooler Max. Size
150mm
Watercooling Support
Yes, Dual Tube Passthrough
Motherboard Tray
Yes
Cable Management
Yes
EXTERIOR
Color
Black
Front
Solid
Feet
15mm Plastic Feet
Side Panel
Solid and Mesh
Top Panel
Mesh
LCD Display
Yes
Thumbscrews
Yes
EXPANSIONS
External 5.25" Drive Bays
4
External 3.5" Drive Bays
1
Internal 3.5" Drive Bays
4
Internal 2.5" Drive Bays
4
Expansion Slots
7
FRONT PORTS
USB 2.0
2
Audio
HD Audio / AC97
E-sata
No
SATA
No
Card Reader
No
Fan Controller
Yes
COOLING SYSTEM
Front Fan
1x120mm Black Fan
Side Fan
2x120mm Black Fan
Top Fan
2x120mm (Optional)
Bottom Fan
1x140mm/120mm (Optional)
Rear Fan
1x120mm Black Fan
HDD Bay Fan
60mm slim (Optional)
PHYSICAL SPECS
Height
440mm
Width
190mm
Length
485mm
Net Weight
4.9kg
Gross Weight
5.8kg
Packaging
500mm (L) 240mm (A) 540mm (H)
EXTRAS
Dust Filter
Bottom
REVIEWS

07-09-2011
.
BX1-4234 Black Box Case Review
by Tech Kings Reviews
Overall, the BX1-4234 is a very solid case. The front LCD panel is attractive, and its basic fan controller capabilities work well, and even has more advanced features such as temp...
VIEW REVIEW


06-01-2011
.
BX1-4284 Black Box Case Review
by Tech Reaction
The Sentey BX1-4284 V2.3 came with the same quality and classy look we have come to expect from Sentey. The high-gloss black paint job always helps make a case look distinguished. ...
VIEW REVIEW


05-11-2011
.
BX1-4284 Black Box Case Review
by Big Bruin
The Sentey BX1-4284 v2.1 can be found at a few online retailers, but your best bet is probably Newegg.com where it sells for $49.99 (US), which is a heck of deal for a case with al...
VIEW REVIEW

DOWNLOADS
No downloads available
FREQUENTLY ASKED QUESTIONS
No frequently asked questions available
CONTACT FORM
Thank you for contacting us. We will respond to you soon.
WARRANTY
This product has a 0 years limited hardware warranty.
CONTACT US

SUPPORT EMAIL

SUPPORT VIA FACEBOOK

SUPPORT VIA TWITTER

TELEPHONE

1-855-773-6839

1-855-7 SENTEY