HD Stereo Headphones

Titanium Drivers

Foldable

Removable Audio Cable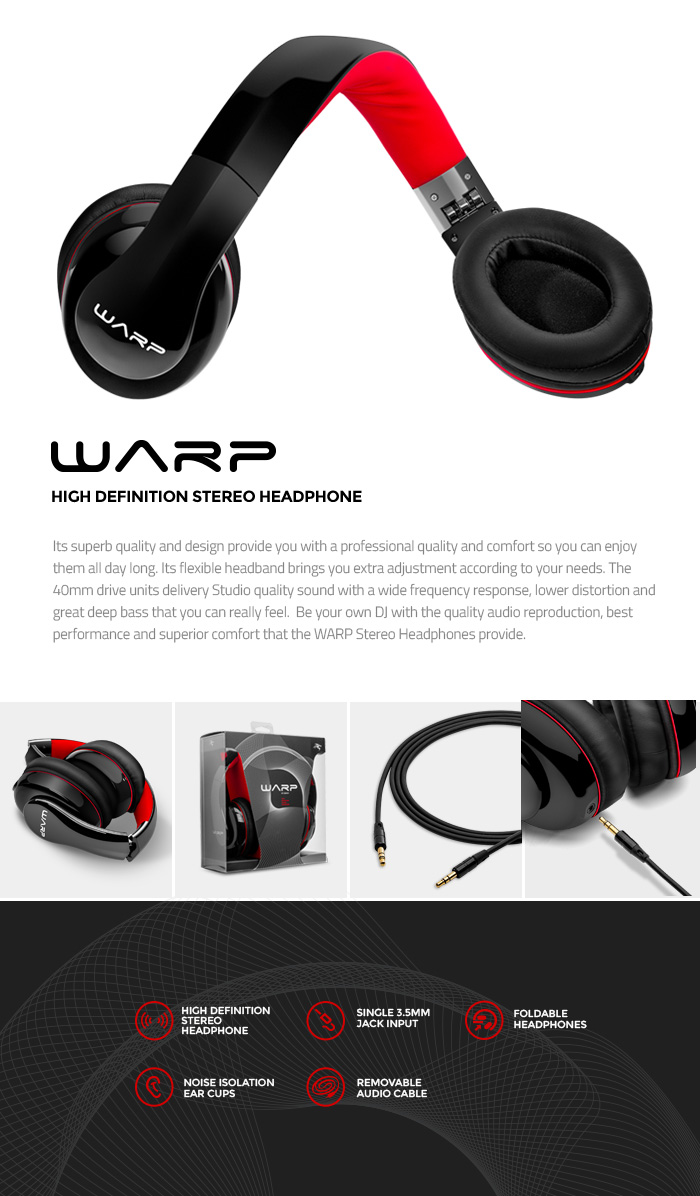 ACCESSORIES

3.5mm Audio Cable
To connect to Pc, Smartphone, Tablet, etc.
AWARDS

FEEL THE GROOVE, FEEL THE MUSIC
WIDE FRECUENCY RESPONSE / LOWER DISTORTION COMPONENTS / GREAT DEEP BASS
Jam to the beat of your own music with the WARP Stereo Headphones by SENTEY. Its superb quality and design provide you with a professional quality and comfort so you can enjoy them all day long. Its flexible headband brings you extra adjustment accordingly to your needs. The 40mm drive units delivery Studio quality sound with a wide frequency response, lower distortion and great deep bass that you can really feel. Be your own DJ with the quality audio reproduction, best performance and superior comfort that the WARP Stereo Headphones provide.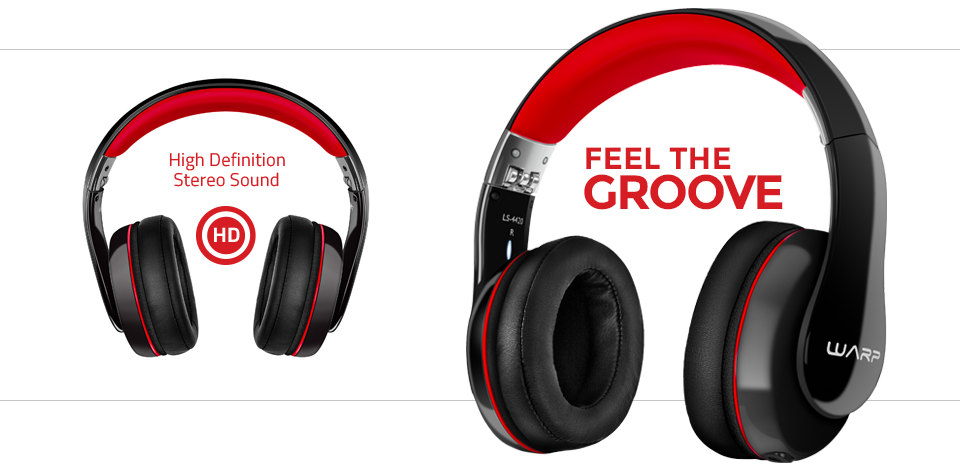 TITANIUM PLATED DIAPHRAGM
HIGH ELASTICITY / VIBRATION CONTROL / LIGHTWEIGHT
ø40mm Drive Diameter Headphone
32Ω Impedance
20Hz~20KHz Frequency Response

FOLDABLE / REMOVABLE AUDIO CABLE
GREAT SOLUTION FOR ON-THE-GO-AUDIO
High Quality Metal Joints. - Removable Audio Cable - Foldable Structure Headphone

PACK PREMIUM, VERY COMFORTABLE, EXTREMELY AFFORABLE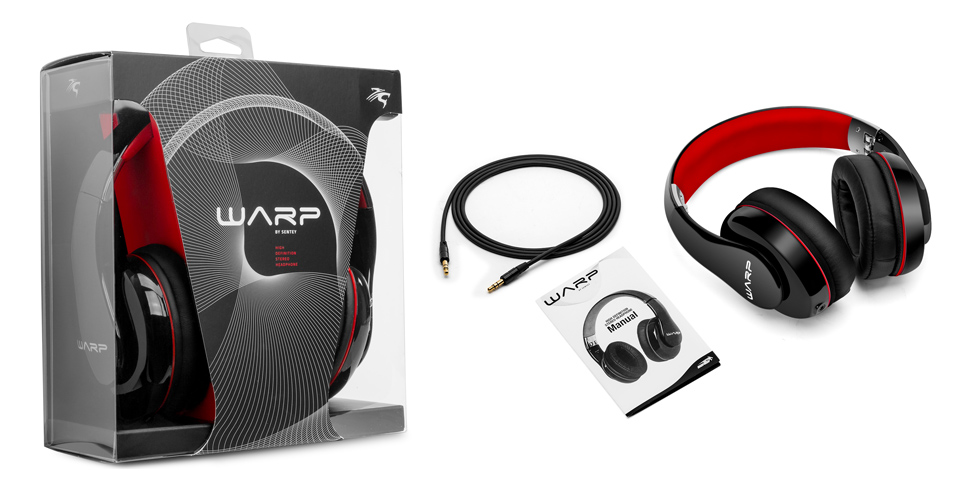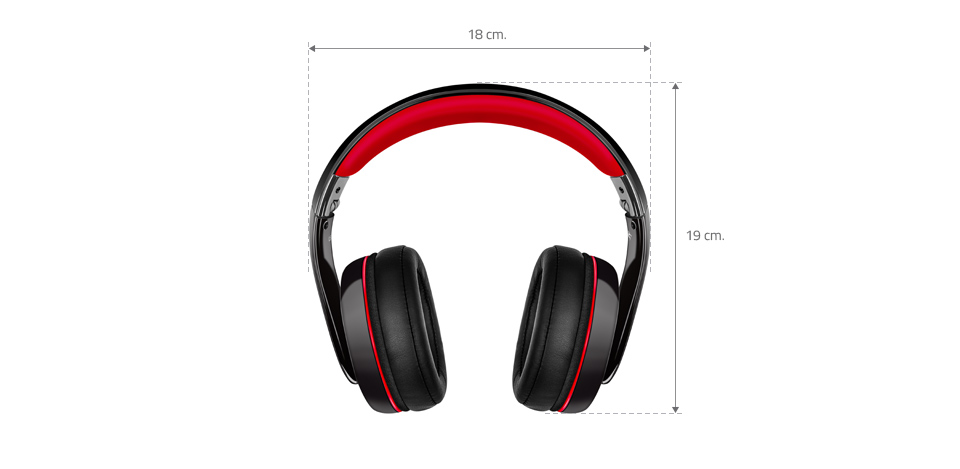 SPECIFICATIONS
GENERAL
Name
Warp
Model
LS-4420
Series
Stereo Headphone
Type
Stereo Headphone
Warranty
1 Year
SPEAKERS LEFT & RIGHT
Drive Diameter
40mm
Impedance
32 Ω±15% @ 1000Hz
Frequency Response
20~20KHz
Signal to Noise Ratio
92dB
T.H.D
Less 0.1%
Sensitivity (S.P.L)
103dB±3dB @ 1000Hz
PHYSICAL SPECS
Connector
Plug 3.5mm
Cable Length
1.2 Meters Cable
Size
190 x 180
Net Weight
264gr
Gross Weight
360gr
ACCESORIES
Documentation
Instruction Manual
SYSTEM REQUIREMENTS
Operating System
Windows 10, Windows® 8, Windows® 7, Vista®, XP
PC Connection
Plug 3.5mm
Warp
Videos and reviews
Sentey® Warp Stereo Headphones High Definition Unboxing/Review
BEST HEADPHONES EVER COMPARED TO THE BEATS
Sentey® Headphone Stereo Warp High Definition on Ear - Detachable Audio Cable / Foldable Structure / 3.5 Mm Connector / 32ω Impedance / 20hz~20khz Frequency Response / Titanium Plater Diaphragm / 40mw Rated Power 100mw Max. Input Power / Extreme High End Audiophile Sound Level / Superior Bass Response Portable and Foldable That Let You Use in Many Places As Workout, Running, Listening, Walking and More - Ls-4420
Posted:
REVIEWS

07-03-2016
.
Sentey LS 4421 Headphones Warp Pro BlackRed Rubber Painting Review
by jtata
...
VIEW REVIEW

DOWNLOADS
No downloads available
FREQUENTLY ASKED QUESTIONS
No frequently asked questions available
CONTACT FORM
Thank you for contacting us. We will respond to you soon.
WARRANTY
This product has a 12 months limited hardware warranty.
CONTACT US

SUPPORT EMAIL

SUPPORT VIA FACEBOOK

SUPPORT VIA TWITTER

TELEPHONE

1-855-773-6839

1-855-7 SENTEY