Microfono Omnidireccional para el manos libresree

On Device Volume Control

3.5mm AUX Audio Input

Bluetooth® Wireless Connection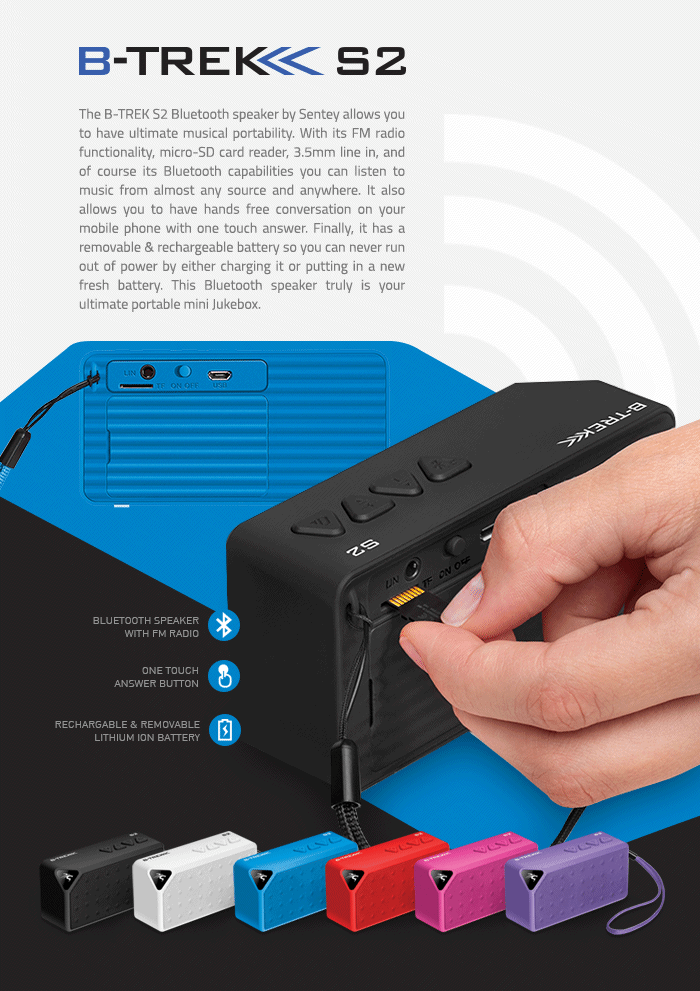 ACCESORIOS

Cable USB
micro USB to USB charging cable

Cable Plug 3.5mm
3.5mm Audio male to male

Strap
Wrist Strap

Battery
Rechargable and Removable Lithium Ion
ULTRA-PORTABLE BLUETOOTH® SPEAKER
B-TREK S2
The B-TREK S2 Bluetooth speaker by Sentey allows you to have ultimate musical portability. With its FM radio functionality, micro-SD card reader, 3.5mm line in, and of course its Bluetooth capabilities you can listen to music from almost any source and anywhere.
It also allows you to have hands free conversation on your mobile phone with one touch answer. Finally, it has a removable & rechargeable battery so you can never run out of power by either charging it or putting in a new fresh battery. This Bluetooth speaker truly is your ultimate portable mini Jukebox.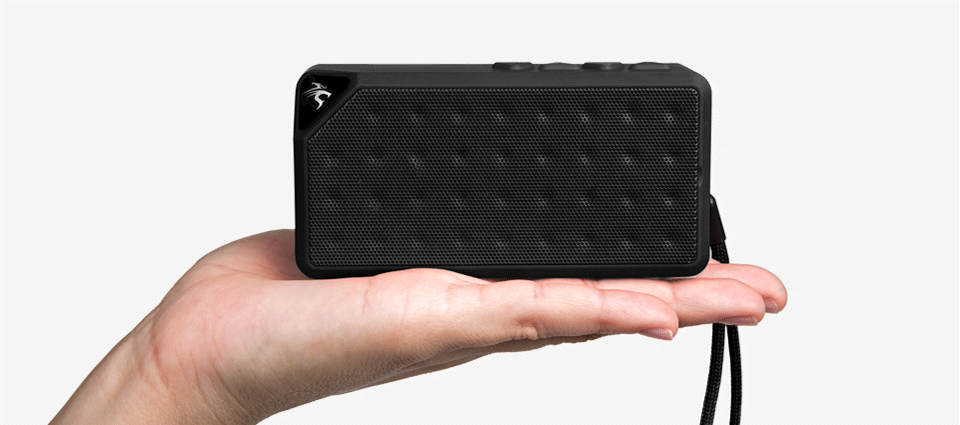 BLUETOOTH® CONNECTION
BLUETOOTH® V2.1 & PROFILES
The B-Trek S2 speaker uses a Bluetooth® V2.1 for a reliable connection up to 33 feet (10 meters) from the speaker. It has A2DP, AVRCP, Headset, and Handsfree profiles for total control from any device connected.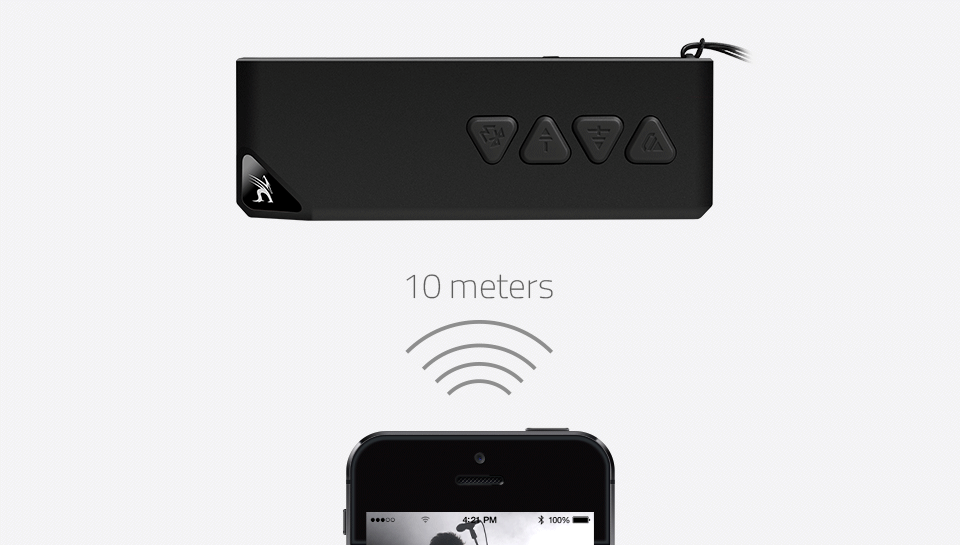 MUSIC PLAYBACK FROM MORE THAN JUST THE BLUETOOTH® CONNECTION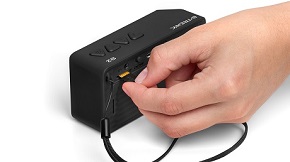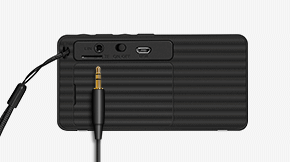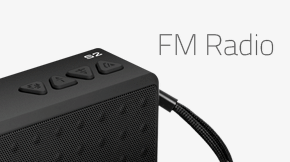 MICROSD CARD INPUT
Play Music from mp3 files on a microSD card.
3.5MM AUDIO INPUT
Play music from any device through a 3.5mm audio connection.
FM RADIO RECEIVER
Listen to FM Radio when in FM radio mode.
LITHIUM ION BATTERY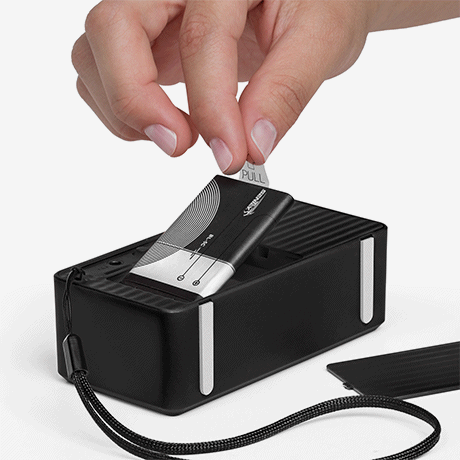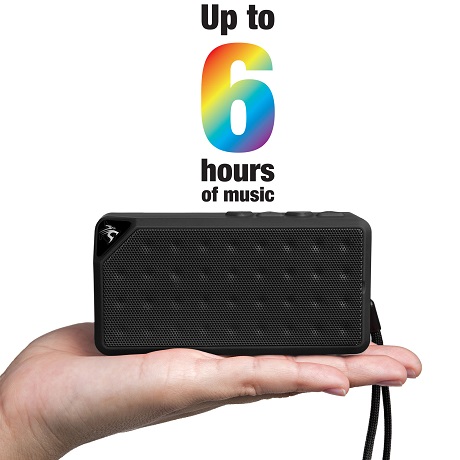 RECHARGEABLE BATTERY FOR EXTENDED USE.
The B-Trek S2 comes included with a rechargeable and removable Lithium Ion battery that is long lasting for your extended use of the speaker.
ENJOY UP TO 6 HOURS OF CONTINUOUS MUSIC!
The B-Trek S2 battery last up to 6 hours (5 hours in Bluetooth mode) to let you enjoy your music without worrying to charge up
INCLUDED ITEMS
INCLUDES EVERYTHING NECESSARY TO START ENJOYING YOUR MUSIC IMMEDIATELY.
The B-Trek S2 comes with 3.5mm audio cable, micro-USB to USB charger cables, wrist lanyard, rechargeable & removable battery, and manual as shown below.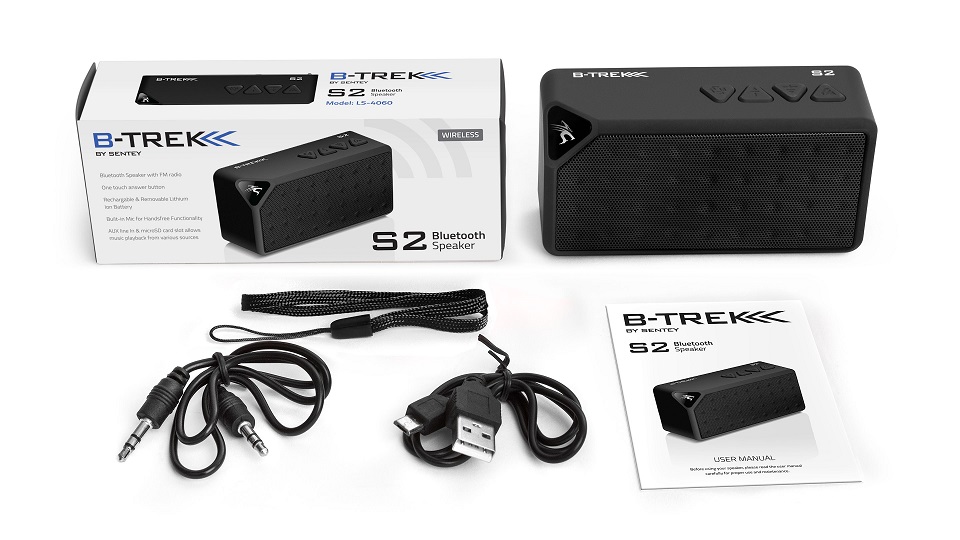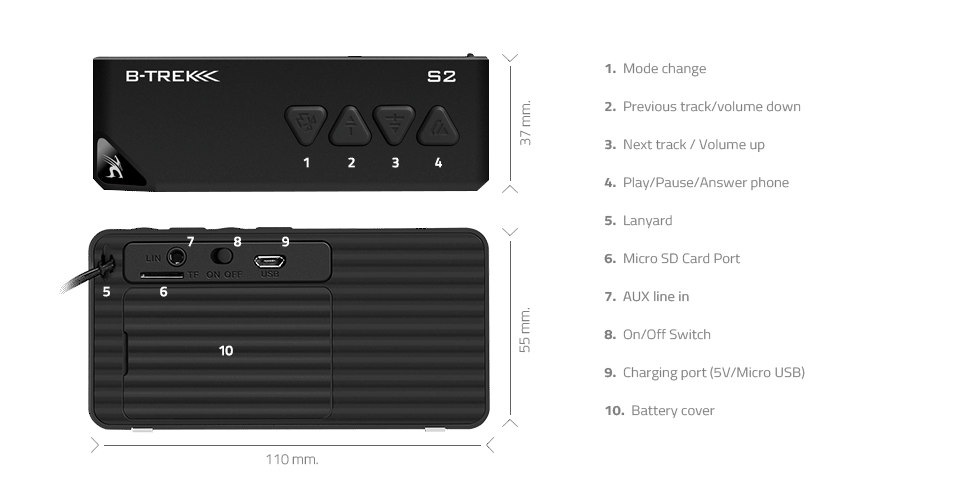 ESPECIFICACIONES
EXTRAS
Bluetooth Version
V2.1
Bluetooth Range
33FT (10m)
Bluetooth Profiles
A2DP, AVRCP, Headset, Handsfree profile
Battery Capacity
400mAh
Battery Life
Up to 6 hours (via AUX line in)
GENERAL
Nombre
B-Trek S2
Modelo
LS-4060
Serie
Bluetooth
Tipo
Speaker
Part Number
LS-4060
UPC
812366020802
Garantía
1 Year
SPEAKERS CENTRAL
Diámetro Speaker
ø45mm
Impedancia
4Ω
Respuesta de Frecuencia
20Hz~18KHz
Salida de potencia
3W
Relación Señal/Ruido
≥95dB
T.H.D
1%
Sensibilidad (S.P.L)
95dB±2dB
MICROFONO
Direccionalidad
Omnidirectional
ESPECIFICACIONES FISICAS
Tamaño (mm)
11x3.7x5.5cm (WxDxH)
Peso Neto
150 g
Tamaño Pack (mm)
13.5x4x5.75cm (WxDxH)
B-Trek S2 Black
Videos y reviews
REVIEWS
No se encontraron reviews para este producto
DESCARGAS
No se encontraron descargas
PREGUNTAS FRECUENTES
No se encontraron preguntas frecuentes
FORMULARIO DE CONTACTO
Gracias por contactarnos. Te responderemos a la brevedad.
Los campos marcados con * son requeridos
GARANTÍA
Este producto tiene 12 meses de garantía de hardware limitada.
CONTACTO

EMAIL DE SOPORTE

SOPORTE VIA FACEBOOK

SOPORTE VIA TWITTER

TELÉFONO

(+54) 11 4924-1314