Plug 3.5mm

Control en cable

Plegables

Carry Case Incluido
PREMIOS




SENTEY FLOW PRO - HEADPHONES STEREO HD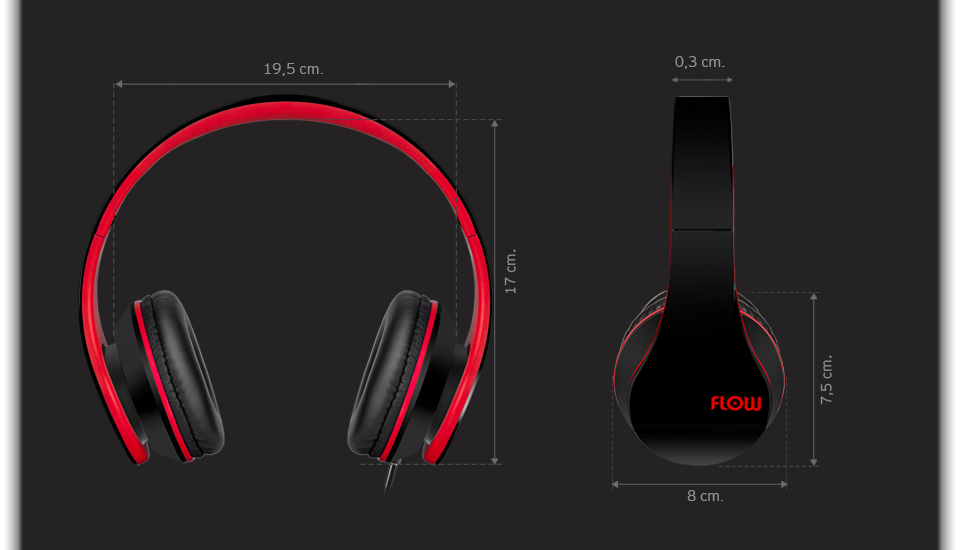 ESPECIFICACIONES
GENERAL
Nombre
Flow Pro Red
Modelo
LS-4225
Serie
HeadPhone
Tipo
Vincha
EAN
812366024206
UPC
812366024206
Garantía
1 Año
SPEAKERS DER/IZQ
Diámetro Speaker
40mm
Impedancia
32 Ω±15% @ 1000Hz
Respuesta de Frecuencia
20~20KHz
T.H.D
5% @ Input Power 20mW
Sensibilidad (S.P.L)
98dB±3dB @ 1000Hz
MICROFONO
Sensibilidad
-48dB±3dB
Direccionalidad
Omnidirectional
Impedancia
2.2K Ω
ESPECIFICACIONES FISICAS
Conector
Plug 3.5mm
Cable
1.2 metros
Tamaño (mm)
195 x 180mm
Peso Neto
295gr
Peso Bruto
400gr
ACCESORIOS
Documentación
Manual Instrucciones
REQUERIMIENTOS DE SISTEMA
Sistema Operativo
Windows 10, Windows® 8, Windows® 7, Vista®, XP
Conexión PC
Plug 3.5mm
Flow Pro Red
Videos y reviews
Unboxing of Flow by Sentey Headphones for iPhone or iPads
Quick unboxing video of Flow by Sentey Headphones
Publicado:
Sentey Flow On-Ear Headphones
These headphones have a great sound and a built in microphone.
Publicado:
Sentey Flow Pro Headphones Unboxing and Review!
I got these headphones for 20 bucks with shipping and handaling and I absolutely love them. I would really recommend getting them and just using them if you don't have the money for quality headphones, because these are.
Publicado:
DESCARGAS
No se encontraron descargas
PREGUNTAS FRECUENTES
Tiene algún costo el proceso de garantia del producto?
No. La reparación del producto no tiene ningún costo para el usuario. Lo único que es a cargo del cliente es el envío. Sentey no se hace responsable del costo del envío bajo ninguna circunstancia. 
FORMULARIO DE CONTACTO
Gracias por contactarnos. Te responderemos a la brevedad.
Los campos marcados con * son requeridos
GARANTÍA
Este producto tiene 12 meses de garantía de hardware limitada.
CONTACTO

EMAIL DE SOPORTE

SOPORTE VIA FACEBOOK

SOPORTE VIA TWITTER

TELÉFONO

(+54) 11 4924-1314