Control de Volumen

Microfono Omnidireccional

Vincha Ajustable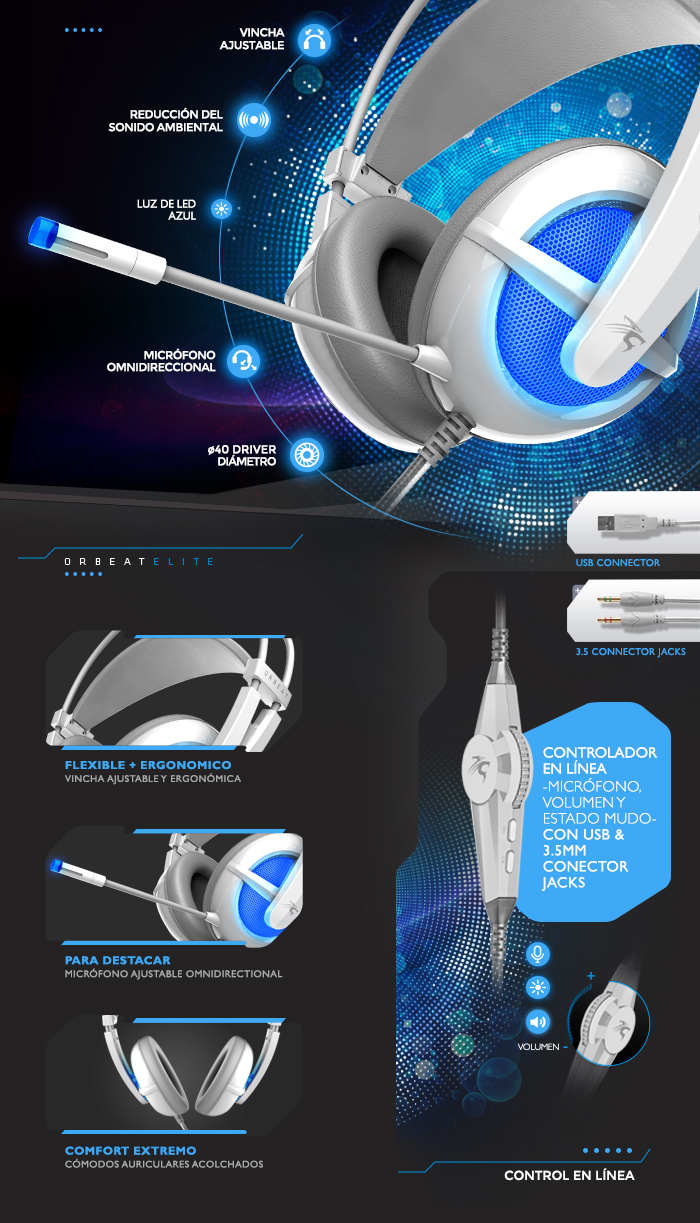 GAMING HEADSET SENTEY ORBEAT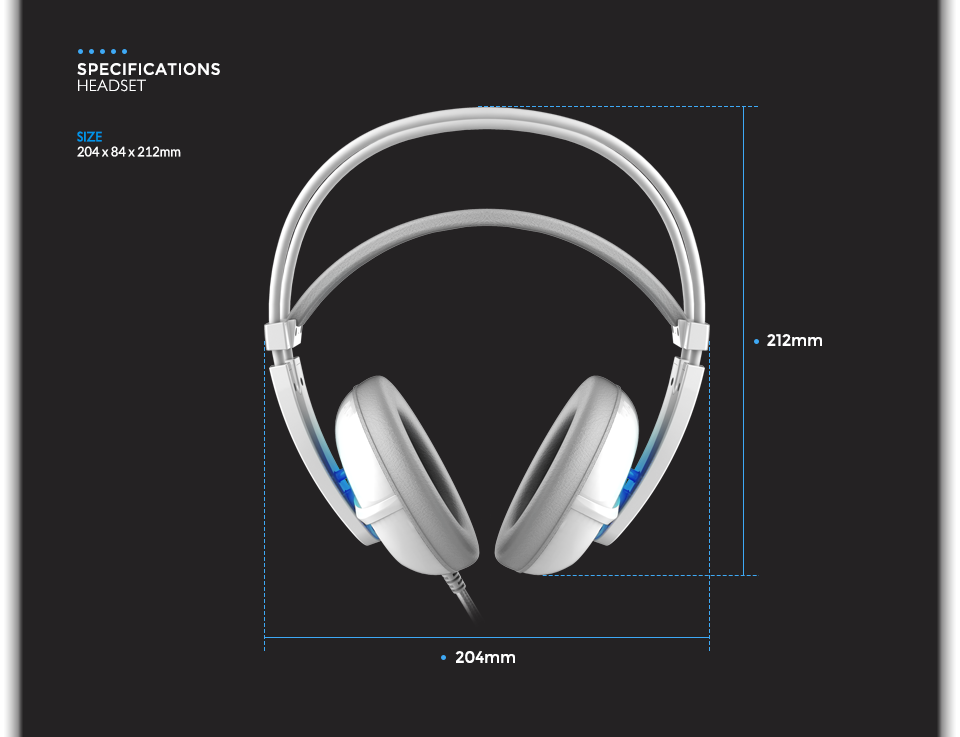 ESPECIFICACIONES
GENERAL
Nombre
Orbeat
Modelo
GS-4440
Tipo
HD Stereo
Garantía
1 Año
SPEAKERS DER/IZQ
Diámetro Speaker
40mm
Impedancia
32 Ω
Respuesta de Frecuencia
20Hz~20KHz
Salida de potencia
10mW
Relación Señal/Ruido
≥-60dB
T.H.D
2 %
Sensibilidad (S.P.L)
92dB±3dB
MICROFONO
Dimensión Mic
ø 4.0 x 1.5mm
Sensibilidad
-47dB±3dB
Direccionalidad
Omnidireccional
Impedancia
≤2,2 KΩ
ESPECIFICACIONES FISICAS
Conector
2 x Plug 3.5mm (audio & mic) + Gold Plated USB 2.0
Cable
2 Metros Cable
Tipo de cable
Heavy Duty Braided
Tamaño (mm)
204 x 84 x 212mm
Peso Neto
350gr
Peso Bruto
400gr
ACCESORIOS
Documentación
Manual
REQUERIMIENTOS DE SISTEMA
Sistema Operativo
Windows® 10, Windows® 8, Windows® 7, Vista®, XP
Conexión PC
Plug 3.5mm
Orbeat White
Videos y reviews
Sentey Orbeat Gaming Headset GS-4440 Review
Review of the Sentey Orbeat Gaming Headset GS-4440.
Publicado:
Sentey Orbeat GS-4440 Gaming Headset
The Sentey Orbeat GS-4440 Gaming Headset is part of the Sentey Elite Gaming Headset line and is currently my favored headset for specific features. Comparing these to the Artix, you basically have a couple of spec differences, plugging differences, microphone design differences, and control distinctions. They are both nice headphones, however, and they both have distinct differences that make them viable headset choices.
Publicado:
Sentey Gaming Headset Orbeat Gs-4441 Review
Overall, these are an excellent set of headphones. These provide me with a great quality sound. The strong bass truly allows me the full gaming or entertainment experience that I am looking for. At maximum volume, these did not have any fuzzing, static or bad quality to them. The microphone is very sensitive and picked up full conversations easily. The fit of the headphones provides a strong secure fit while being extremely comfortable. The ear pieces are cushioned and fully cover your ears. The cord length is quite long at over six feet. The strap that extends over your head adjusts automatically.I can wear these for hours and not feel any soreness or fatigue from them. This is truly a set designed for a gamer like me. I would recommend these to anyone.
Publicado:
REVIEWS
No se encontraron reviews para este producto
DESCARGAS
No se encontraron descargas
PREGUNTAS FRECUENTES
Tiene algún costo el proceso de garantia del producto?
No. La reparación del producto no tiene ningún costo para el usuario. Lo único que es a cargo del cliente es el envío. Sentey no se hace responsable del costo del envío bajo ninguna circunstancia. 
FORMULARIO DE CONTACTO
Gracias por contactarnos. Te responderemos a la brevedad.
Los campos marcados con * son requeridos
GARANTÍA
Este producto tiene 12 meses de garantía de hardware limitada.
CONTACTO

EMAIL DE SOPORTE

SOPORTE VIA FACEBOOK

SOPORTE VIA TWITTER

TELÉFONO

(+54) 11 4924-1314