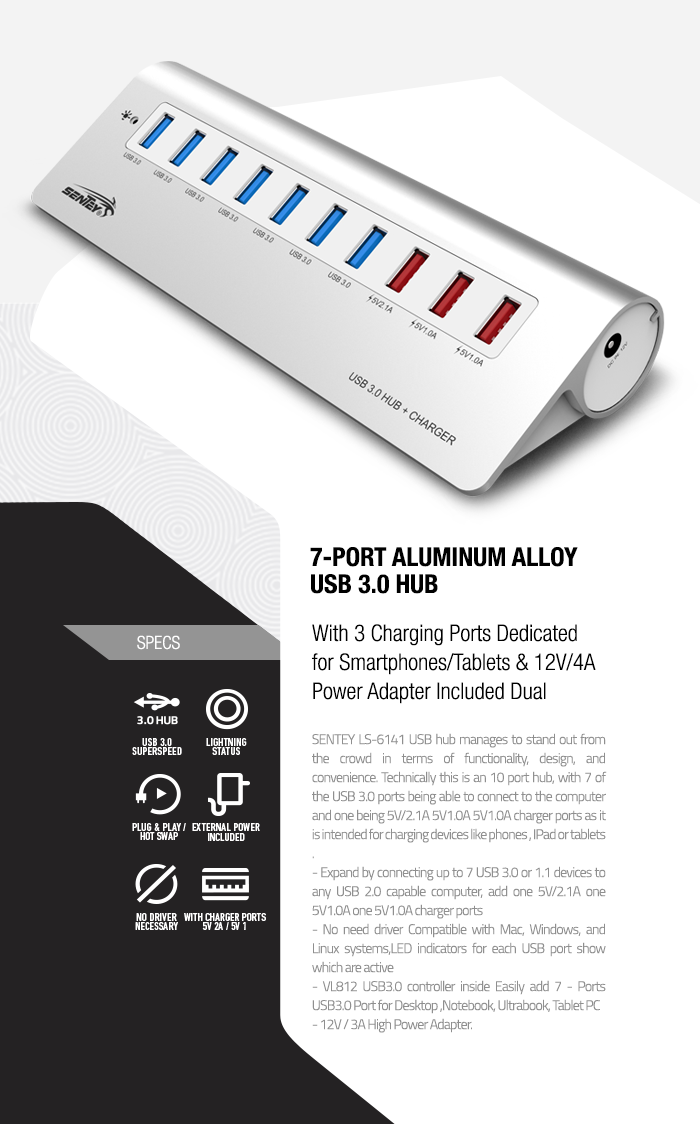 ACCESORIOS

Travel Pouch
Black microfiber
7-PORT USB 3.0 HUB WITH THREE CHARGER PORTS
The LS-6141 is capable of supporting seven USB devices simultaneously with a cable gives a length therefore you can move this hub to an area that suits you best when working at your desk Compatibility with most commuters this USB hub is easy to connect additional computer.
HIGH SPEED USB 3.0 PORTS + THREE USB CHARGER PORTS
The LS-6130 has seven High Speed USB 3.0 ports with lastest chipset that is more efficient power use over USB 2.0 with a transfer eate up to 5Gbps, 10 times faster than USB 2.0. This model is Plug & Play and no need drivers.

ALUMINUM DESIGN WITH DETACHABLE USB CABLE
Easy access to your USB3.0 ports with convenient using experience;No need to plug your USB3.0 devices under your desk anymore. Made with Aluminum material and R/W LED indicator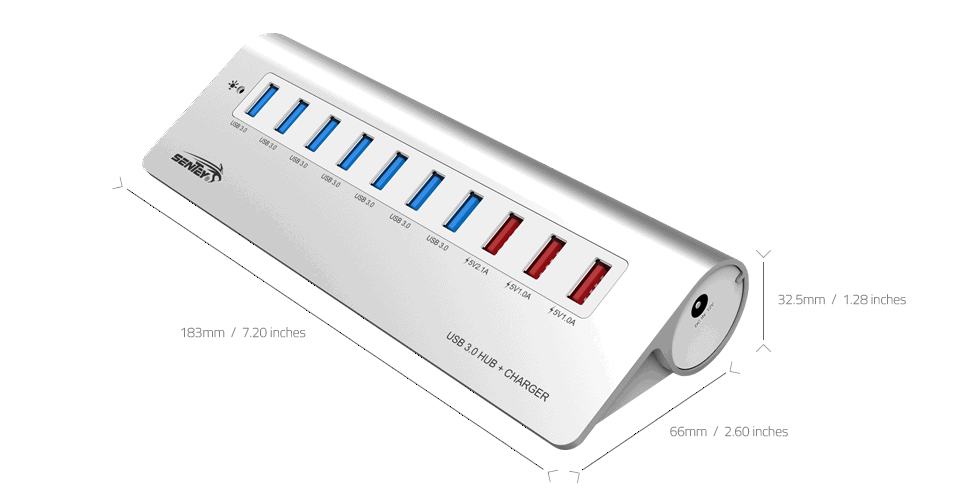 ESPECIFICACIONES
EXTRAS
Power Supply: AC Input
100-240V 50/60Hz 800mA
DC Output
12V 4A
USB Ports
7
USB Type
High speed 3.0
Charger ports
3 - 1A + 1A + 2.1A
GENERAL
Nombre
LS-6141
Modelo
LS-6141
Part Number
LS-6141
UPC
00812366021038
Garantía
1 year
ESPECIFICACIONES FISICAS
Material
Aluminum housing
Dimensión
7.20'' x 2.60'' x 1.28''
Color de superficie
Silver
Peso Bruto
1.44 oz
REVIEWS
No se encontraron reviews para este producto
DESCARGAS
No se encontraron descargas
PREGUNTAS FRECUENTES
No se encontraron preguntas frecuentes
FORMULARIO DE CONTACTO
Gracias por contactarnos. Te responderemos a la brevedad.
Los campos marcados con * son requeridos
GARANTÍA
Este producto tiene 1 años de garantía de hardware limitada.
CONTACTO

EMAIL DE SOPORTE

SOPORTE VIA FACEBOOK

SOPORTE VIA TWITTER

TELÉFONO

(+54) 11 4924-1314