2 Fan de 120mm con LED Azules

Ventana Full Transparente

Puerto de alta velocidad USB 3.0

Display de Temperatura LED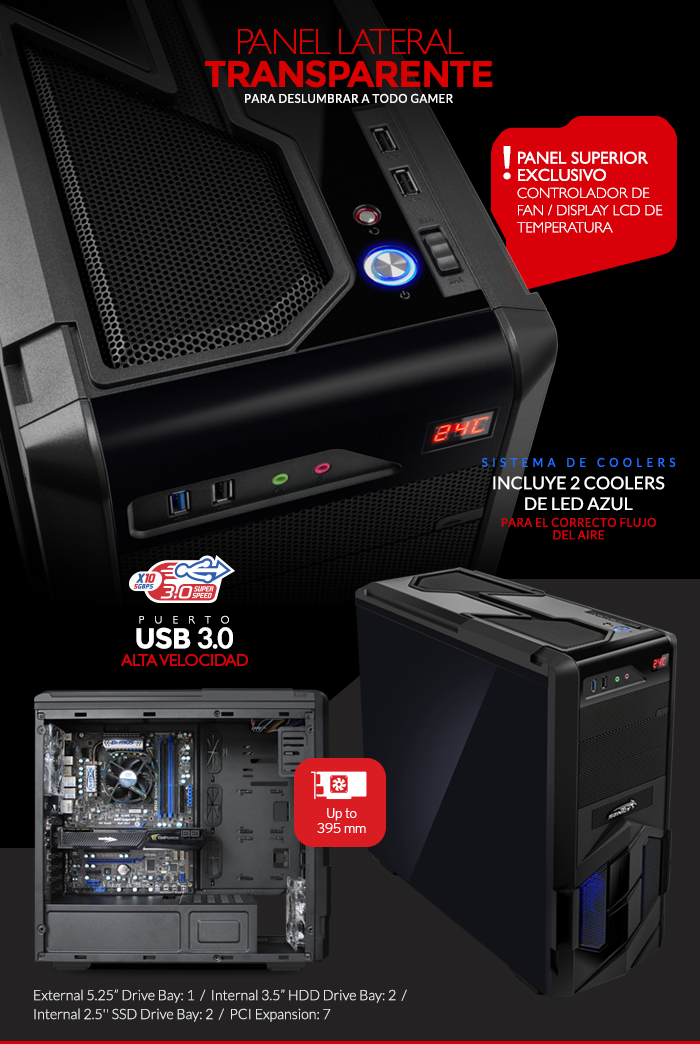 ACCESORIOS

Tornillos de ensamblaje
Se incluyen todos los tornillos para el armado.

Ranura Slot PCI
incluye una ranura de slot que permite cubrir un zócalo de ser necesario.

Speaker
Permite detectar beeps de fallas en el arranque de la pc.

Precintos
Para ordenar los cables internos
PREMIOS

GABINETE GAMMING SENTEY SHIELD GS-6090
VENTANA LATERAL ACRILICA FULL SIZE - PUERTOS USB FRONTALES Y SUPERIORES - VISOR LED TEMPERATURA
INCLUYE 2 COOLERS DE 120MM CON LEZ AZULES. SOPORTA DISCOS SSD DE 2.5" EN BANDEJAS REMOVIBLES.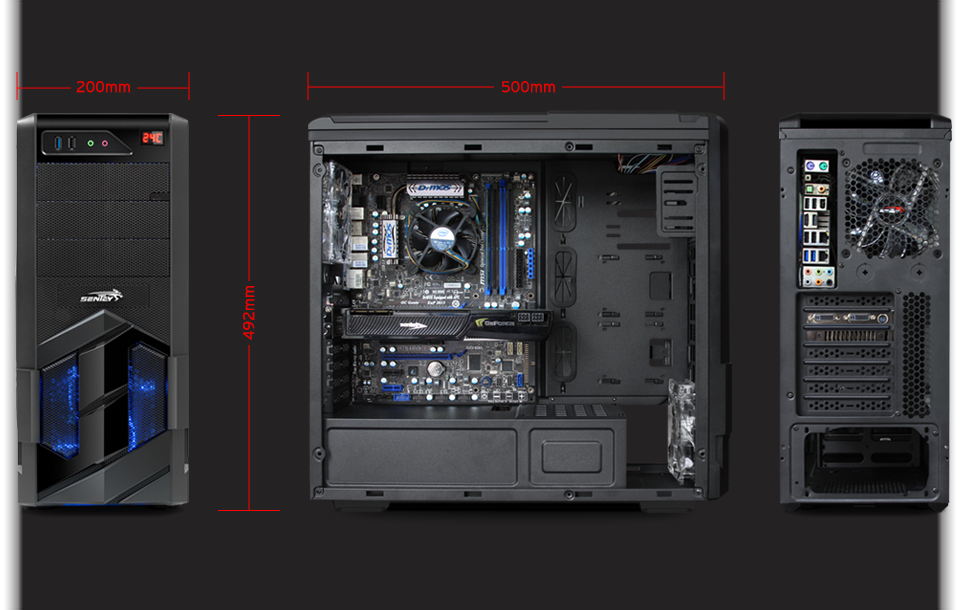 ESPECIFICACIONES
GABINETE
Nombre
Shield
Modelo
GS-6090
Part Number
GS-6090
Garantía
1 Año
UPC
00812366020659
ESTRUCTURA
Tipo
Mid Tower
Color
Negro
Material
SGCC Steel
Motherboard Compatibles
ATX, M-ATX
Posición PSU
Abajo
Tamaño máximo VGA
395mm
Tamaño máximo CPU cooler
150mm
Soporte Watercooling
Si
Motherboard Tray
Si
Sistema cables ocultos
Si
EXTERIOR
Color
Sandy Black
Frente
Mallado
Patas
Plasticas de 15mm
Panel Lateral
Mesh
Topcover
con Ventana
Display LCD
LED
Tornillos manuales
SGCC
EXPANSIONES
Bahias ext 5.25"
2
Bahias ext 3.5"
1
Bahias int 3.5"
2
Bahias int 2.5"
2
Expansion Slot PCI
7
PUERTOS FRONTALES
USB 3.0
1
USB 2.0
3
Audio Frontal
HD Audio
E-sata
No
Sata Nativo
No
Card Reader
No
Controlador velocidad cooler
Si
SISTEMA DE COOLERS
Cooler frontal
1x120mm Blue LED
Cooler lateral
No
Cooler superior
2x120mm (Opcional)
Cooler trasero
1x120mm Blue LED
ESPECIFICACIONES FÍSICAS
Alto
492mm
Ancho
200mm
Largo
500mm
Peso Neto
5.9 kg
Peso Bruto
6.9 kg
Tamaño Pack
500mm (L) 240mm (A) 540mm (H)
FUENTE ALIMENTACIÓN
Modelo
No Incluida
EXTRAS
Filtro Antipolvo
Si. Inferior, Superior y Frontal
Shield
Videos y reviews
Sentey® Gs-6090 Shield Gaming Computer Case Unboxing
im sorry im a little new to youtube or recording but im going to be building a computer and ill do more unboxing recordings and then after i have all my computer parts ill do a how to build a pc so hope you like it haha its the only sentey shield computer case so i hop you enjoy
Publicado:
REVIEWS

29/10/2014
.
Gs-6090 Shield Case Unboxing
by Gx Chronicle
im sorry im a little new to youtube or recording but im going to be building a computer and ill do more unboxing recordings and then after i have all my computer parts ill do a how...
VER REVIEW

DESCARGAS
| | | |
| --- | --- | --- |
| | Link de Descarga de Drivers para VGA Sentey | Descargar |
PREGUNTAS FRECUENTES
Este producto tiene garantia? Si es así, que defectos cubre y cuales son las condiciones? 
Si. Este gabinete tiene un año de garantia para cualquier daño o falla de fabricación del mismo, como asi tambien daños de alguna de sus partes o accesorios durante dicho plazo. La garantia no cubre golpes, abolladuras, rayones u otro daño fisico producido una vez retirado o entregado el producto. El armado de una computadora personal dentro del gabinete, da por aceptado que el cliente, al momento del ensamble, tenia el gabinete en impecables condiciones fisicas y no se encontraba ni rayado, ni golpeado ni abollado. 
Tienen garantia los coolers del gabinete? 
Los coolers, como cualquier otra parte movil del gabinete tienen garantia de funcionamiento durante los primeros 7 dias desde la fecha de compra. Pasado este tiempo dejan de tener cobertura por parte de la garantia escrita, y deben ser reemplazados por el cliente cuando estos dejen de funcionar a causa del uso normal, o del exceso de tierra, polvo, suciedad, humedad, etc. 
Compré un gabinete, armé dentro de él todo el hardware necesario, y luego el equipo se golpeó/rayó. Como se procede con la garantia en estos casos?
Los gabinetes que ya fueron utilizados en el armado de una computadora personal quedan automaticamente excluidos de cualquier reclamo de garantia por golpes o rayones, aun habiendo sido estos anteriores al armado. Al armar el equipo, el cliente aprueba que recibio el gabinete en condiciones óptimas, y lo inhabilita de cualquier reclamo. 
Compré un gabinete y me llegó golpeado/rayado. Como debo proceder con la garantia?
El gabinete debe ser entregado en el distribuidor o ante quien corresponda en las mismas condiciones que se compró el producto, incluyendo su packaging, manuales, accesorios, etc. Como la única garantía del gabinete propiamente dicha es por golpes anteriores al armado, cortar el precinto de los accesorios, usar los accesorios o sacar la chapa de algún slot pci dejan inmediatamente al gabinete fuera de garantía.
Tiene algún costo el proceso de garantia del producto?
No. La reparación del producto no tiene ningún costo para el usuario. Lo único que es a cargo del cliente es el envío. Sentey no se hace responsable del costo del envío bajo ninguna circunstancia. 
Que fuente de alimentación es recomendable para este gabinete?
Eso depende del uso que se le dará al equipo. Antes de elejir la fuente de alimentación se debe saber el consumo en Watts de cada uno de los componentes que alojara, mas un 20% aproximado mas para que la misma trabaje aliviada y no sobrecargada todo el tiempo. 
Tengo que instalar la fuente de alimentación y no se si instalarla con el cooler hacia arriba o con el cooler hacia abajo. Cual sería la manera correcta?
Siempre la mejor manera de instalar la fuente de alimentación en el gabinete es con el cooler hacia abajo, asi no ingresa al gabinete el aire caliente generado por la misma. 
FORMULARIO DE CONTACTO
Gracias por contactarnos. Te responderemos a la brevedad.
Los campos marcados con * son requeridos
GARANTÍA
Este producto tiene 1 años de garantía de hardware limitada.
CONTACTO

EMAIL DE SOPORTE

SOPORTE VIA FACEBOOK

SOPORTE VIA TWITTER

TELÉFONO

(+54) 11 4924-1314