Soporta M-ATX

Display LCD

SECC 0.8mm

Incluye Fuente
DESCARGAR DATASHEET

2 USB 2.0 + GLOSSY BLACK PAINT
El Sentey SS1-2421 tiene en el panel frontal 2 x USB 2.0 los botones de Reset y Power con led indicador de encendido y los puertos de Audio y Micrófono. Además su pintura es completamente Glossy Black Paint o Negra Brillante.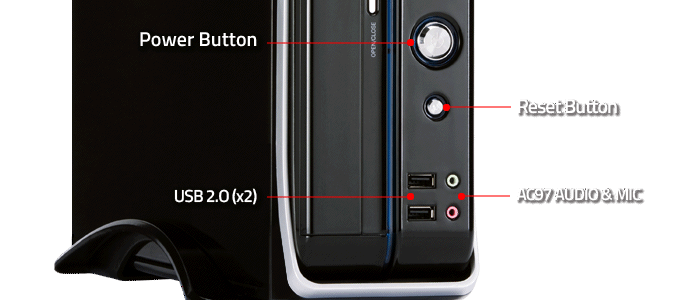 SISTEMA DE REFRIGERACIÓN
1 COOLERS + AIR VENTILATION
El Sentey SS1-2421 viene con un cooler incluido en el top de 80mm y tres grillas de ventilación adicionales.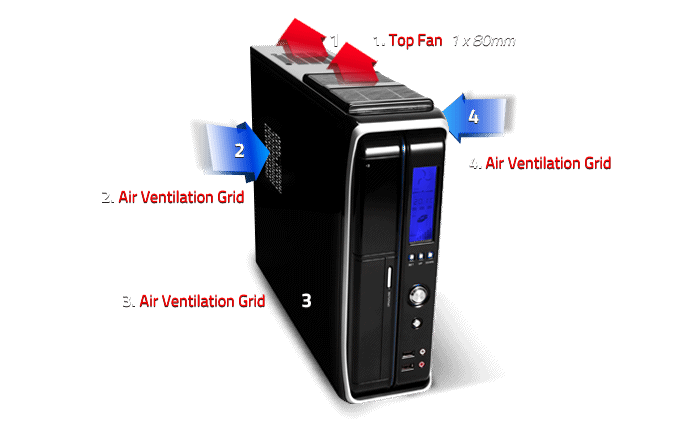 ACCESORIOS

Tornillos de ensamblaje
Se incluyen todos los tornillos para el armado.

Speaker
Permite detectar beeps de fallas en el arranque de la pc.

Pata Autoadhesiva
Permite usar el case en forma horizontal

Traba de Seguridad
Permite poner un candado o precinto para impedir abrir la tapa lateral.
PREMIOS

GABINETE SLIM FLEX HOGAREÑO
El panel superior del gabinete esta diseñado con una serie de rejillas de ventilación que permite refrigerar el gabinete de manera optima sin descuidar la estética del case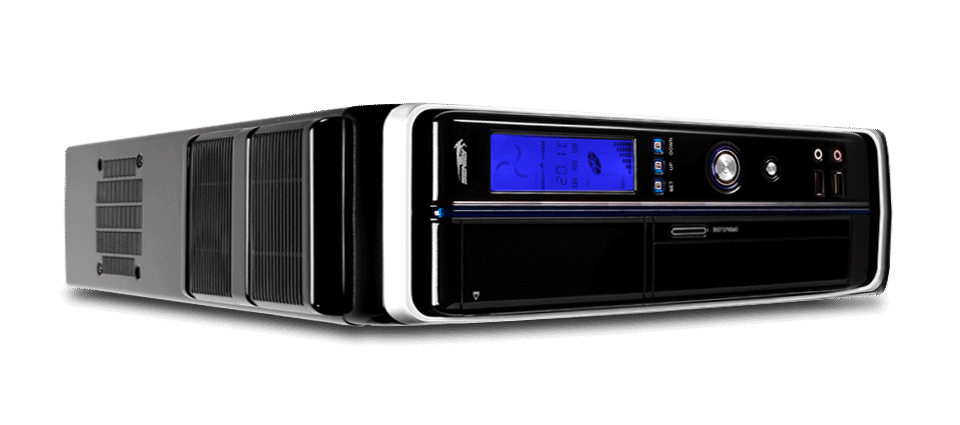 COLOR GLOSSY BLACK PAINT
La pintura de este gabinete tiene un tratamiento denominado High Gloss Black Paint. Esta terminacion completamente brillante del producto da la sensación de ser espejada y ultra lisa.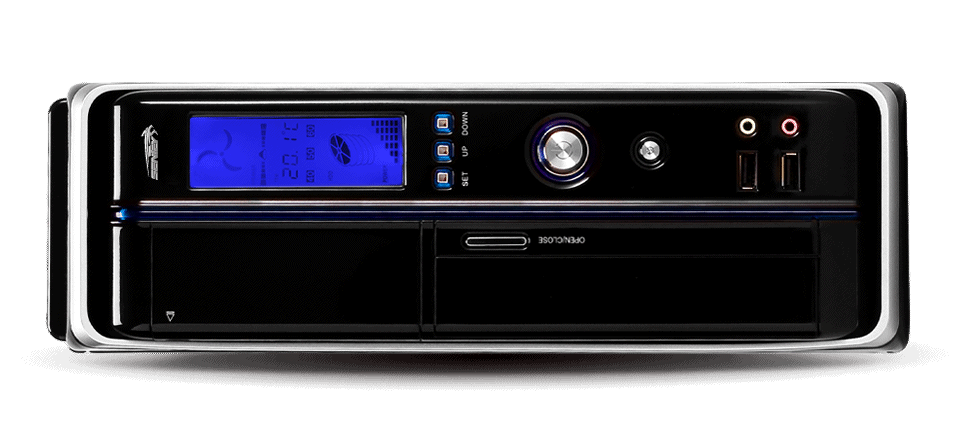 GABINETE SLIM FLEX MICRO ATX
El Sentey SS1-2421 permite montar motherboards Micro ATX y placas de video low Profile en su interior. Ademas viene con una fuente SFX incluida.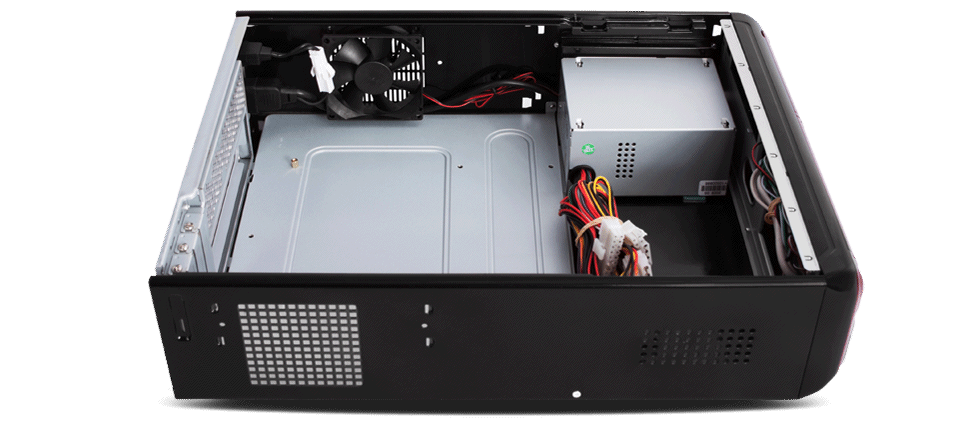 DISPLAY LCD. CONTROL DE TEMPERATURA
El gabinete posee un poderoso display LCD de tres botones que permite chequear la temperatura interna del chasis y controlar un fan cooler interno.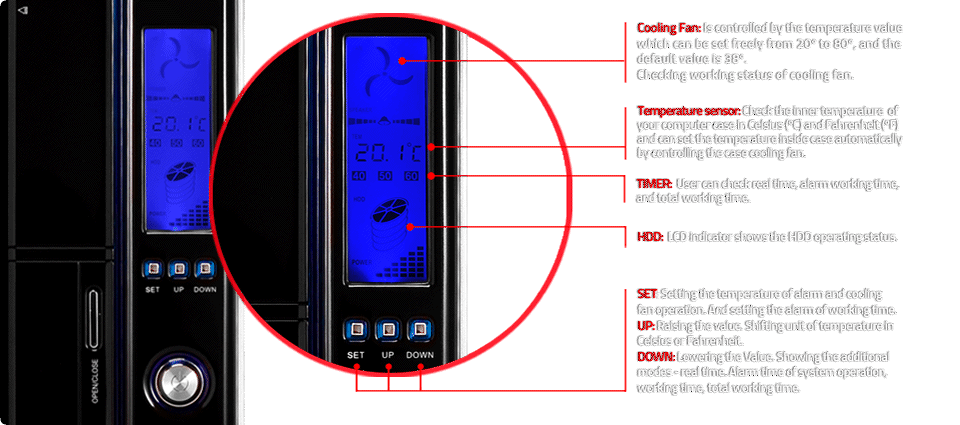 SOPORTA 1 HDD + 1 DVD-R + 1 FDD
Una bandeja especialmente diseñada de unidades de almacenamiento, permiten instalar un total de un HDD + una lectograbadora de DVD/Blue Ray + una unidad de 3.5".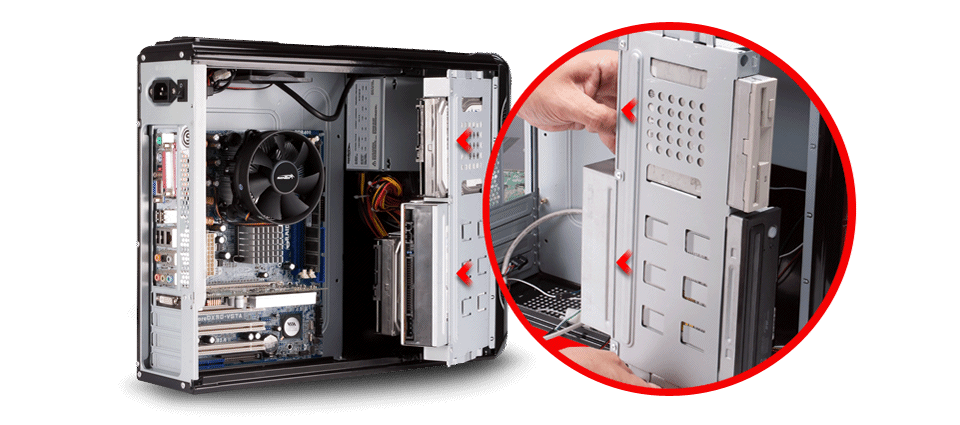 MATERIAL SECC 0.8MM
Le estructura del gabinete es completamente acero SECC laminado de 0.8mm de espesor. La misma tiene una terminación pintada en gris y todos los bordes redondeados que impiden los cortes y lesiones durante el armado.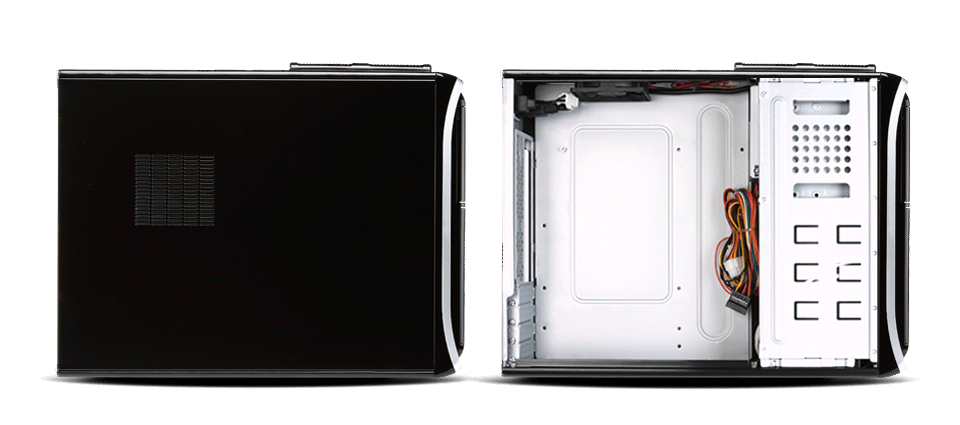 MID TOWER CASE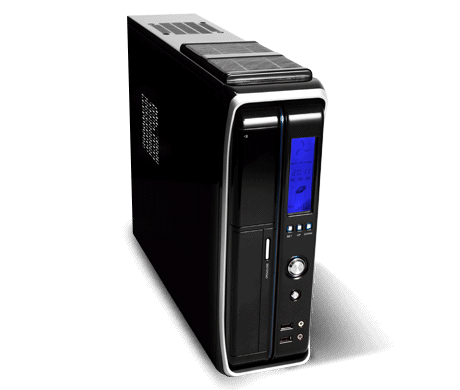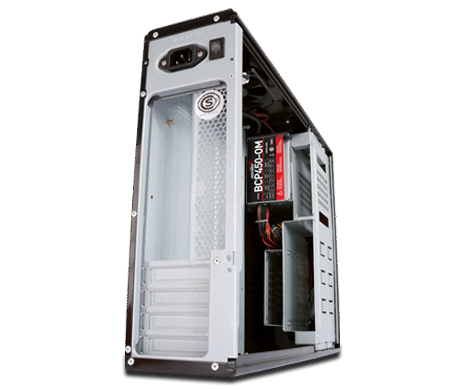 Este case es ideal para armar un equipo hogareño de reducidas dimensiones, donde la estetica y el espacio son imprescindibles.
Soporta mothers M-ATX y placas de video Low Profile.
FORM FACTOR: M-ATX
Soporta motherboards Micro ATX, y hasta cuatro placas en sus ranuras de expansión de zócalos PCI, de fácil instalación sin necesidad de usar herramientas.

REJILLAS INFERIORES DE VENTILACION
1) Rejilla de ventilación de HDD
2) Rejilla de ventilación trasera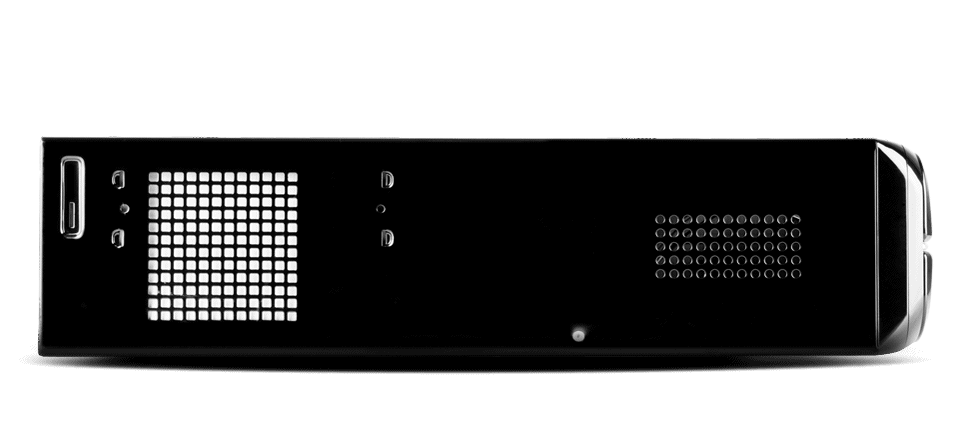 FUENTE SFX CON SWITCH POWER ON/OFF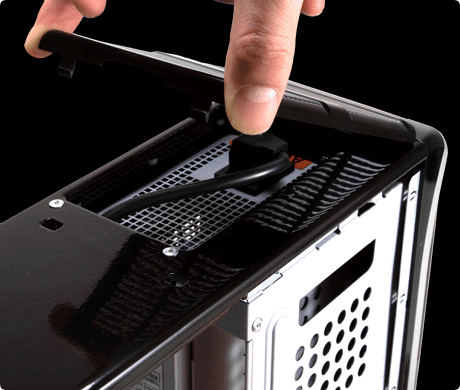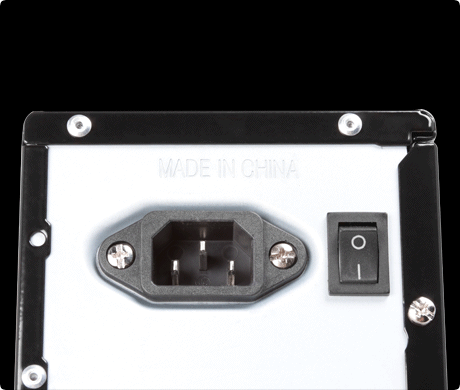 A través del topcover se accede a la fuente de alimentación de manera rápida y cómoda.
En la parte posterior se encuentra el switch de power on/off que permite cortar la energía del sistema.

SISTEMA DE REFRIGERACION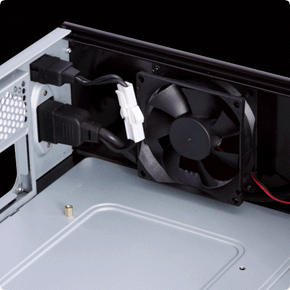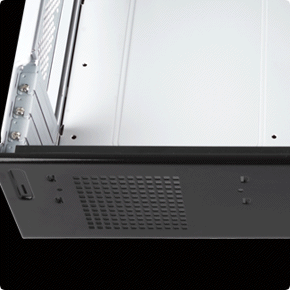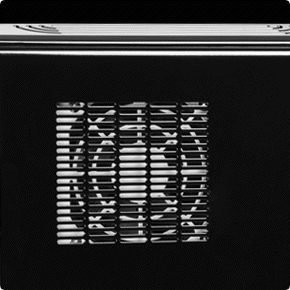 COOLER SUPERIOR 80MM
En el topcover se encuentra un cooler de 80mm incluido.
VENTILACION INFERIOR
Un grill inferior permite ingresar aire fresco desde el exterior.

VENTILACION POSTERIOR
Un grill posterior permite refrigerar la fuente de alimentación.
FAN TOP 80MM + GRILL PSU
En el topcover del gabinete se encuentran dos grillas de refrigeración. Una, en forma de tapa rebatible, permite acceder a la fuente de alimentación, mientras que la segunda contiene el cooler de 80mm del top.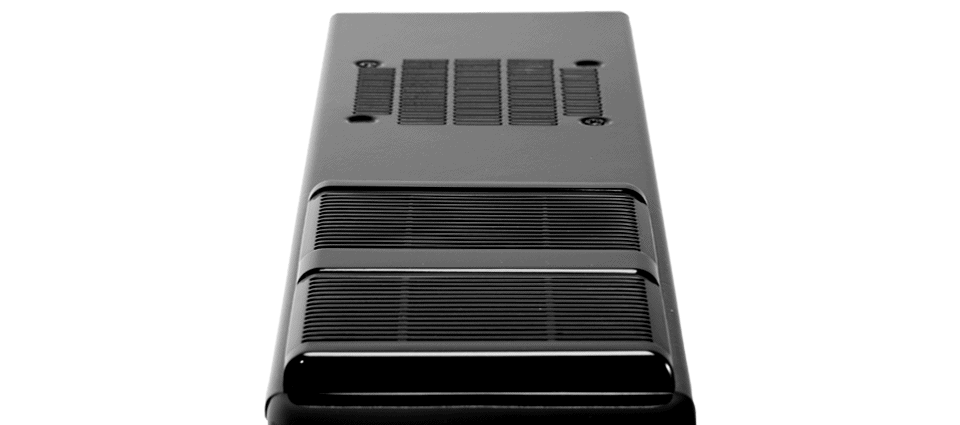 INCLUYE FUENTE DE ALIMENTACION
El gabinete viene con la fuente de alimentación BCP450-OM incluida. un switch 115/230 V lo que permite funcionar correctamente en cualquier región, un cooler de 80mm y switch power On/Off,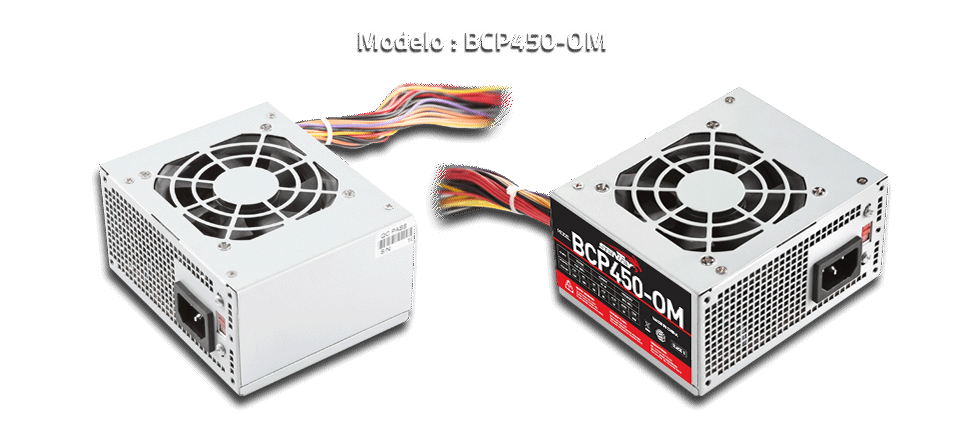 PSU INCLUIDA: BCP450-OS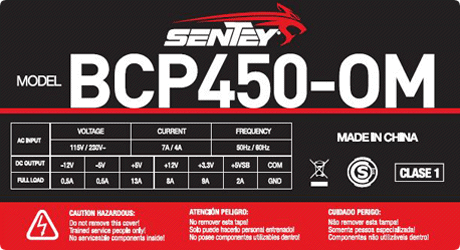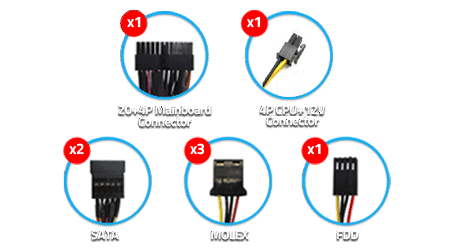 La BCP450-OM es Monorail y soporta hasta 8A en su línea principal de 12V.
Conectores: 2xSata, 3xMolex, 1xFDD, 1x4+4pines 12V y 1x20+4pines Mainboard.

ESPECIFICACIONES
GABINETE
Nombre
SS1-2421
Modelo
SS1-2421
Part Number
SS1-2421
Garantía
1 Año
ESTRUCTURA
Tipo
Mid Tower
Color
Gris
Material
Acero SECC 0.8mm
Motherboard Compatibles
M-ATX
Posición PSU
Superior delantera
Tamaño máximo VGA
160mm Low Profile
Tamaño máximo CPU cooler
80mm
Soporte Watercooling
No
Motherboard Tray
No
Sistema cables ocultos
No
EXTERIOR
Color
Negro Brillante
Frente
Solido Brillante
Patas
Goma 15mm
Panel Lateral
Solido con Grill
Topcover
Solido con Grill
Display LCD
Si
Tornillos manuales
Si
EXPANSIONES
Bahias ext 5.25"
1
Bahias ext 3.5"
1
Bahias int 3.5"
1
Bahias int 2.5"
No
Expansion Slot PCI
4
PUERTOS FRONTALES
USB 2.0
2
Audio Frontal
Ac97
E-sata
No
Sata Nativo
No
Card Reader
No
Controlador velocidad cooler
No
SISTEMA DE COOLERS
Cooler frontal
No
Cooler lateral
No
Cooler lateral p/CPU
No
Cooler superior
1x80mm
Cooler inferior
No
Cooler trasero
No
Cooler HDD
No
ESPECIFICACIONES FÍSICAS
Alto
355mm
Ancho
104mm
Largo
435mm
Peso Neto
4.2kg
Peso Bruto
5.0kg
Tamaño Pack
493mm (L) 161mm (A) 395mm (H)
FUENTE ALIMENTACIÓN
Modelo
BCP450-OM
Tipo
ATX
Conectores
2 Sata, 3 Molex, 1 FDD
EXTRAS
Filtro Antipolvo
No
SS1-2421
Videos y reviews
Sentey SS1-2421 - Product Overview
http://www.hitechlegion.com/reviews/cases/10234 --Full review and benchmarks

The Sentey SS1-2421 case is part of Sentey's Slim Series lineup and comes with a 450W SFX12V power supply. The Sentey SS1-2421 can house a micro-ATX or ITX motherboard and up to four low profile PCI devices as an HTPC or an office computer. The front panel LCD on the Sentey SS1-2421 slim tower case features an automatic fan controller, temperature monitor and HDD activity display. The Sentey SS1-2421 has a dark high-quality glossy finish and maintains aesthetic uniformity at the front through the use of a built-in flip-down optical drive bezel. Designed to be slim and compact, the Sentey SS1-2421 is ideal for as an office computer or an HTPC.
Publicado: 2011-05-24T22:32:04.000Z
Sentey Slim Series Review
Sentey Present Slim Series
- Elegant and practical design
- High Gloss Black paint
- Ventilated Topcover
- 2421 and 2422 with LCD DISPLAY To monitor temperature
- All the Slim Series support micro Atx. Up to 240mm x 240mm in size
- Included power supply

For more information visit www.sentey.com
Publicado: 2010-09-23T13:09:06.000Z
REVIEWS

01/06/2011
.
SS1-2421
by Hi Tech Legion
After we were impressed by the value of the Sentey Arvina full tower case that we previously reviewed, expectations were high, even before opening the Sentey SS1-2421 slim tower ca...
VER REVIEW

PREGUNTAS FRECUENTES
Este producto tiene garantia? Si es así, que defectos cubre y cuales son las condiciones? 
Si. Este gabinete tiene un año de garantia para cualquier daño o falla de fabricación del mismo, como asi tambien daños de alguna de sus partes o accesorios durante dicho plazo. La garantia no cubre golpes, abolladuras, rayones u otro daño fisico producido una vez retirado o entregado el producto. El armado de una computadora personal dentro del gabinete, da por aceptado que el cliente, al momento del ensamble, tenia el gabinete en impecables condiciones fisicas y no se encontraba ni rayado, ni golpeado ni abollado. 
Tienen garantia los coolers del gabinete? 
Los coolers, como cualquier otra parte movil del gabinete tienen garantia de funcionamiento durante los primeros 7 dias desde la fecha de compra. Pasado este tiempo dejan de tener cobertura por parte de la garantia escrita, y deben ser reemplazados por el cliente cuando estos dejen de funcionar a causa del uso normal, o del exceso de tierra, polvo, suciedad, humedad, etc. 
La fuente de alimentación de este gabinete ha fallado. Como debo proceder con la garantia del producto?
La fuente de alimentación incluida en muchos de los gabinetes Sentey tiene un tratamiento independiente del producto completo respecto a su garantia. La misma tiene un año de garantia empezando a contar de la fecha de compra. Para conocer las condiciones de garantia, debe visitar la seccion de "Garantia" dentro de este mismo website. 
Compré un gabinete, armé dentro de él todo el hardware necesario, y luego el equipo se golpeó/rayó. Como se procede con la garantia en estos casos?
Los gabinetes que ya fueron utilizados en el armado de una computadora personal quedan automaticamente excluidos de cualquier reclamo de garantia por golpes o rayones, aun habiendo sido estos anteriores al armado. Al armar el equipo, el cliente aprueba que recibio el gabinete en condiciones óptimas, y lo inhabilita de cualquier reclamo. 
Compré un gabinete y me llegó golpeado/rayado. Como debo proceder con la garantia?
El gabinete debe ser entregado en el distribuidor o ante quien corresponda en las mismas condiciones que se compró el producto, incluyendo su packaging, manuales, accesorios, etc. Como la única garantía del gabinete propiamente dicha es por golpes anteriores al armado, cortar el precinto de los accesorios, usar los accesorios o sacar la chapa de algún slot pci dejan inmediatamente al gabinete fuera de garantía.
Tiene algún costo el proceso de garantia del producto?
No. La reparación del producto no tiene ningún costo para el usuario. Lo único que es a cargo del cliente es el envío. Sentey no se hace responsable del costo del envío bajo ninguna circunstancia. 
FORMULARIO DE CONTACTO
Gracias por contactarnos. Te responderemos a la brevedad.
Los campos marcados con * son requeridos
GARANTÍA
Este producto tiene 12 meses de garantía de hardware limitada.
CONTACTO

EMAIL DE SOPORTE

SOPORTE VIA FACEBOOK

SOPORTE VIA TWITTER

TELÉFONO

(+54) 11 4924-1314