Virtual 7.1 Surround Sound

Control en cable

Microfono Omnidireccional

Vincha Ajustable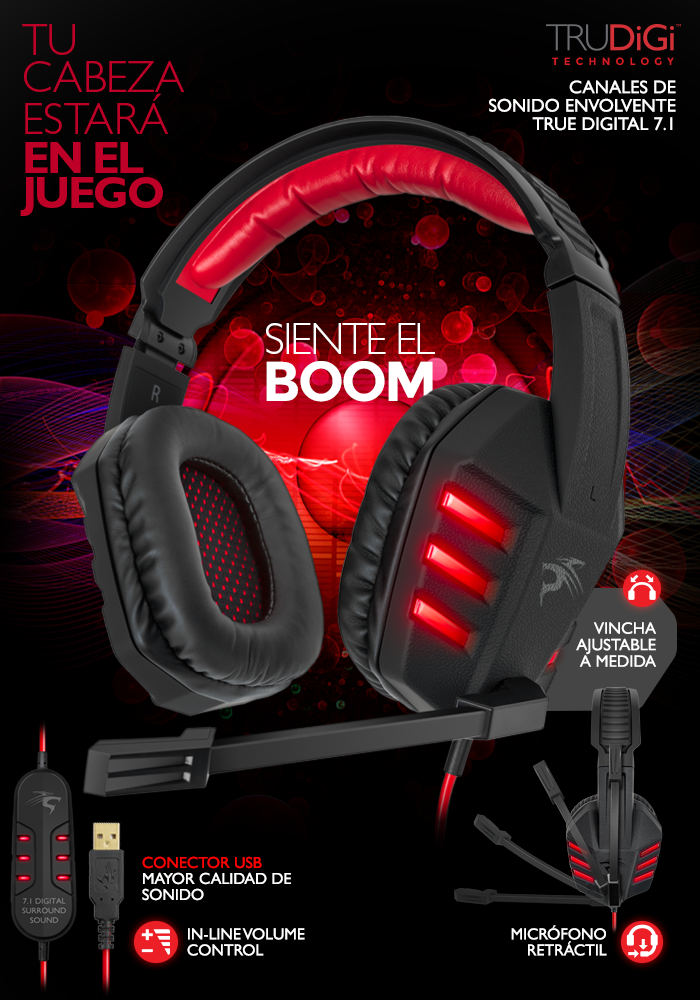 ACCESORIOS

Software and Drivers
Software and Drivers Installation CD
PREMIOS

SENTEY SYMPH
HEADSET GAMMING - ELITE GAMER SERIES


ESPECIFICACIONES
GENERAL
Nombre
Symph SP
Modelo
GS-4531
Serie
Elite Series
Tipo
Digital Virtual 7.1 Surround
Part Number
GS-4531
EAN
812366020147
UPC
812366020147
Garantía
1 Año
SPEAKERS DER/IZQ
Diámetro Speaker
ø40mm
Impedancia
32Ω
Respuesta de Frecuencia
15~25KHz
Salida de potencia
200mW
Relación Señal/Ruido
>50dB
T.H.D
1%
Sensibilidad (S.P.L)
98dB±3dB
MICROFONO
Dimensión Mic
ø6.0 x 5.0mm
Sensibilidad
-38dB±3dB
Direccionalidad
Unidirectional
Impedancia
2,2 KΩ
ESPECIFICACIONES FISICAS
Conector
USB 2.0 Gold Plated
Cable
300cm (9.8 Feet)
Tipo de cable
Ultra Flexible Red
Tamaño (mm)
250 x 230 x 105mm
Peso Neto
350g
ACCESORIOS
Documentación
Manual
Almohadillas
No
Cabling managment
Velcro Strap
REQUERIMIENTOS DE SISTEMA
Sistema Operativo
Win10, Win8, Win7, Windows XP, Vista®
Conexión a Internet
No requiere
Conexión PC
USB 2.0
Espacio Hard Disk
62.5 MB de espacio disponible
Symph SP
Videos y reviews
Sentey® Gaming Headset Symph 7.1 Review
Sentey® Gaming Headset Symph 7.1 USB DAC Gs-4530sp - Inline Volume Control -Microphone - USB Universal for Any Pc or Laptop - Microphone - Heavy Duty Braided 3 Meters Cable (Approximately 9.8 Feet) - Leather Padded Ear Pads with Passive Noise Canceling -Ergonomic Adaptive Leather Headband (Extreme Comfort)
Publicado:
REVIEWS

08/07/2016
.
Symph GS-4531 Review
by Tweaktown
While Sentey has sent us quite a few products for our team to review, we have only had one other Sentey mouse to look at to gauge how well they do in the peripherals department. Of...
VER REVIEW

PREGUNTAS FRECUENTES
Tiene algún costo el proceso de garantia del producto?
No. La reparación del producto no tiene ningún costo para el usuario. Lo único que es a cargo del cliente es el envío. Sentey no se hace responsable del costo del envío bajo ninguna circunstancia. 
FORMULARIO DE CONTACTO
Gracias por contactarnos. Te responderemos a la brevedad.
Los campos marcados con * son requeridos
GARANTÍA
Este producto tiene 12 meses de garantía de hardware limitada.
CONTACTO

EMAIL DE SOPORTE

SOPORTE VIA FACEBOOK

SOPORTE VIA TWITTER

TELÉFONO

(+54) 11 4924-1314