Soporte M-ATX

80mm Fan incluIdo

USB 3.0 Speed Port

SSD Support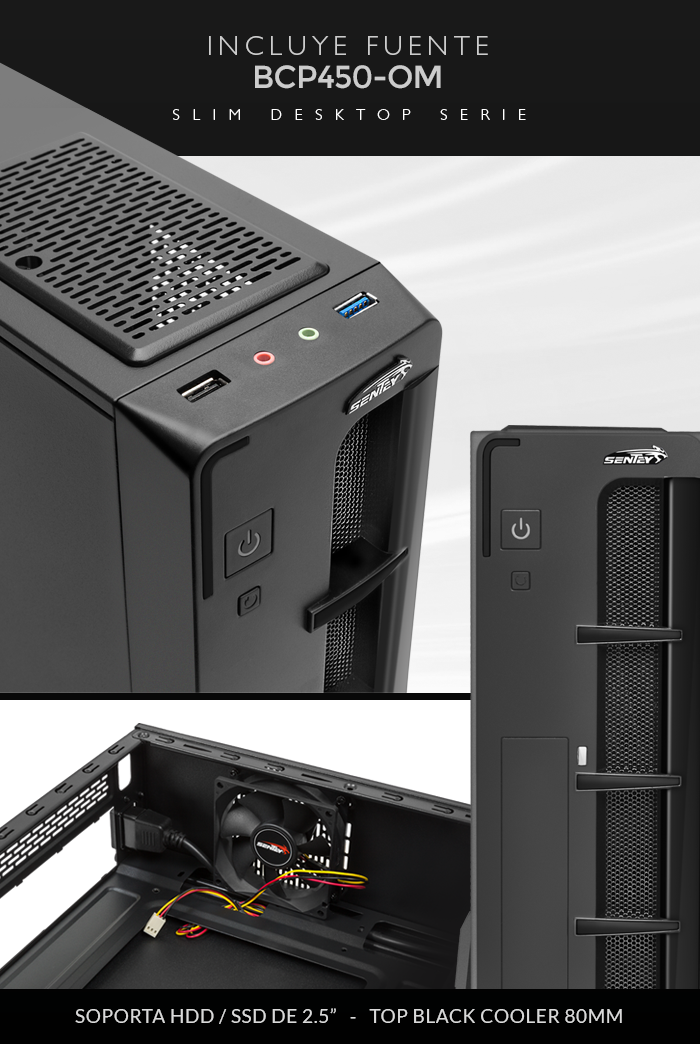 ACCESORIOS

Mounting Screws
All mounting screws needed for assembly of components are included

Speaker
Generates audible fault beeps / sounds at boot up.
PREMIOS


GABINETE SENTEY SLIM MICRO ATX - SS1-2429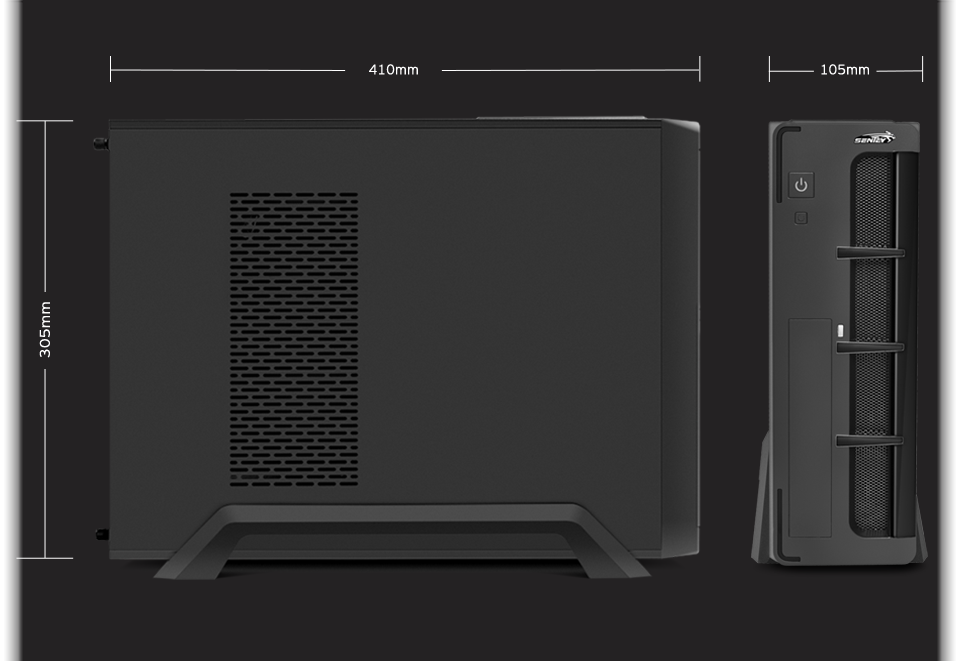 ESPECIFICACIONES
GABINETE
Nombre
Slim M-ATX 2429
Modelo
SS1-2429
Part Number
SS1-2429
Garantía
1 año
UPC
812366020574
ESTRUCTURA
Tipo
Slim M-ATX
Color
Sandy Black
Material
SECC
Motherboard Compatibles
M-ATX
Posición PSU
Superior Delantera
Tamaño máximo VGA
Low Profile
Tamaño máximo CPU cooler
80mm
Soporte Watercooling
No
Motherboard Tray
Si
Sistema cables ocultos
Si
EXTERIOR
Color
Sandy Black
Frente
Sandy Black
Patas
Soporte Plastico
Panel Lateral
Solido con Grill
Topcover
Solido con Grill
Display LCD
No
Tornillos manuales
Si
EXPANSIONES
Bahias ext 5.25"
1
Bahias int 3.5"
1
Bahias int 2.5"
2
Expansion Slot PCI
4 Low profile
PUERTOS FRONTALES
USB 3.0
1
USB 2.0
1
Audio Frontal
HD Audio
E-sata
No
Sata Nativo
No
Card Reader
No
Controlador velocidad cooler
No
SISTEMA DE COOLERS
Cooler frontal
No
Cooler lateral
No
Cooler lateral p/CPU
No
Cooler superior
1x80mm Negro
Cooler inferior
No
Cooler trasero
No
Cooler HDD
No
ESPECIFICACIONES FÍSICAS
Alto
305 mm
Ancho
105 mm
Largo
410 mm
Peso Neto
3.1 kg
Peso Bruto
3.61 kg
Tamaño Pack
493 * 161 * 395 mm
FUENTE ALIMENTACIÓN
Modelo
BCP450-OM
Tipo
Micro ATX
Conectores
20+4 pin + 4 pin 12V + 2 Sata + 3 molex + 1 Fdd
EXTRAS
Filtro Antipolvo
No
Slim M-ATX 2429
Videos y reviews
REVIEWS

07/11/2017
.
Gabinetes PC SENTEY Slim Series REVIEW
by Overcluster
Gabinetes PC SENTEY Slim Series REVIEW ...
VER REVIEW


30/03/2015
.
SS1-2429 Case Review
by Proclockers
The Sentey SS1-2429 Plus has a USB 3.0 and USB 2.0 port on its front panel, along with reset and power buttons with an LED indicator on the front of the case, as well as HD audio a...
VER REVIEW

DESCARGAS
No se encontraron descargas
PREGUNTAS FRECUENTES
Este producto tiene garantia? Si es así, que defectos cubre y cuales son las condiciones? 
Si. Este gabinete tiene un año de garantia para cualquier daño o falla de fabricación del mismo, como asi tambien daños de alguna de sus partes o accesorios durante dicho plazo. La garantia no cubre golpes, abolladuras, rayones u otro daño fisico producido una vez retirado o entregado el producto. El armado de una computadora personal dentro del gabinete, da por aceptado que el cliente, al momento del ensamble, tenia el gabinete en impecables condiciones fisicas y no se encontraba ni rayado, ni golpeado ni abollado. 
Tienen garantia los coolers del gabinete? 
Los coolers, como cualquier otra parte movil del gabinete tienen garantia de funcionamiento durante los primeros 7 dias desde la fecha de compra. Pasado este tiempo dejan de tener cobertura por parte de la garantia escrita, y deben ser reemplazados por el cliente cuando estos dejen de funcionar a causa del uso normal, o del exceso de tierra, polvo, suciedad, humedad, etc. 
La fuente de alimentación de este gabinete ha fallado. Como debo proceder con la garantia del producto?
La fuente de alimentación incluida en muchos de los gabinetes Sentey tiene un tratamiento independiente del producto completo respecto a su garantia. La misma tiene un año de garantia empezando a contar de la fecha de compra. Para conocer las condiciones de garantia, debe visitar la seccion de "Garantia" dentro de este mismo website. 
Compré un gabinete, armé dentro de él todo el hardware necesario, y luego el equipo se golpeó/rayó. Como se procede con la garantia en estos casos?
Los gabinetes que ya fueron utilizados en el armado de una computadora personal quedan automaticamente excluidos de cualquier reclamo de garantia por golpes o rayones, aun habiendo sido estos anteriores al armado. Al armar el equipo, el cliente aprueba que recibio el gabinete en condiciones óptimas, y lo inhabilita de cualquier reclamo. 
Compré un gabinete y me llegó golpeado/rayado. Como debo proceder con la garantia?
El gabinete debe ser entregado en el distribuidor o ante quien corresponda en las mismas condiciones que se compró el producto, incluyendo su packaging, manuales, accesorios, etc. Como la única garantía del gabinete propiamente dicha es por golpes anteriores al armado, cortar el precinto de los accesorios, usar los accesorios o sacar la chapa de algún slot pci dejan inmediatamente al gabinete fuera de garantía.
Tiene algún costo el proceso de garantia del producto?
No. La reparación del producto no tiene ningún costo para el usuario. Lo único que es a cargo del cliente es el envío. Sentey no se hace responsable del costo del envío bajo ninguna circunstancia. 
FORMULARIO DE CONTACTO
Gracias por contactarnos. Te responderemos a la brevedad.
Los campos marcados con * son requeridos
GARANTÍA
Este producto tiene 0 años de garantía de hardware limitada.
CONTACTO

EMAIL DE SOPORTE

SOPORTE VIA FACEBOOK

SOPORTE VIA TWITTER

TELÉFONO

(+54) 11 4924-1314