4D Scroll

Adjustable Weights

9 Buttons

Up to 8200 DPI
BAIXAR A FOLHA DE DADOS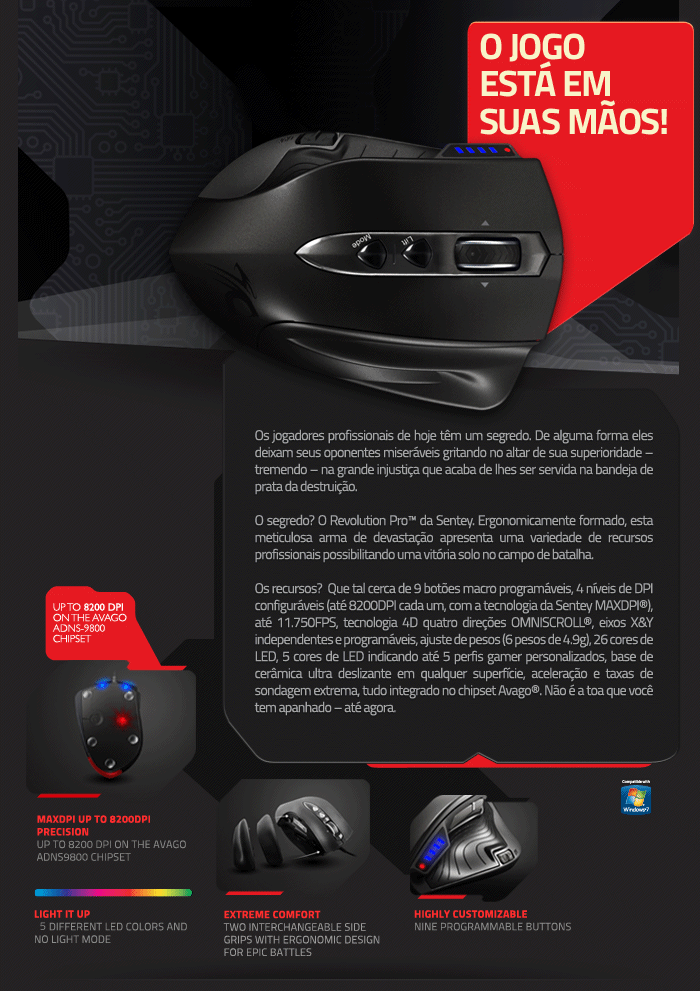 ACESSÓRIOS

Case
Para transportar seu mouse

Caixa de peças
Seis peças para ajustar a precisão

Aderência lateral
Para ajustar o conforto de seu mouse

Driver e Software
CD com driver e software
Tecnologia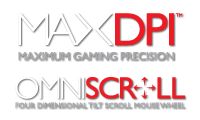 9 BOTÕES + SELETOR DE DPI
DPi configurável por software e ajustável através do botão seletor. Até quatro níveis de selecção.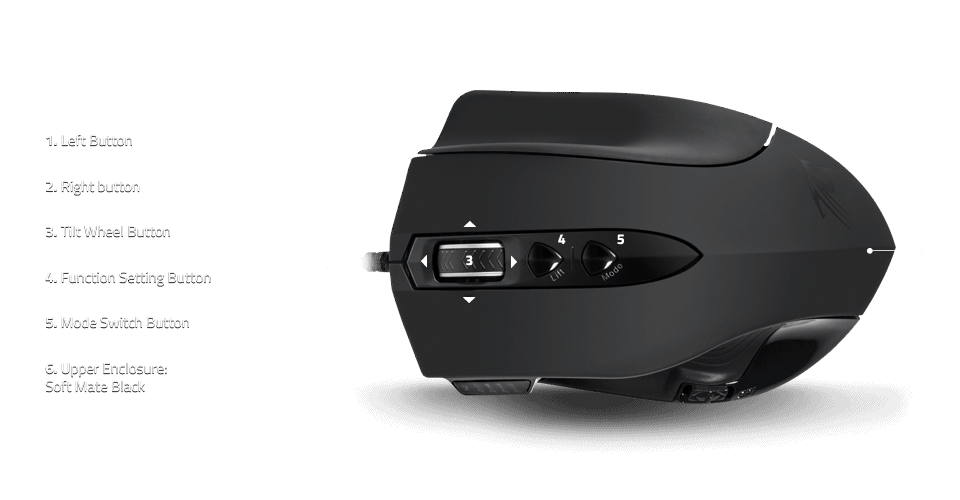 ATÉ 8200 DPI. CHIPSET AVAGO 9800
TECNOLOGÍA LASER-STREAM
A tecnología Laser-Stream consiste em um sistema de aquisição de imagem (IAS) e do processador de sinal digital (DSP) e utiliza um porto serial quadruplo. A NIC adquire imagens microscópicas da superfície através de uma lente e um sistema de iluminação e o DSP calcula a direção e a distância de monitoramento do movimento otimizado.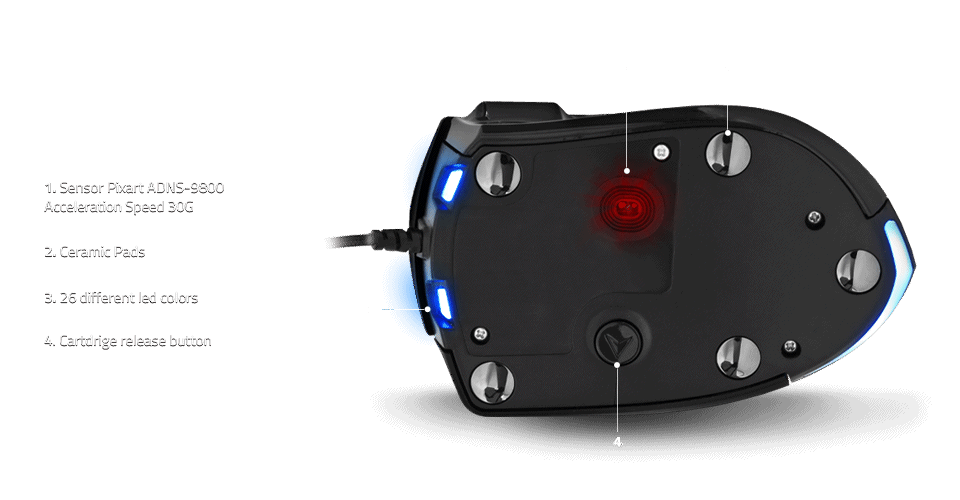 RESPOSTA RÁPIDA PARA GAMER
Os "Pés de cerâmica" têm um baixo coeficiente de fricção para proporcionar um movimento contínuo através de várias superfícies. Eles também têm uma densidade muito elevada e tenacidade à fratura e um ponto de fusão de 2715 ° C, de modo que este "aço cerâmico" é praticamente indestrutível.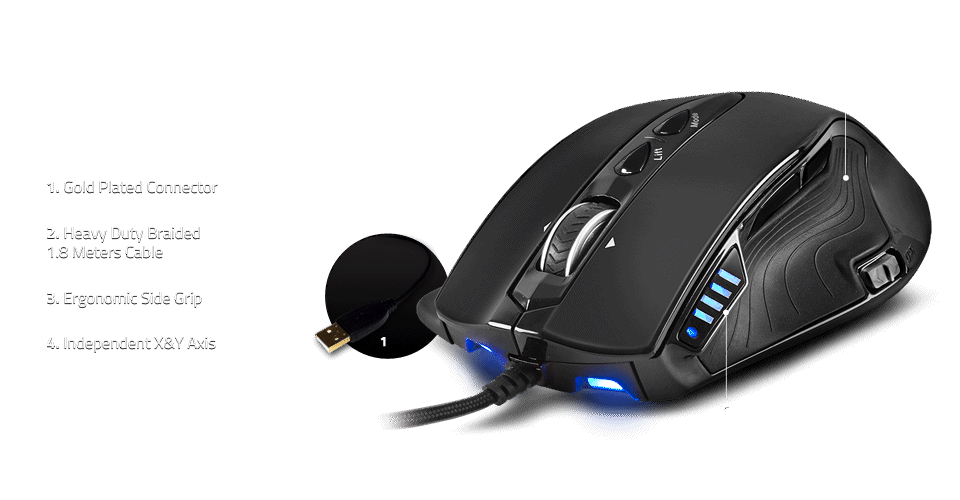 4 NÍVEIS CONFIGURAÇÃO/AJUSTE DE DPI COM INDICADOR LED
O botão de ajuste CPI tem uma impressionante variedade de opções: 400/1600/3200/8200 CPI. Esta opção dá ao usuário mais controle e conhecimento da velocidade do cursor do mouse, mesmo no meio de seu jogo. O indicador luminoso garante que você esteja sempre consciente da sensibilidade do mouse.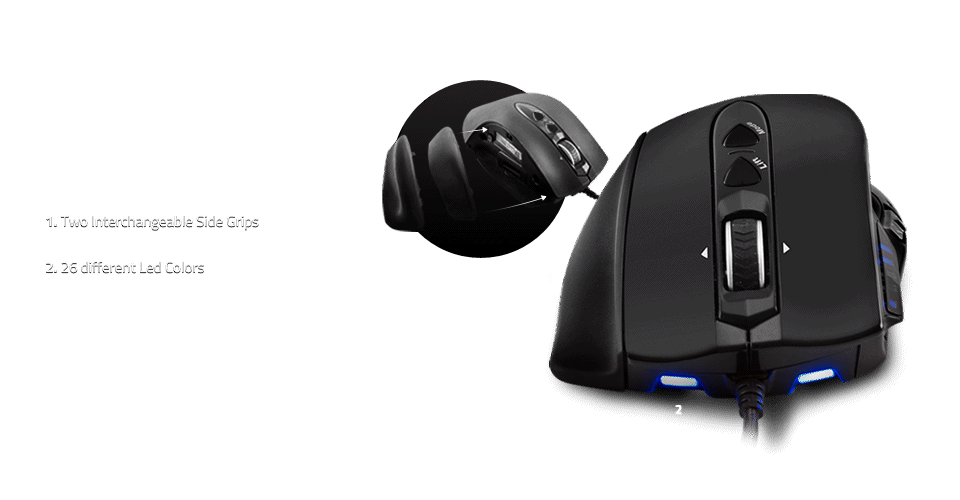 CONFORTO & ESTÉTICA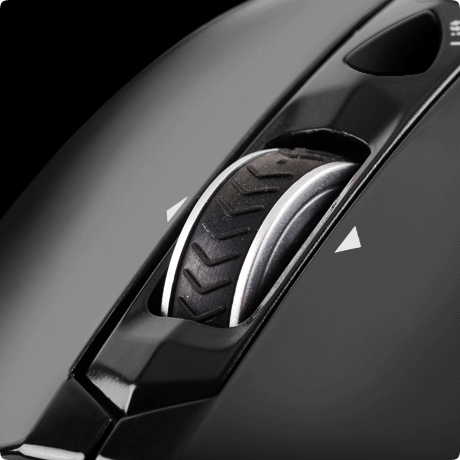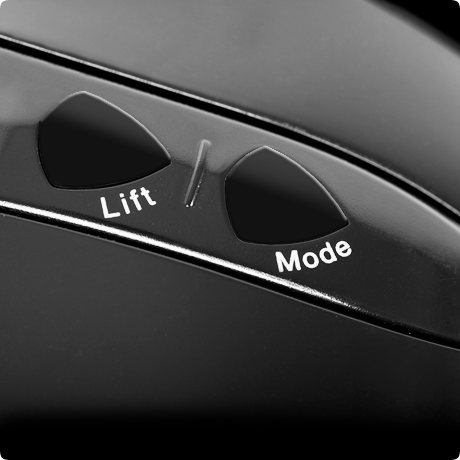 SUAVE PRETO FOSCO
Acabamento de alta qualidade em todo o produto
LUZ ACIMA
LED indicador acendido em 26 tons diferentes, tons dependendo do nível DPI.
6 TERMOS DE PESO PARA AJUSTAR O PESO ADEQUADO.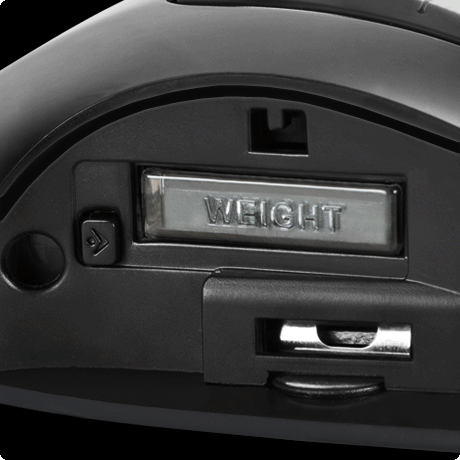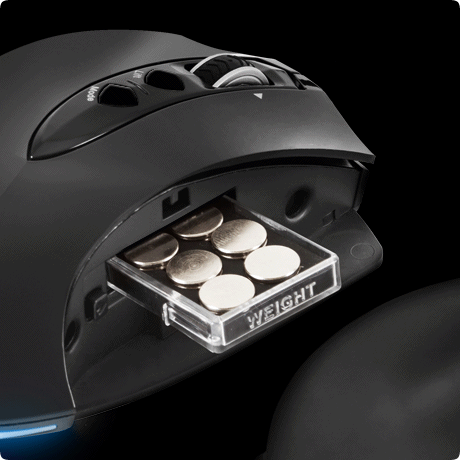 O sistema de controle de peso de 6 níveis excitam até mesmo o jogador mais ardente, uma vez que irá ajudar a melhorar o seu jogo de resistência e habilidade.
Seis pesos de 29,4 gramas cada.
CONFIGURAÇÃO DO SOFTWARE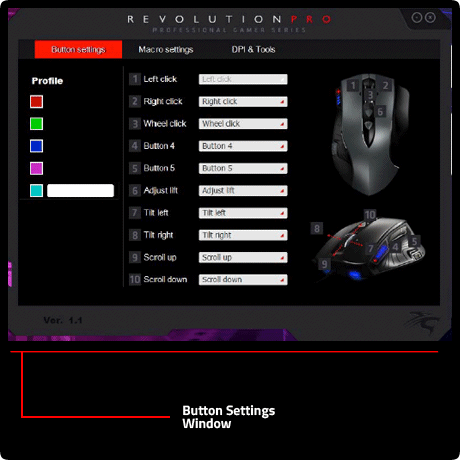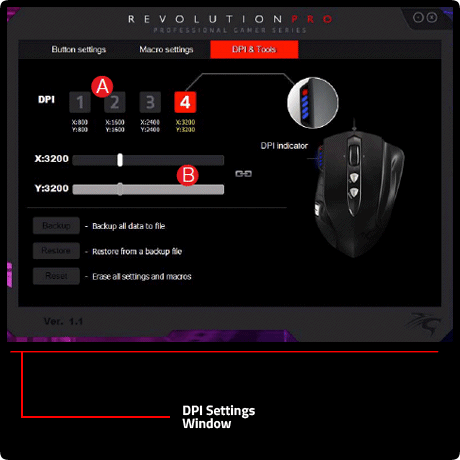 CONFIGURAÇÃO DO BOTÃO
10 botões configuráveis através de software.
DPI AJUSTES/ CONFIGURAÇÃO
Quatro níveis de configurações de DPI
ACOMPANHA CASE PARA TRANSPORTE
Acompanha um kit completo para transporte de mouse, para leva-lo onde queira que vá.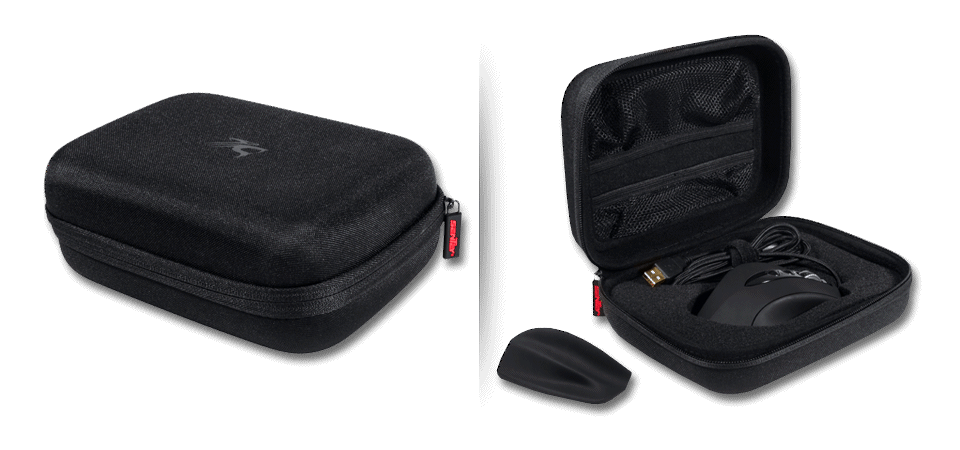 ESPECIFICAÇÕES
GENERAL
Nome
Revolution Pro
Model
GS-3910
Series
Professional Serie
Type
Laser Óptico
Series
-
UPC
-
Warranty
1 Ano de Garantia
FUNCTIONAL SPECS
DPI Resolution
até 8200
DPI Level Preset
4 Níveis
Sensor
ADNS 9800
Chipset
Avago
Polling Rate
Freqüência de 1000Hz
Frame Rate
11750 FPS
Scrolling
4D 4 Way Scrolling
Track Speed
150 polegadas/seg
Acceleration
30G
X &Y Axis
Independente e Programáveis
Buttons
9 Botões + Seletor de DPI
Macro Buttons
7 Botões Macro
Profiles
5 Perfis Configuráveis
Pads
Pés de cerâmica
Illumination
5 cores diferentes de LEDs
Adjustable Weights
Sim
Interface
USB 2.0
PHYSICAL SPECS
Connector
USB banhado a ouro
Cable Lenght
Espessura de 1.8 Metros
Cable Type
Corda Trançada de Alta Resistência
Size
126 x 84 x 42mm
Upper Enclosure
Preto Fosco
Peso Líquido (kg)
170gr
Gross Weight
220gr
ACCESORIES
Weights
6 Pesos (4.9gr)
Documentation
Manual - Guia
Side Grip
Não
Software/Driver
Sim
SYSTEM REQUIREMENTS
Operating System
Windows® 7, Vista®, XP and Mac OSX
Internet Connection
Não
Connection
USB 2.0
Hard Disk Space
4 MB
Revolution Pro
Vídeos e comentários
Sentey: Revolution Pro 8200 DPI gaming mouse
This was on sale at Amazon for $40, original price was $90. Was surfing around for a new mouse that would make gaming feel better and found this.It have a curvature that would match my palm grip. This is also my first unboxing video
Publicado: 2014-09-06T19:13:19.000Z
Sentey Revolution Pro Gaming Mouse Unboxing
Sentey Revolution Pro Gaming Mouse Unboxing
Review link: http://www.dragonsteelmods.com/review-of-sentey-revolution-pro-gaming-mouse/
Publicado: 2014-04-27T13:28:48.000Z
REVIEWS
Não há testes sobre este produto
DOWNLOADS
| | | |
| --- | --- | --- |
| | Manual Sentey Revolution | Baixar |
PERGUNTAS MAIS FREQUENTES
Não há perguntas frequentes
FORMULÁRIO DE CONTATO
Thank you for contacting us. We will respond to you soon.
GARANTIA
Este produto tem 12 meses garantia limitada do hardware para.
CONTATO

EMAIL DE SUPORTE

SUPORTE VIA FACEBOOK

SUPORTE VIA TWITTER

TELEFONE