Soporta M-ATX

Display LCD

SECC 0.8mm

Fonte de Alimentação incluída
BAIXAR A FOLHA DE DADOS

2 USB 2.0 + PINTURA PRETO BRILHANTE
O Sentey SS1-2421 tem 2 portos em seu painel frontal , 2 x USB 2.0 os botões de energia Reset e Power com LED indicador de energia e os portos de Áudio e Microfone. Além de sua pintura é completamente preto brilhante .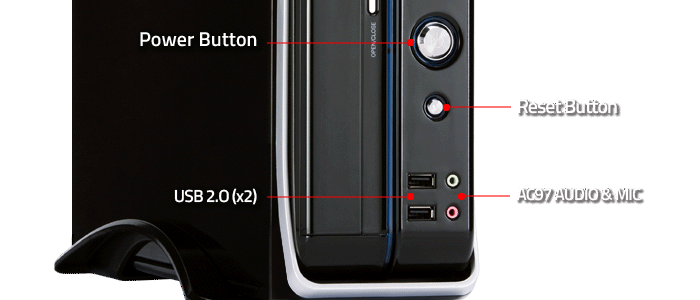 SISTEMA DE REFRIGERAÇÃO
1 COOLER + VENTILAÇÃO DE RESPIRO
O Gabinete da Sentey SS1-2421 é fornecido com um cooler incluído na parte superior de 80 mm e tres grelhas de ventilação adicionais.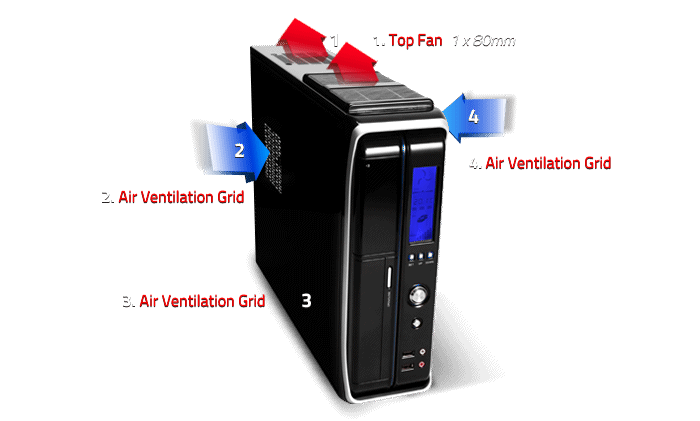 ACESSÓRIOS

Parafusos de Montagem
Isso inclui todos os parafusos para montagem

Auto-falante
Detecta sinais sonoros de falha na inicialização do PC.

Pé adesivo
Permite que você use a caixa em forma horizontal

Trava de Segurança
Permite colocar um cadeado para impedir a abertura da tampa lateral.
GABINETE DOMÉSTICO SLIM FLEX (FINO FLEXIVEL)
O painel superior do gabinete é projetado com uma série de aberturas que permitem refrigerar o gabinete de forma otimizada, sem descuidar da estética da caixa.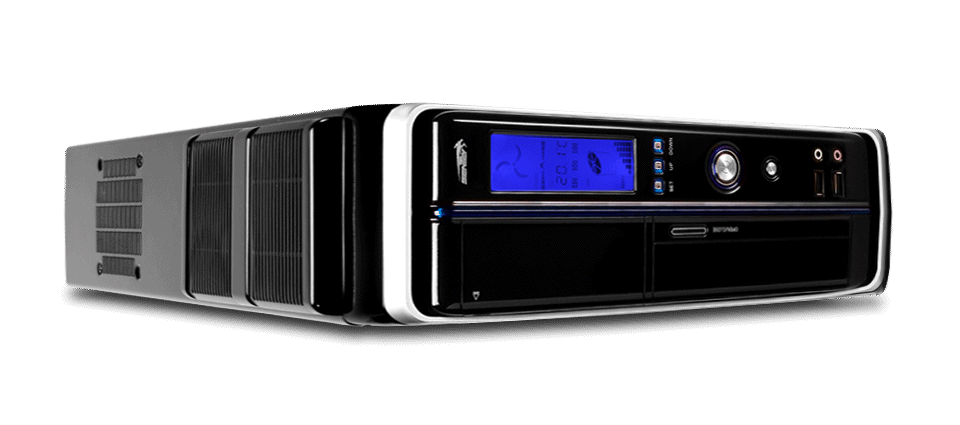 COR BRILHANTE PINTURA PRETA
A pintura deste gabinete tem um acabamento chamado de ( high gloss black paint) Pintura na cor preta brilhante. Este acabamento completamente brilhante dá ao produto a sensação de estar espelhado e ultra liso.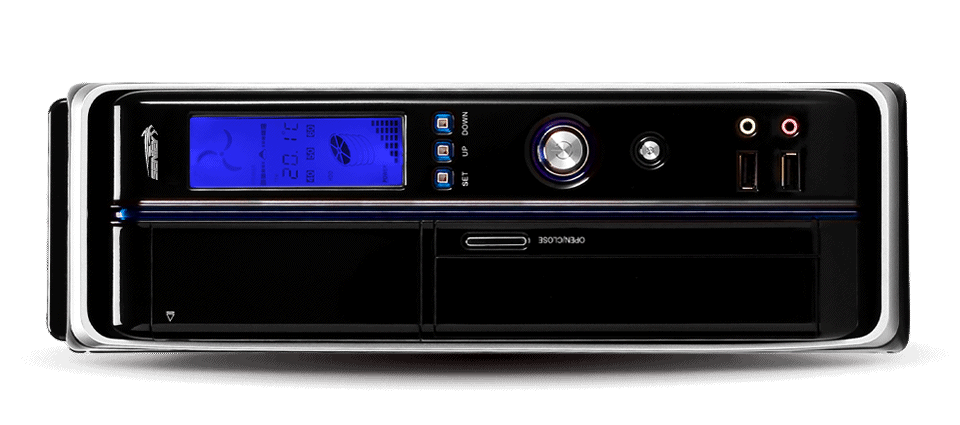 GABINETE SLIM FLEX (FINO FLEXIVEL) MICRO ATX
O Sentey SS1-2421 permite montar motherboards Micro ATX e placas de vídeo low profile (de baixo perfil) em seu interior. Também vem com uma fonte SFX incluída.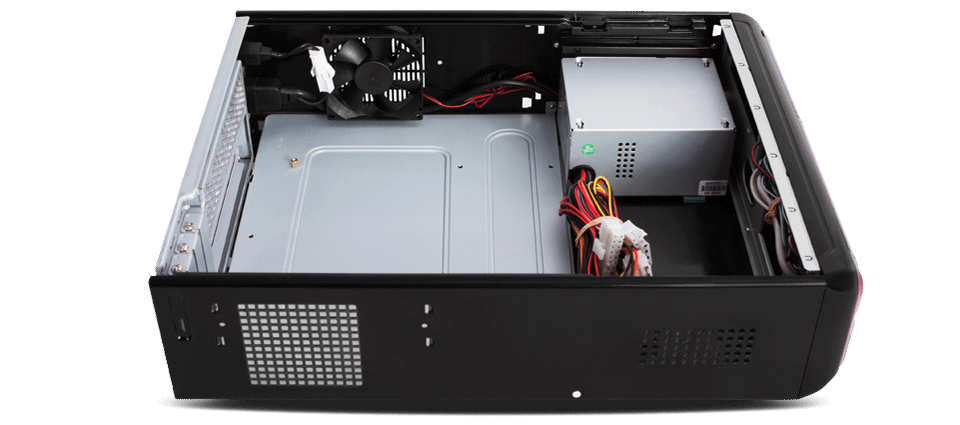 DISPLAY LCD. CONTROLE DE TEMPERATURA
O gabinete tem um poderoso display LCD de três botões que permite que você verifique a temperatura interna do Chassi e permite controlar o fan cooler (resfriador) interno.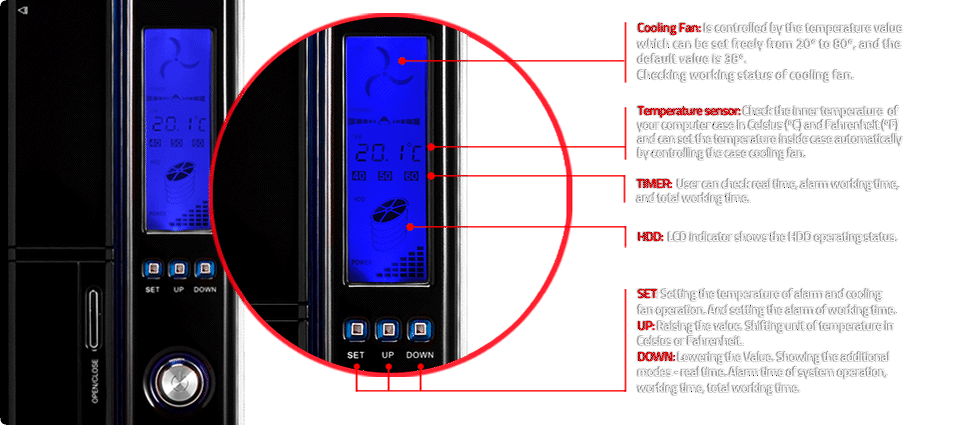 SUPORTA 1 HDD + 1 DVD-R + 1 FDD
Este Gabinete tem uma bandeja especialmente desenhada para unidades de armazenamento, permite instalar um total de 1 HDD + uma unidade de leitura de cartões de DVD/Blue Ray + uma unidade de 3.5".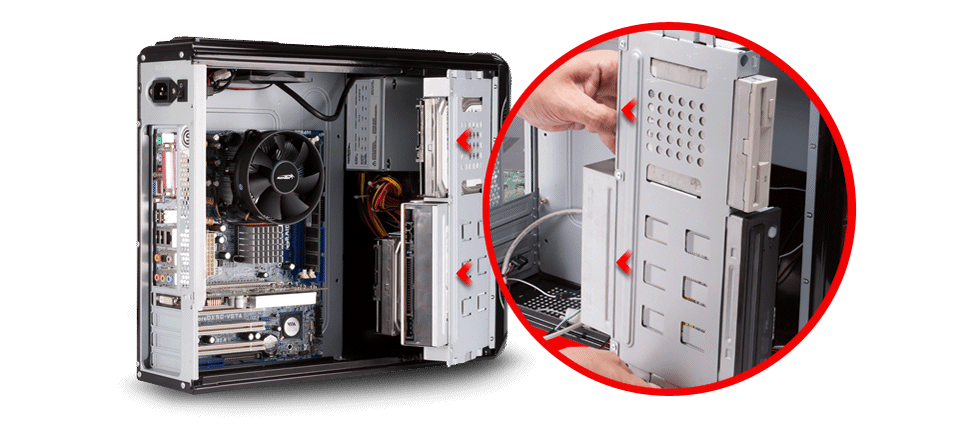 MATERIAL SECC 0.8 MM
A estrutura do gabinete e completamente laminada SECC 0,8 mm de espessura. A mesma tem um acabamento pintado na cor cinza e todos os cantos arrendondados para evitar cortes e ferimentos durante a montagem.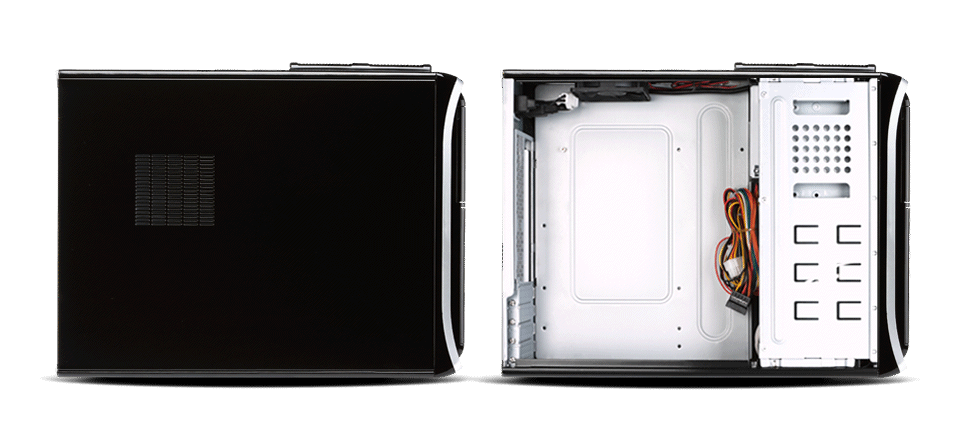 MID TOWER CASE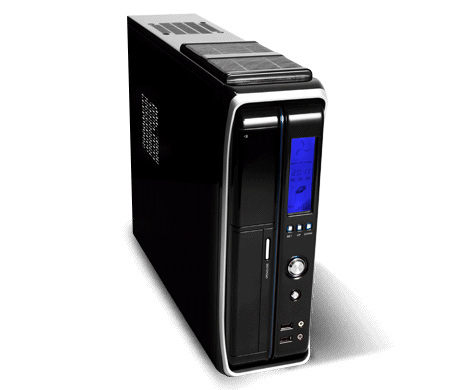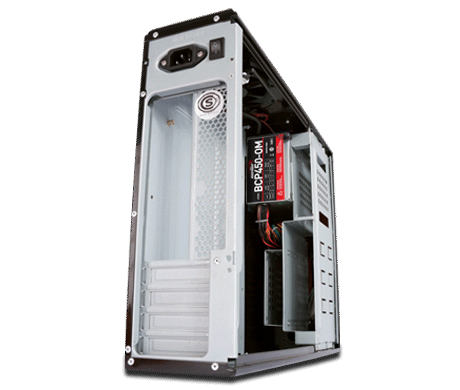 Esta caixa é ideal para a construção de um computador doméstico de reduzidas dimensões, onde a estética e espaço são essenciais.
Suporta placa mãe M-ATX e placas de video Low (baixo) Profile.
FORM FACTOR: M-ATX
O gabinete Sentey SS1-2421 suporta (motherboards) placas-mãe ATX, e Micro ATX e suporta até quatro placas em seus slots de expansão slots PCI, de fácil instalação,sem a necessidade de usar ferramentas.

GRELHAS DE VENTILAÇÃO INFERIORES
1) grelha de ventilação de HDD
2) grelha de ventilação traseira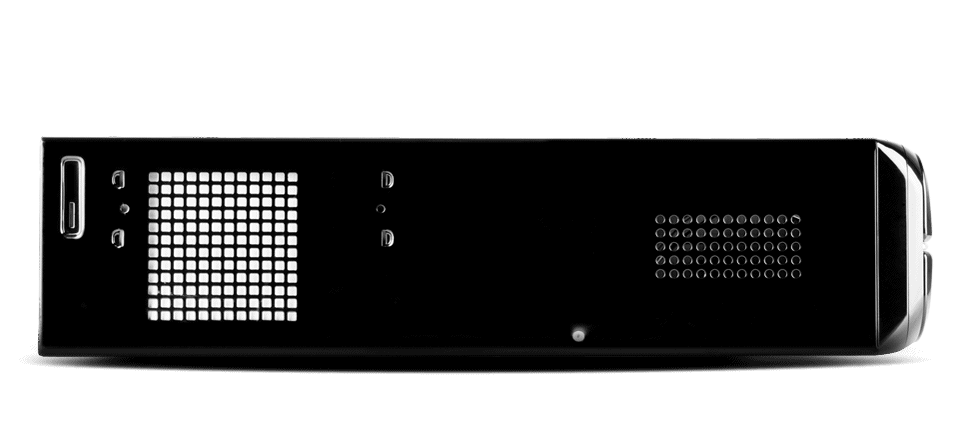 FONTE SFX COM INTERRUPTOR (SWITCH) POWER ON / OFF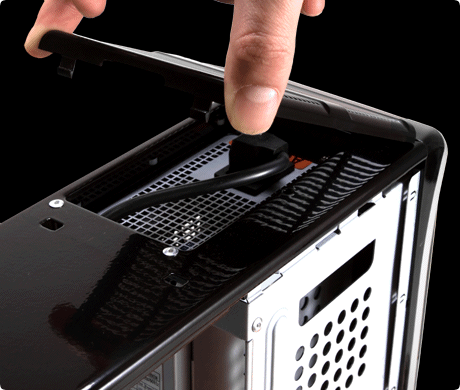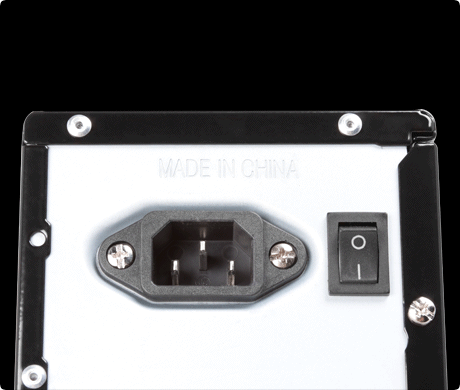 Através da cobertura de topo você acessa o fornecimento de energia de forma rápida e conveniente.
Na parte traseira se encontra o interruptor (switch) on / off que permite cortar a energia do sistema.
SISTEMA DE REFRIGERAÇÃO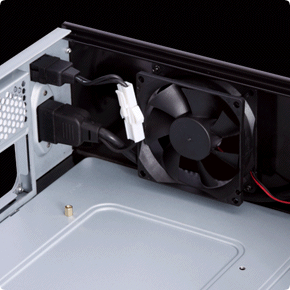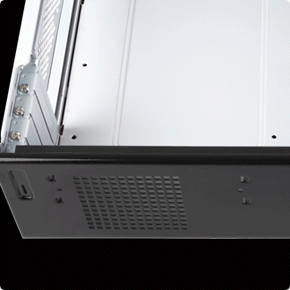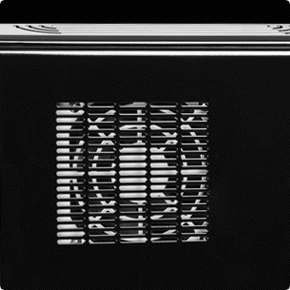 (TOP) COOLER SUPERIOR 80 MM
Na cobertura de topo há um refrigerador (cooler) 80 mm incluídos.
VENTILAÇÃO INFERIOR
A grade inferior permite que o ar fresco entre a partir do exterior.
VENTILAÇÃO POSTERIOR
A grade traseira permite o resfriamento da fonte de alimentação.
FAN TOP 80 MM + GRILL PSU
Na cobertura de topo do gabinete são duas grades/grelhas de refrigeração. Uma, sob a forma de tampa articulada permite o acesso para a fonte de alimentação, enquanto que a segunda contém o cooler (refrigerador) de 80 mm da parte superior.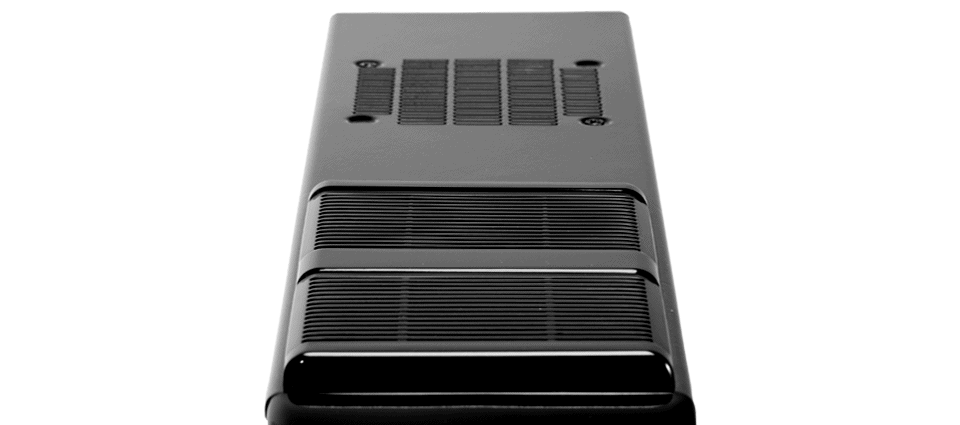 INCLUI FONTE DE ALIMENTAÇÃO
O gabinete vem com a fonte de alimentação/energia BCP450-OM incluída. Um switch 115/230 V, permitindo funcionar corretamente em qualquer região, um cooler de 80 mm e um (switch power) interruptor On / Off,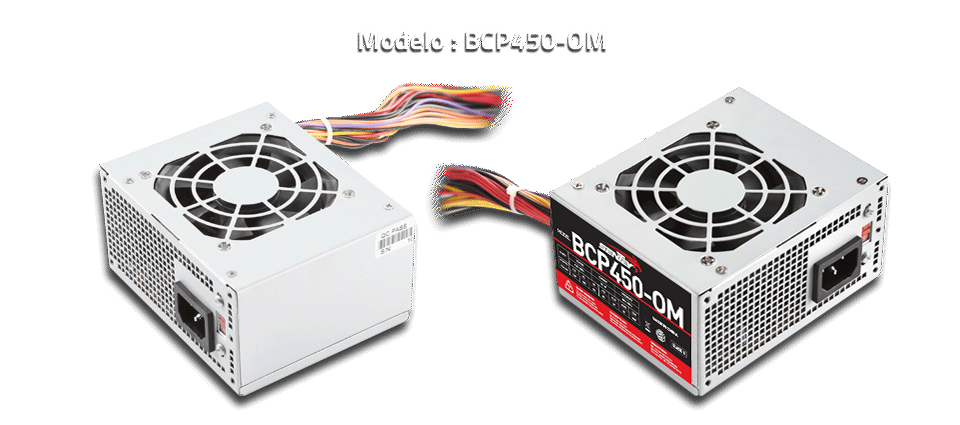 PSU INCLUIDA: BCP450-OS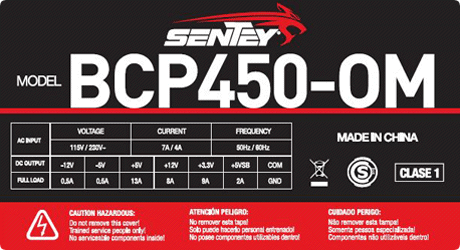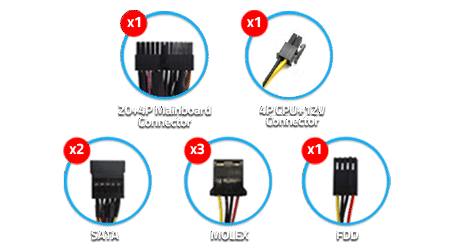 O BCP450-OS é Monorail e suporta até 8A na linha principal de 12V.
Conectores: 2xSata, 3xMolex, 1xFDD, 1x4+4pinos 12V e 1x20+4pinos Mainboard (4pinos da placa).

ESPECIFICAÇÕES
CASE
Nome
SS1-2421
Model
SS1-2421
Serie
SS1-2421
Warranty
1 Ano
STRUCTURE
Type
Mid Tower
Cor
Cinza
Material
Aço SECC 0.8mm
Suporta Placas
M-ATX
Montagem de Fonte
Frente Superior
Tamanho de VGA
160mm Low Profile
CPU Cooler Max. Size
80mm
Suporte de Watercooling
Não
Motherboard Tray
Não
Cabos Ocultos
Não
EXTERIOR
Cor
Negro Brillante
Frente
Sólido Brillante
Pé
Borracha de 15mm
Painel Lateral
Sólido com Grill
Painel Superior
Sólido com Grill
Display LCD
Sim
Parafusos
Sim
EXPANSIONS
Bahias ext 5.25"
1
Bahias ext 3.5"
1
Bahias int 3.5"
1
Bahias int 2.5"
Não
Slots de Expansão PCI
4
FRONT PORTS
USB 2.0
2
Audio Frontal
AC97
E-sata
Não
Sata Nativo
Não
Leitor de Cartão
Não
Controlador de Cooler
Não
COOLING SYSTEM
Cooler frontal
Não
Cooler lateral
Não
Cooler lateral p/CPU
Não
Cooler superior
1x80mm
Cooler inferior
Não
Cooler Traseiro
Não
Cooler para Baía de HDD
Não
PHYSICAL SPECS
Altura
355mm
Largura (cm)
104mm
Comprimento (cm)
435mm
Peso Líquido (kg)
4.2kg
Gross Weight
5.0kg
Tamanho da Embalagem (cm)
493mm (L) 161mm (A) 395mm (H)
POWER SUPPLY
Model
BCP450-OM
Type
ATX
Conectores
2 Sata, 3 Molex, 1 FDD
SS1-2421
Vídeos e comentários
Sentey SS1-2421 - Product Overview
http://www.hitechlegion.com/reviews/cases/10234 --Full review and benchmarks

The Sentey SS1-2421 case is part of Sentey's Slim Series lineup and comes with a 450W SFX12V power supply. The Sentey SS1-2421 can house a micro-ATX or ITX motherboard and up to four low profile PCI devices as an HTPC or an office computer. The front panel LCD on the Sentey SS1-2421 slim tower case features an automatic fan controller, temperature monitor and HDD activity display. The Sentey SS1-2421 has a dark high-quality glossy finish and maintains aesthetic uniformity at the front through the use of a built-in flip-down optical drive bezel. Designed to be slim and compact, the Sentey SS1-2421 is ideal for as an office computer or an HTPC.
Publicado: 2011-05-24T22:32:04.000Z
Sentey Slim Series Review
Sentey Present Slim Series
- Elegant and practical design
- High Gloss Black paint
- Ventilated Topcover
- 2421 and 2422 with LCD DISPLAY To monitor temperature
- All the Slim Series support micro Atx. Up to 240mm x 240mm in size
- Included power supply

For more information visit www.sentey.com
Publicado: 2010-09-23T13:09:06.000Z
REVIEWS
Não há testes sobre este produto
PERGUNTAS MAIS FREQUENTES
Não há perguntas frequentes
FORMULÁRIO DE CONTATO
Thank you for contacting us. We will respond to you soon.
GARANTIA
Este produto tem 1 anos garantia limitada do hardware para.
CONTATO

EMAIL DE SUPORTE

SUPORTE VIA FACEBOOK

SUPORTE VIA TWITTER

TELEFONE