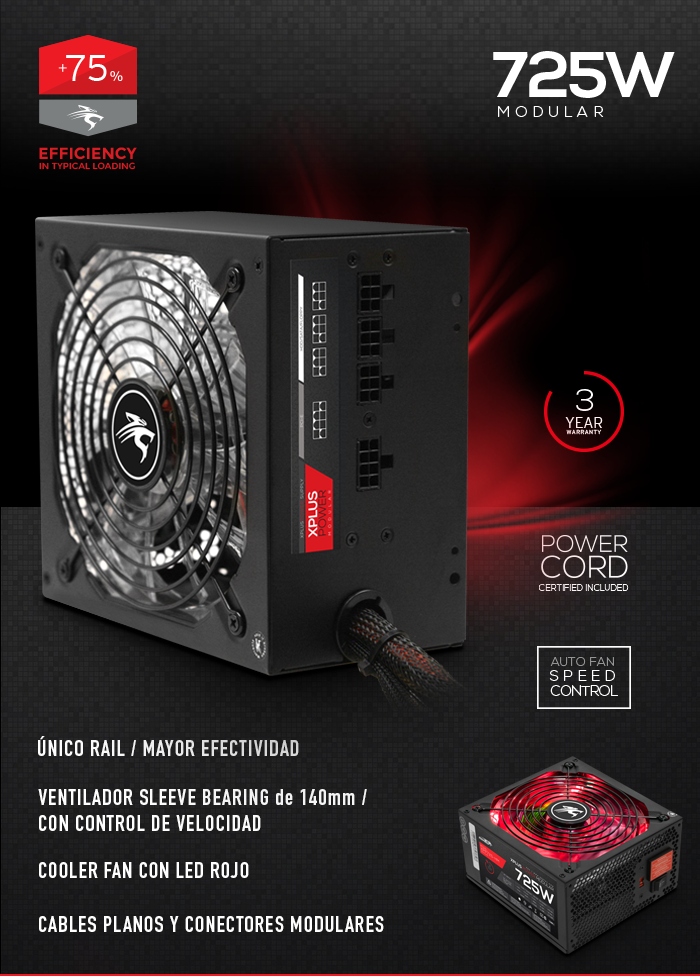 PREMIOS


Certificaciones

SENTEY POWER SUPPLY XPP 725 WATTS MODULAR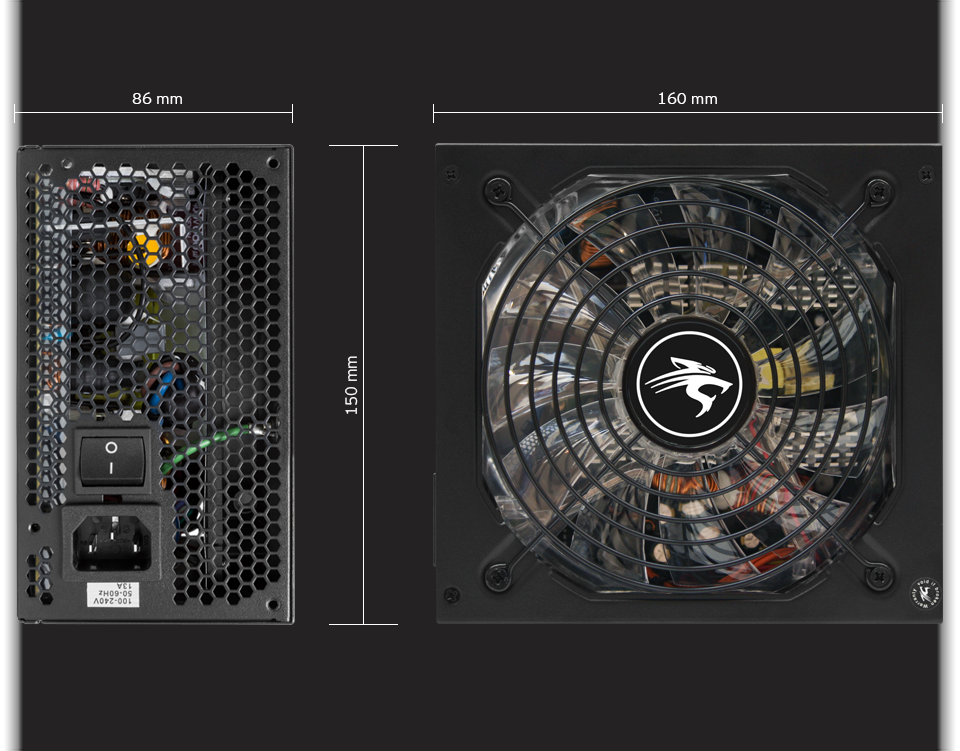 ESPECIFICACIONES
GENERAL
Serie
XPP Modular
Modelo
XPP725-HM
Part Number
XPP725-HM
UPC
812366025050
Garantía
3 Años
DC OUTPUTS RANGE
Entrada CA (A)
10/5A
Frecuencia Entrada CA (Hz)
50-60Hz
Voltaje Entrada CA (Vca)
115/230Vac
Eficiencia a Carga Típica
75%
RANGO DE CARGA
Potencia Max. de Salida (W)
725 W
Salida Max. de Corriente -12V (A)
0,3 A
Potencia Max. -12V (W)
3.6 W
Rail de +12V
Single
Salida Max. de Corriente +12V1 (A)
48 A
Potencia Max. +12V1 (W)
576W
Salida Max. de Corriente +3.3V (A)
22 A
Salida Max. de Corriente +5V (A)
22 A
Potencia Max. +3.3V & +5V (W)
120 W
Salida Max. de Corriente +5VSB (A)
2.5 A
Potencia Max. +5VSB (W)
12.5 W
CONECTORES
Motherboard 20+4pines
1
CPU +12V 4+4pines
1
SATA 5pines
5
Molex 4pines
3
Floppy 4pines
1
PCI-E 6+2pines
2
ESPECIFICACIONES FISICAS
Tamaño del Fan Cooler (mm)
140mm Sleeve Bearing
Dimensiones de la fuente (mm)
160mm (L) x 150mm (W) x 86mm (H)
Peso Neto (gr)
1,65 Kg
Pintura de Terminacion
Sandy Black
Factor de Forma
ATX
Peso Bruto (gr)
2,65 Kg
Dimensiones de la Caja (mm)
265mm (L) x 195mm (W) x 100mm
PROTECCIONES
Proteccion de Sobre Potencia (OPP)
Si
Proteccion de Sobre Voltaje (OVP)
Si
Proteccion Contra Corto Circuito (SCP)
Si
Proteccion de Bajo Voltaje (UVP)
Si
TECNOLOGIAS & CARACTERISTICAS
Modular
Semi Modular
AMD Crossfire
Preparada
NVIDIA SLI
Preparada
Sleeve Cables
si
Power Cord Certified
Si
CERTIFICATIONS & STANDARDS
Type
ATX 2.3
RoHs
Si
C-tick
Si
CB
Si
FCC
Si
UL
Si
XPP 725 Watts Modular
Videos y reviews
Review of the Sentey® 725w Power Supply
Review of the Sentey® 725w Power Supply, purchased from Amazon, sold by Sentey.
Publicado:
Sentey 725w Power Supply Unboxing/Install
Just unboxing power supply and showing you guys how to install it.
Publicado:
REVIEWS

23/01/2018
.
PSU XPlus Power 725w
by Tecnogaming
Una buena fuente que sirve para armar casi cualquier plataforma de rango medio, tanto para juegos como para oficina. ...
VER REVIEW


20/10/2017
.
Fuente Sentey Xplus Power 725w
by Overcluster
Testeamos dos de las fuentes de la línea Xplus Power de Sentey. Ambos modelos son de 725watts ...
VER REVIEW

DESCARGAS
No se encontraron descargas
PREGUNTAS FRECUENTES
No se encontraron preguntas frecuentes
FORMULARIO DE CONTACTO
Gracias por contactarnos. Te responderemos a la brevedad.
Los campos marcados con * son requeridos
GARANTÍA
Este producto tiene 3 años de garantía de hardware limitada.
CONTACTO

EMAIL DE SOPORTE

SOPORTE VIA FACEBOOK

SOPORTE VIA TWITTER

TELÉFONO

(+54) 11 4924-1314