06/08/2015
.
Fuente de Alimentacion MBP850-HM
by Technogaming
Sentey es ya un fabricante reconocido en el mundo de las fuentes y el gran cambio de enfoque en el pasado le ha rendido muy buenos frutos, hemos visto que sus anteriores productos ...
VER REVIEW


29/07/2015
.
Slim Case SS6-2440
by Tweaktown
There is plenty of space for all the drives you would need to run such a system, and even while we saw no need for the red bits, without any windows, nobody will ever notice if you...
VER REVIEW


21/07/2015
.
Review Fuente Alimentacion MBP 750 Watts
by Irrompibles
En conclusión, por la suma de 1800 pesos podemos disponer de esta belleza que puede alimentar cualquier sistema gaming que dispongamos (incluso aunque usemos un SLI / Crossfire mo...
VER REVIEW

CATÁLOGO DE PRODUCTOS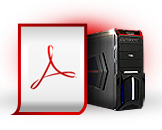 Descargá nuestro catálogo
DESCARGAR