Wireless Headphone

Deluxe Carry Case

Foldable

Up to 8 Hours Music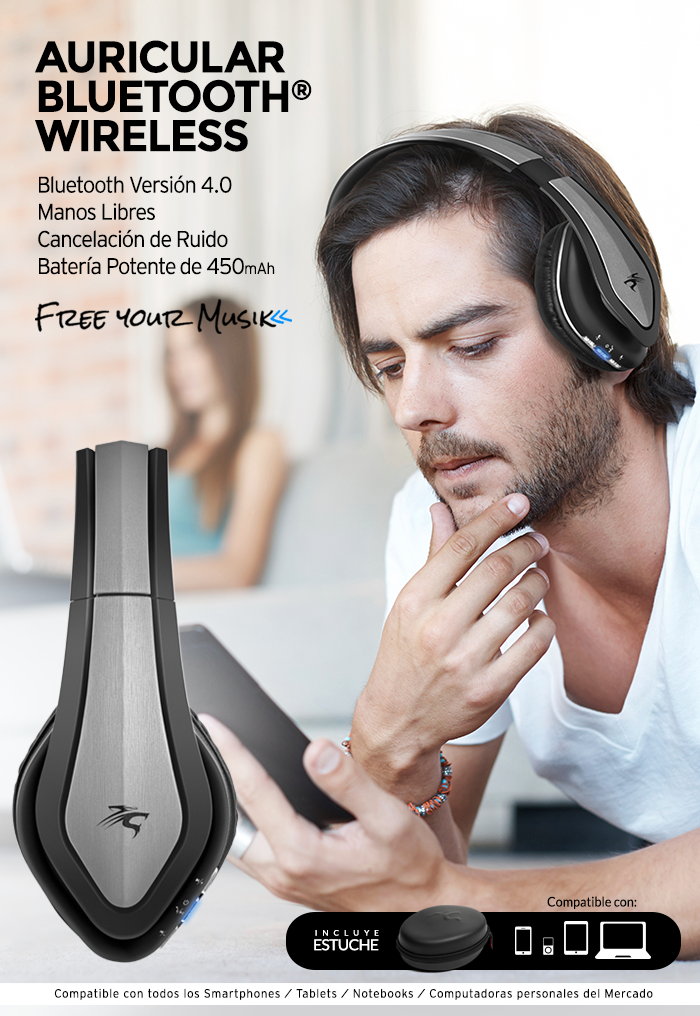 ACCESORIOS

Carry Case
For Easy transportation & care.

3.5mm Audio Cable
To connect with audio cable.

USB Cable
For Charging
PREMIOS


BLUETOOTH® WIRELESS HEADPHONE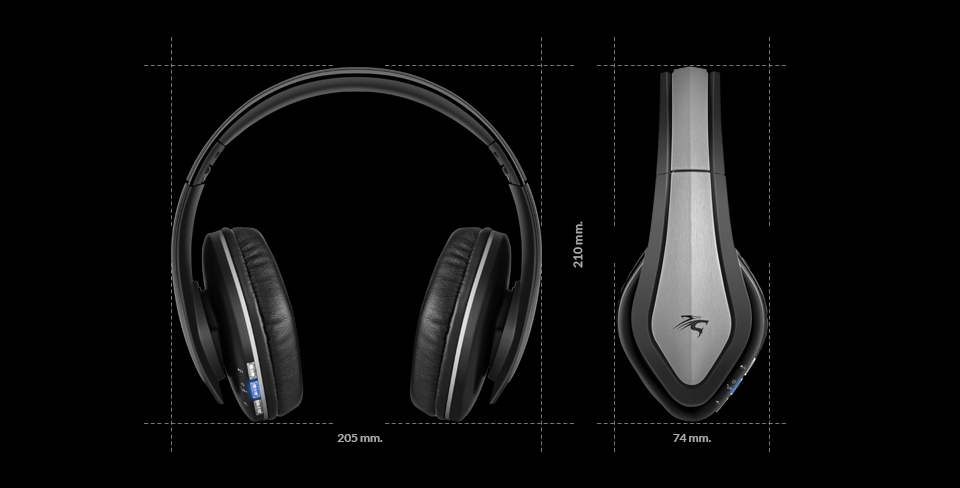 ESPECIFICACIONES
GENERAL
Nombre
B-Trek H9 Pro
Modelo
LS-4560P
Serie
Bluetooth Headphone
Tipo
Bluetooth Headphone
Garantía
1 Año
SPEAKERS DER/IZQ
Diámetro Speaker
40mm
Impedancia
32 Ω±15% @ 1000Hz
Respuesta de Frecuencia
20~20KHz
Relación Señal/Ruido
92dB
T.H.D
5% @ Input Power 20mW
Sensibilidad (S.P.L)
105dB±3dB @ 1000Hz
MICROFONO
Sensibilidad
-48dB±3dB
Direccionalidad
Omnidirectional
Impedancia
2.2K Ω
ESPECIFICACIONES FISICAS
Conector
Plug 3.5mm / USB for Charge
Cable
1.2 Meters Cable
Tamaño (mm)
205 x 210 x 74mm
Peso Neto
255gr
Peso Bruto
360gr
ACCESORIOS
Documentación
Instruction Manual
Cartuchera
Carry Case
REQUERIMIENTOS DE SISTEMA
Sistema Operativo
Windows 10, Windows® 8, Windows® 7, Vista®, XP
Conexión PC
Plug 3.5mm
B-Trek H9 Pro
Videos y reviews
Sentey Bluetooth Headphones
BEST Bluetooth Headphones! Check out my reviews on www.opinionsofone.com
Publicado:
Sentey B-Trek H9 - Bluetooth Headphones Review!
Sentey B-Trek H9 - Bluetooth Headphones Review! by TheDcGameZ
Publicado:
Sentey H9 Overview
The video shows off the hardware and gives my impressions, and below are the highlights.

Pros:
(*) Quite comfortable. I was surprised given the fairly thin padding on the head band and the diamond-shaped ear cushions, but I didn't have any trouble at all wearing these for a while without any discomfort
(*) Paired very easily with my Mac
(*) Operating the buttons on the headset is simple (power, volume up/down, play/pause/skip/rewind)
(*) You can use these as either Bluetooth headphones or use the included cord for a wired connection - and it requires no battery power for the wired connection
(*) Nice carrying case
(*) Voices sound fairly natural

Publicado:
REVIEWS

28/03/2016
.
H9 Bluetooth Headphone Video Review
by Gadget Geek
...
VER REVIEW


11/01/2015
.
B-Trek H9 Bluetooth Review
by TheDcGAMeZ
The BASS is REAL! Thanks for watching and I hope you enjoyed! Please LIKE & SUBSCRIBE! ...
VER REVIEW

DESCARGAS
No se encontraron descargas
PREGUNTAS FRECUENTES
Tiene algún costo el proceso de garantia del producto?
No. La reparación del producto no tiene ningún costo para el usuario. Lo único que es a cargo del cliente es el envío. Sentey no se hace responsable del costo del envío bajo ninguna circunstancia. 
FORMULARIO DE CONTACTO
Gracias por contactarnos. Te responderemos a la brevedad.
Los campos marcados con * son requeridos
GARANTÍA
Este producto tiene 12 meses de garantía de hardware limitada.
CONTACTO

EMAIL DE SOPORTE

SOPORTE VIA FACEBOOK

SOPORTE VIA TWITTER

TELÉFONO

(+54) 11 4924-1314