HD Stereo Headphones

Titanium Drivers

Foldable

Removable Audio Cable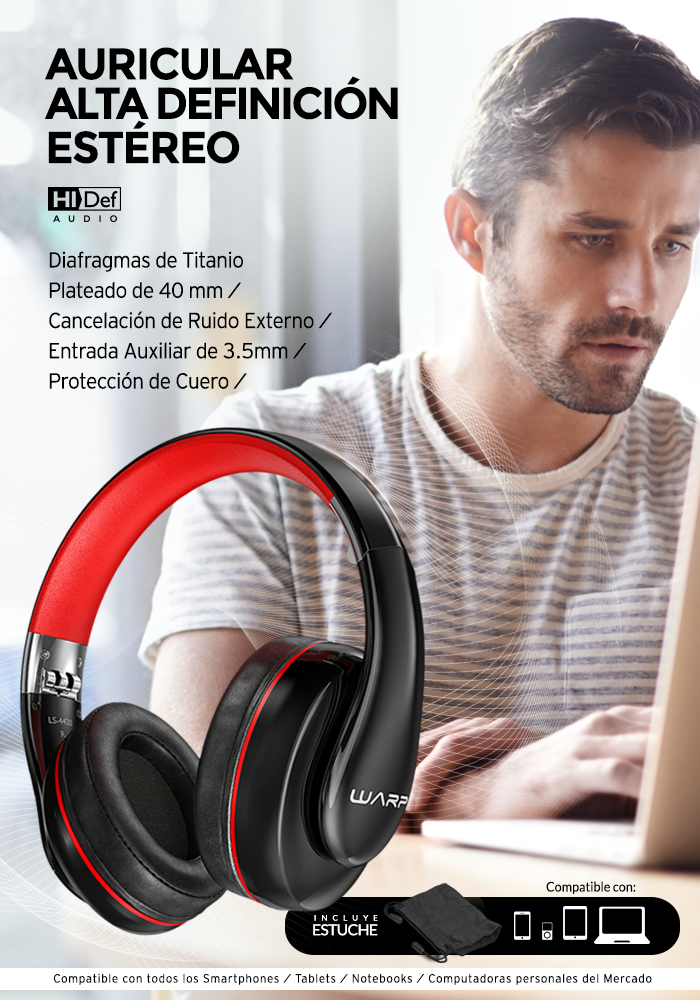 ACCESORIOS

3.5mm Audio Cable
To connect to Pc, Smartphone, Tablet, etc.
HEADPHONE DE SONIDO PROFESIONAL SENTEY WARP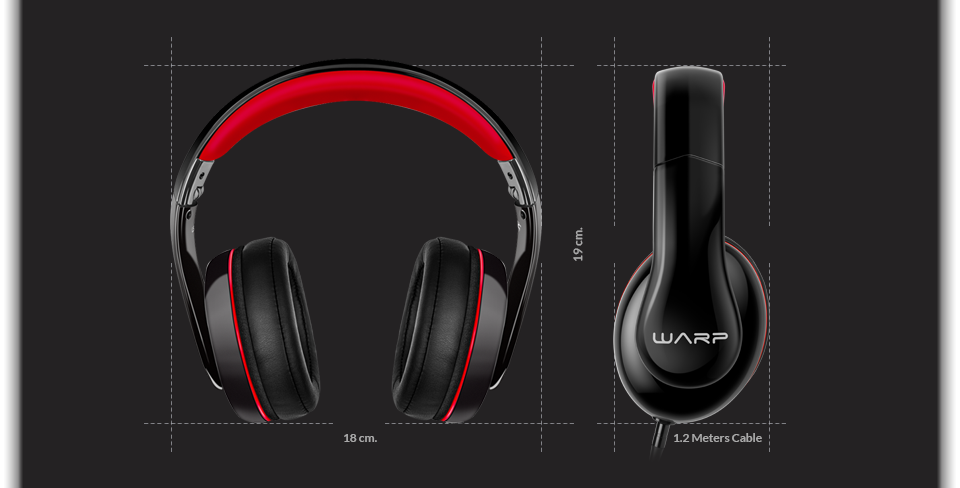 ESPECIFICACIONES
GENERAL
Nombre
Warp
Modelo
LS-4420
Serie
Stereo Headphone
Tipo
Stereo Headphone
Garantía
1 Año
SPEAKERS DER/IZQ
Diámetro Speaker
40mm
Impedancia
32 Ω±15% @ 1000Hz
Respuesta de Frecuencia
20~20KHz
Relación Señal/Ruido
92dB
T.H.D
Less 0.1%
Sensibilidad (S.P.L)
103dB±3dB @ 1000Hz
ESPECIFICACIONES FISICAS
Conector
Plug 3.5mm
Cable
1.2 metros
Tamaño (mm)
190 x 180
Peso Neto
264gr
Peso Bruto
360gr
ACCESORIOS
Documentación
Manual
REQUERIMIENTOS DE SISTEMA
Sistema Operativo
Windows 10, Windows® 8, Windows® 7, Vista®, XP
Conexión PC
Plug 3.5mm
Warp
Videos y reviews
Sentey LS 4421 Headphones Warp Pro BlackRed Rubber Painting Review
Sentey Wired Headphones Warp Pro Black Rubber Painting LS-4421 Over-the-Ear with Detachable 3.5mm In-Line Microphone audio cable and Carrying Case by Sentey
Publicado:
REVIEWS
No se encontraron reviews para este producto
DESCARGAS
No se encontraron descargas
PREGUNTAS FRECUENTES
Tiene algún costo el proceso de garantia del producto?
No. La reparación del producto no tiene ningún costo para el usuario. Lo único que es a cargo del cliente es el envío. Sentey no se hace responsable del costo del envío bajo ninguna circunstancia. 
FORMULARIO DE CONTACTO
Gracias por contactarnos. Te responderemos a la brevedad.
Los campos marcados con * son requeridos
GARANTÍA
Este producto tiene 12 meses de garantía de hardware limitada.
CONTACTO

EMAIL DE SOPORTE

SOPORTE VIA FACEBOOK

SOPORTE VIA TWITTER

TELÉFONO

(+54) 11 4924-1314