Single Rail de +12V

Fan 140mm Sleeve Bearing

Protecciones Totales

Cables Mallados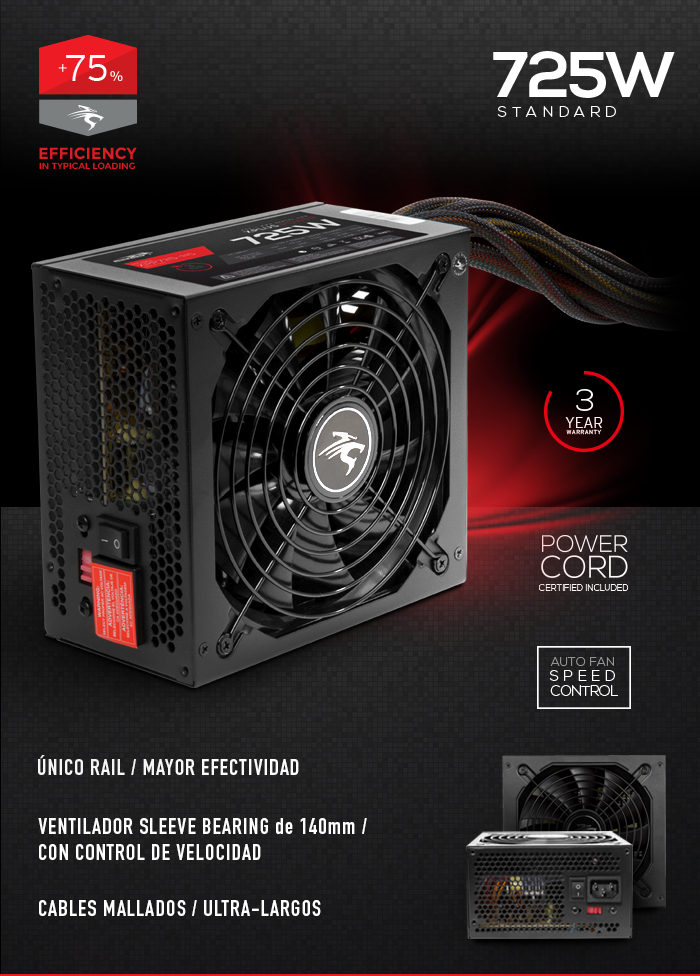 PREMIOS




Certificaciones

SENTEY POWER SUPPLY XPP 725 WATTS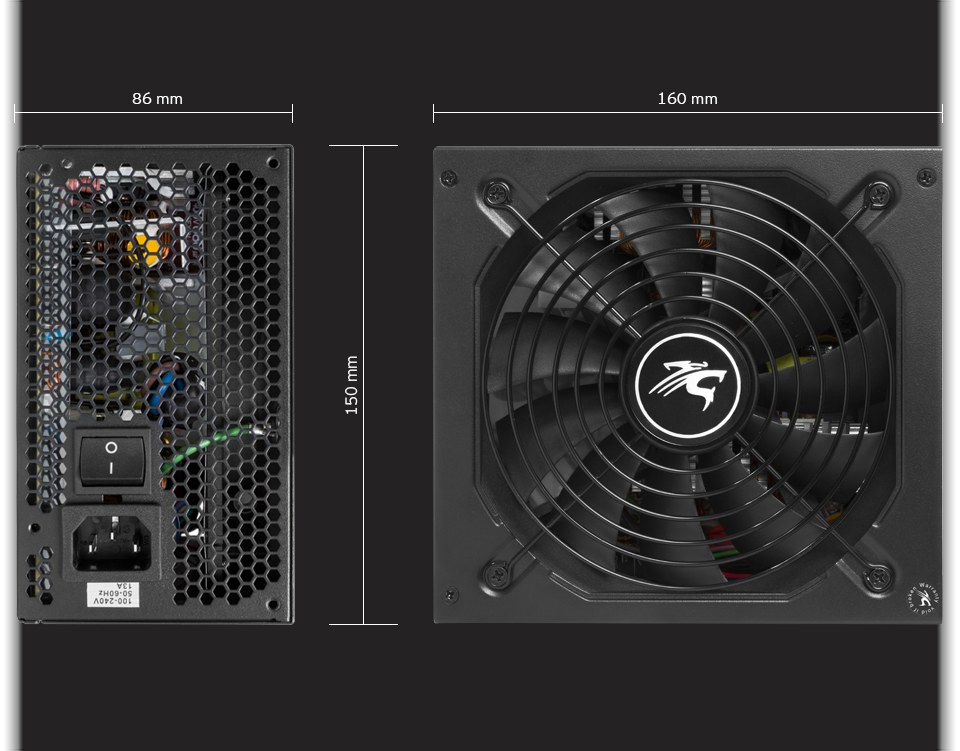 ESPECIFICACIONES
GENERAL
Serie
XPP
Modelo
XPP725-HS
Part Number
XPP725-HS
UPC
812366023261
Garantía
3 Años
DC OUTPUTS RANGE
Entrada CA (A)
10/5A
Frecuencia Entrada CA (Hz)
50-60Hz
Voltaje Entrada CA (Vca)
115/230Vac
Eficiencia a Carga Típica
75%
RANGO DE CARGA
Potencia Max. de Salida (W)
725 W
Salida Max. de Corriente -12V (A)
0,3 A
Potencia Max. -12V (W)
3.6 W
Rail de +12V
Single
Salida Max. de Corriente +12V1 (A)
48 A
Potencia Max. +12V1 (W)
576W
Salida Max. de Corriente +3.3V (A)
22 A
Salida Max. de Corriente +5V (A)
22 A
Potencia Max. +3.3V & +5V (W)
120 W
Salida Max. de Corriente +5VSB (A)
2.5 A
Potencia Max. +5VSB (W)
12.5 W
CONECTORES
Motherboard 20+4pines
1
CPU +12V 4+4pines
1
SATA 5pines
5
Molex 4pines
3
Floppy 4pines
1
PCI-E 6+2pines
2
ESPECIFICACIONES FISICAS
Tamaño del Fan Cooler (mm)
140mm Sleeve Bearing
Dimensiones de la fuente (mm)
160mm (L) x 150mm (W) x 86mm (H)
Peso Neto (gr)
1,65 Kg
Pintura de Terminacion
Sandy Black
Factor de Forma
ATX
Peso Bruto (gr)
2,65 Kg
Dimensiones de la Caja (mm)
265mm (L) x 195mm (W) x 100mm
PROTECCIONES
Proteccion de Sobre Potencia (OPP)
Si
Proteccion de Sobre Voltaje (OVP)
Si
Proteccion Contra Corto Circuito (SCP)
Si
Proteccion de Bajo Voltaje (UVP)
Si
TECNOLOGIAS & CARACTERISTICAS
AMD Crossfire
Preparada
NVIDIA SLI
Preparada
Sleeve Cables
si
Power Cord Certified
Si
CERTIFICATIONS & STANDARDS
Type
ATX 2.3
RoHs
Si
C-tick
Si
CB
Si
FCC
Si
UL
Si
XPP 725 Watts
Videos y reviews
Review of the Sentey® 725w Power Supply
Review of the Sentey® 725w Power Supply, purchased from Amazon, sold by Sentey.
Publicado:
Sentey 725w Power Supply Unboxing/Install
Just unboxing power supply and showing you guys how to install it.
Publicado:
DESCARGAS
No se encontraron descargas
PREGUNTAS FRECUENTES
No se encontraron preguntas frecuentes
FORMULARIO DE CONTACTO
Gracias por contactarnos. Te responderemos a la brevedad.
Los campos marcados con * son requeridos
GARANTÍA
Este producto tiene 3 años de garantía de hardware limitada.
CONTACTO

EMAIL DE SOPORTE

SOPORTE VIA FACEBOOK

SOPORTE VIA TWITTER

TELÉFONO

(+54) 11 4924-1314