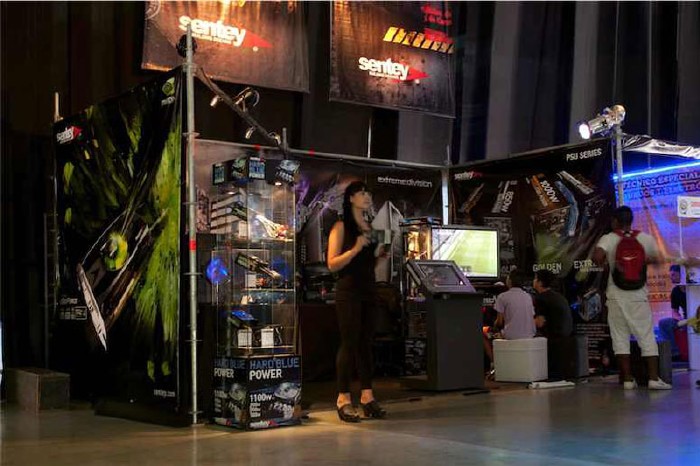 Villa Martelli, Argentina, - November 16th-17th, 2011. Sentey in partnership with local gaming organization LocalStrike whom organized the event, participate in the Digital Culture Festival at Technopolis. The objective? To unite the top gamers locally and around the world to compete at the highest level and to promote unity among the aficionados and to showcase the positive aspects of a healthy digital lifestyle.
Sentey sponsored the Counter Strike 1.6 Tournament. Counter Strike 1.6 is one of the most successful and competitive first person shooters of all time. Sentey also had a booth that showcased the newest Sentey products to visitors attending the show. The festivities lasted an incredible eleven days. Sentey was among the top brands showcasing the newest technological advances and demonstrating how Argentina's technical prowess has been evolving. The event also showcased the launch of Sentey's newest Gaming Cases; Abaddom, Wolf and Halcon, All three joined Sentey's prestigious Extreme Division.
Besides Counter Strike, the Digital Culture Festival also had professional matches featuring FIFA 11 and StarCraft II. The Grand Finals of the 2011 World Cyber Games was a highlight of the show. The winner would gain the right to move up on the pro circuit ladder and would win a trip to go to Korea for the grand finals in Seoul, S. Korea. There was also Virtual Tennis, Pro Evolution Soccer 11 and DotA tournaments.  
Sentey continues as a market leader in the computer hardware and gaming market. In partnership with LocalStrike, Sentey continues to promote the development and advancement of digital sports in Latin America and Worldwide. While at the same time, sticking to its roots, and maintains a close relationship with the gaming community and technology aficionados.