Dedicated single +12V Rail

Modulares FLAT Cables

140mm Ball Bearing Fan

80 Plus Bronze Certified
MBP1000-HM 1000W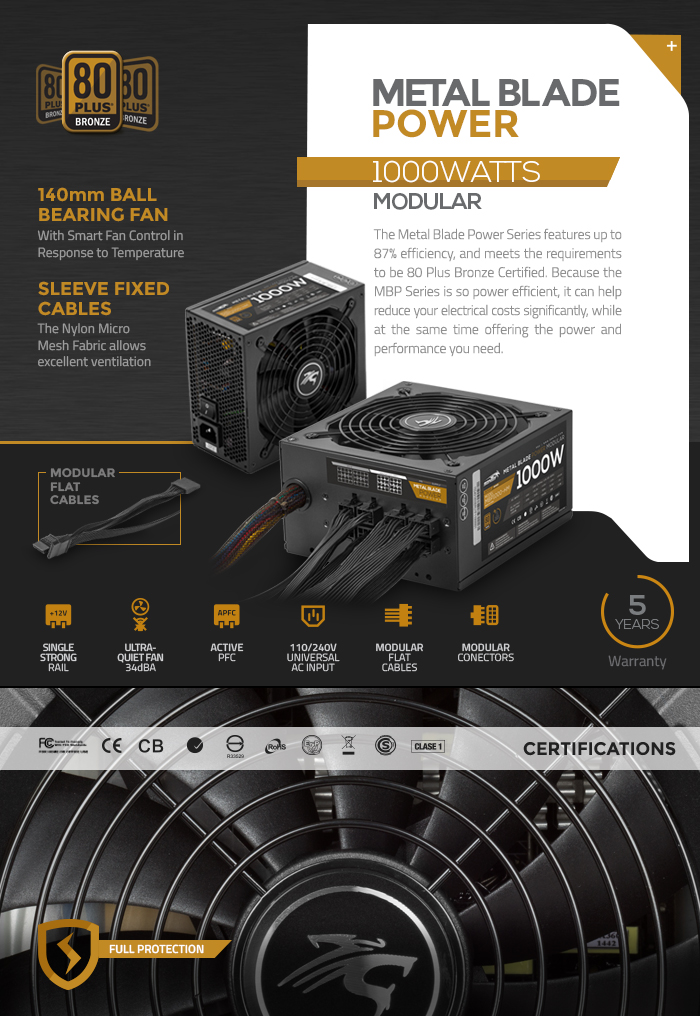 Certifications

80 PLUS BRONZE CERTIFIED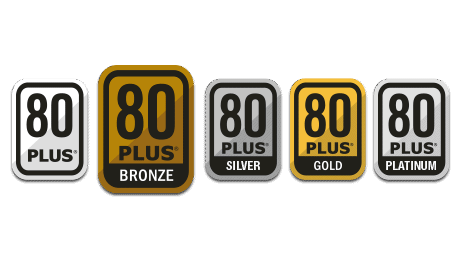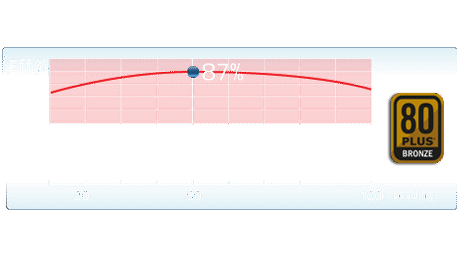 Power supplies that are certified 80 plus offer more than 80% of power conversion efficiency at 20%, 50% and 100% of total Energy Load, and at a power factor of 0.9 or greater at 100% load. The 80 Plus Certification is an initiative to promote greater energy efficiency for computer power supplies.
The Metal Blade Power Series features 87% of energy conversion efficiency, and thus is certified 80 PLUS. In turn because the MBP Series is so power efficient, it can help reduce your electric costs significantly, while at the same time offering the power and performance you need.
MODULAR CABLE MANAGEMENT SYSTEM
The Metal Blade Power Series has been designed to be modular, thus allowing the user to install the cables on an as needed basis. Saving space while reducing the amount of obstructions inside the case, and maximizing airflow within. The modular design also simplifies installation, as it allows the flexibility of installing only the cables needed. This modular design features solid locking connectors that provide the system optimal system performance and stability.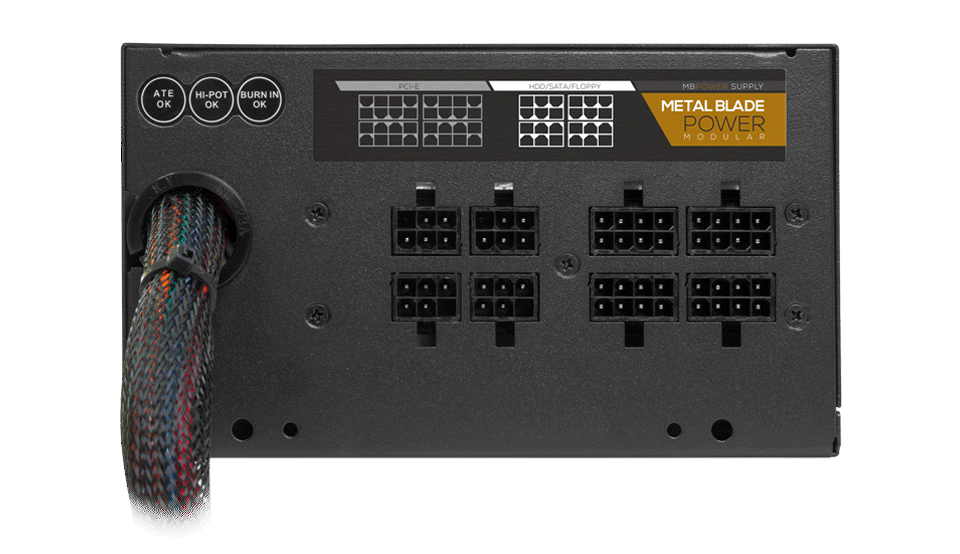 MATTE BLACK PAINT JOB
The MBP1000 Series features a special Matte Black scratch resistant coating that combined with it's ample connectors provide a pleasing and imposing aesthetic.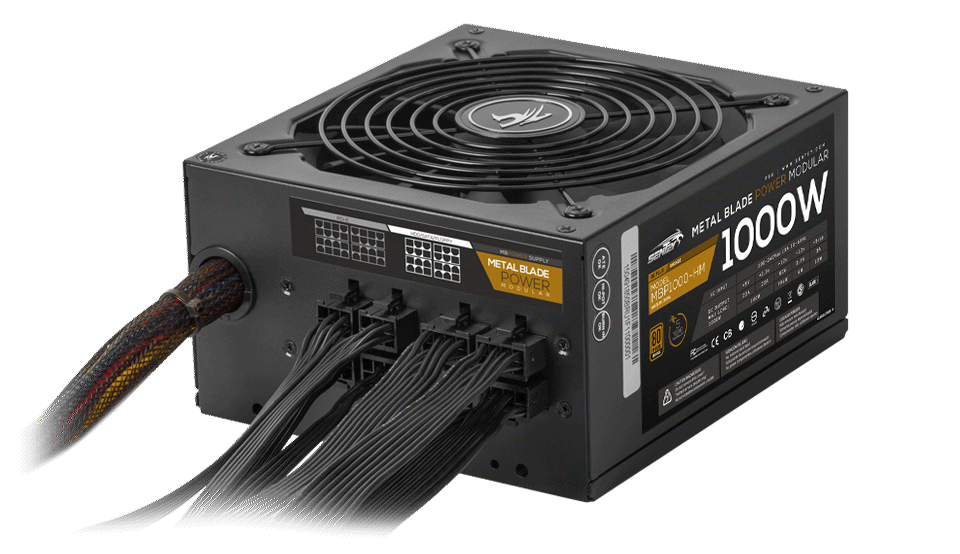 HIGH EFFIENCY AND MAXIMUM COOLING
With a unique and functional design that combines modern aesthetics with the power of a high-end product, the MBP Series is fit for even the most demanding users.
ULTRA-SILENT FAN COOLING
140MM BALL BEARING
The Metal Blade Power Series of Power Supplies utilize a 120mm Sleeve Bearing fan that automatically adjusts it's speed to provide just the right amount of air flow, and balances noise for optimal operation. This variance in speed allows for lower noise and avoids unnecessary dB's when the computer is not tasked or idle.

DEDICATED SINGLE +12V RAIL
The Metal Blade Power features a single dedicated +12V rail, that simplifies component installation by having all the power on a single line, avoiding having to manually balance component load on multiple rails, thus providing greater compatibility and is ready for the latest generation of graphic cards.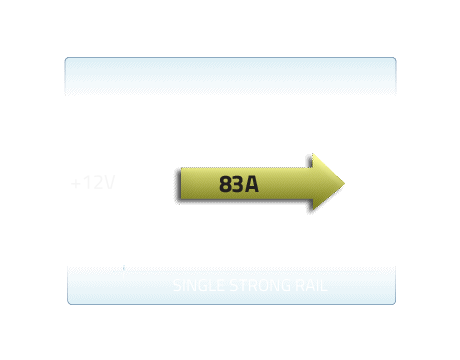 UNIVERSAL AC INPUT WITH ACTIVE PFC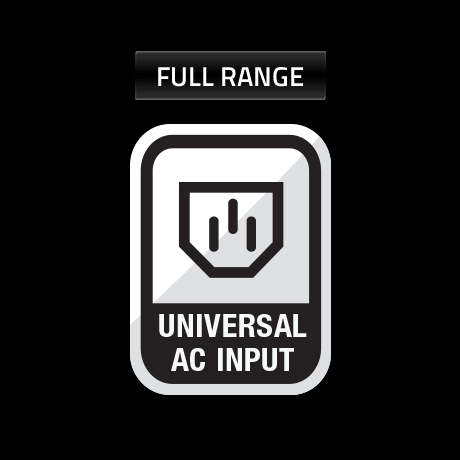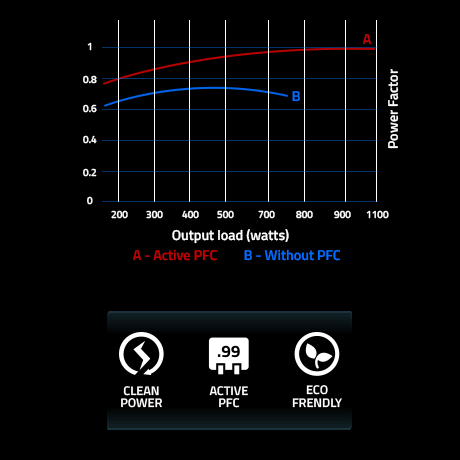 100-240V 13A FULL RANGE
Metal Blade Power Series features an Active Power Factor Correction (PFC), that provides better power efficiency because it has a circuit that actively corrects the power factor, and balances the waveform of the input current.
ACTIVE POWER FACTOR CORRECTION
The Active PFC can achieve a power factor of .99. A higher power factor reduces any transmission loss of power, and improves the efficiency and energy used from the power source (wall) to the system's components. An active PFC is an important environmentally friendly feature.
HIGHEST QUALITY JAPANESE MAIN CAPACITOR
The Metal Blade Power 1000W use Nippon Chemi-Com main capacitors brand , with the principle capacitor rated at 105ºC, which offer unmatched performance and reliability, and have an operational lifetime that is 4 times greater than conventional 85ºC capacitors.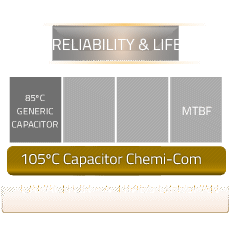 The main electrolity capacitor are made by Nippon Chemi-Com, and are classified to operate at 105°C for maximum reliability and service life.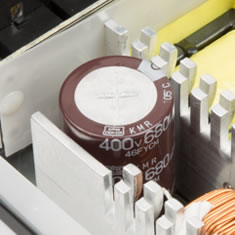 MULTI PROTECCIONS DESIGN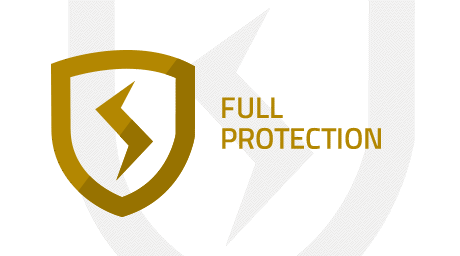 The MBP series features multiple safeguards such as over voltage protection, under voltage protection, overload protection and short circuit protection which when triggered activate to protect the power supply. They automatically shut down the power supply to prevent damage to your system and any attached devices. Ensuring safe safe and reliable operation. With an unbeatable 5 year warranty. The MBP Series solidifies itself as a high-end product.
ULTRA-LONG MESH & FLAT CABLES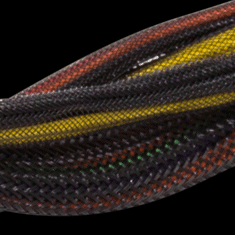 NYLON SLEEVED NATIVE CABLE
The native sleeving on the Metal Blade Power Series (MBP) protect the cables and prolong their service life by offering more useful and adequate insulation for mounting the cables inside the case.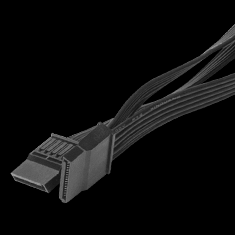 FLAT MODULAR CABLES
The exclusive FLAT Modular cables provide an exceptional low footprint, and thus allow advantageous positioning of the cables inside the case, without compromising airflow.
SPECS LABEL
AC Input and DC Output voltage values per rail


CONNECTORS DETAILS
MBP1000-HM's Total Connectors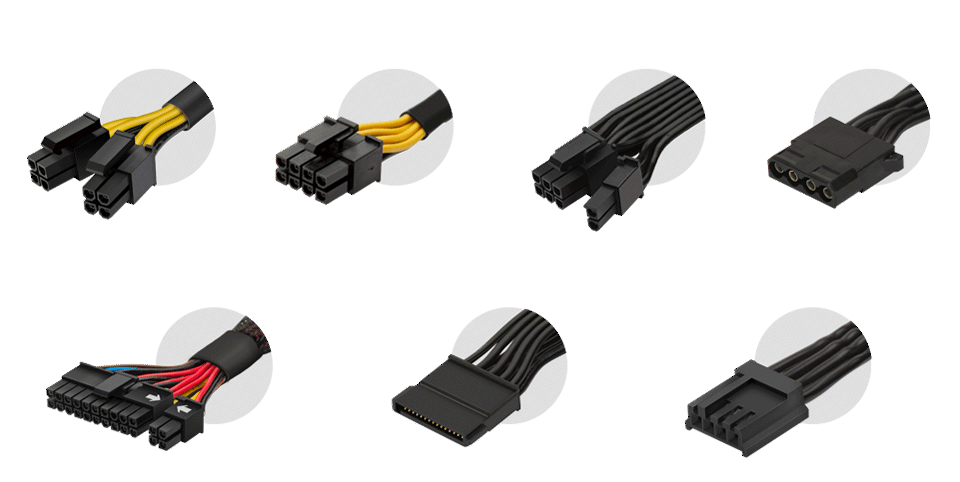 CONNECTORS DIAGRAM
Native & modular Flat cables connectors distribution diagram.


SPECIFICATIONS
GENERAL
Series
Metal Blade Power
Model
MBP1000-HM
Part Number
MBP1000-HM
EAN
9771329910004
Warranty
5 year
AC INPUTS
AC Input Current (A)
13A
AC Input Frequency (Hz)
50-60Hz
AC Input Voltage (Vac)
100-240Vac
Power Factor Corrector
>.99
Efficiency Typical Load
> 87%
LOAD RANGE
Max Output Power (W)
1000 W
Max -12V Output Current (A)
0,3 A
Max -12V Power (W)
3.6 W
+12V Rail
Single
Max +12V1 Output Current (A)
83 A
Max +12V1 Power (W)
996W
Max +3.3V Output Current (A)
23 A
Max +5V Output Current (A)
23 A
Max +3.3V & +5V Power (W)
140 W
Max +5VSB Output Current (A)
3 A
Max +5VSB Power (W)
15 W
CONNECTORS
Motherboard 20+4pin
1
CPU +12V 4+4pin
1
CPU +12V 8pin
1
SATA 5pin
8
Molex 4pin
4
Floppy 4pin
1
PCI-E 6+2pin
6
PHYSICAL SPECS
Cooling Fan Size
140mm Ball Bearing
Dimensions
160mm (L) x 150mm (W) x 86mm (H)
Net Weight
2,12 Kg
Painting Finish
Sandy Black
Form Factor
ATX
Gross Weight
2, 75 Kg
Pack Dimensions
325mm (L) x 210mm (W) x 125mm
PROTECTIONS
Over Power Protection (OPP)
Yes
Over Voltage Protection (OVP)
Yes
Short Circuit Protection (SCP)
Yes
Under Voltage Protection (UVP)
Yes
TECHNOLOGIES & FEATURES
Modular
Hibryd
AMD Crossfire
Ready
NVIDIA SLI
Ready
Power Factor Corrector
Active
Modular Flat Cables
Yes
Sleeve Natives Cables
Yes
Power Cord Certified
Yes
CERTIFICATIONS & STANDARDS
80 Plus
Bronze
Type
ATX 2.3 EPS 2.92
RoHs
Yes
EuP
Yes
C-tick
Yes
CB
Yes
CCC
Yes
CUL
Yes
FCC
Yes
TUV
Yes
MBP 1000 Watts
Videos and reviews
DOWNLOADS
No downloads available
FREQUENTLY ASKED QUESTIONS
No frequently asked questions available
CONTACT FORM
Thank you for contacting us. We will respond to you soon.
WARRANTY
This product has a 5 years limited hardware warranty.
CONTACT US

SUPPORT EMAIL

SUPPORT VIA FACEBOOK

SUPPORT VIA TWITTER

TELEPHONE

1-855-773-6839

1-855-7 SENTEY